Incorporate Training Software for Sales Enablement with Lessonly
Lessonly is the powerfully simple, trackable training software teams use to learn and practice like never before.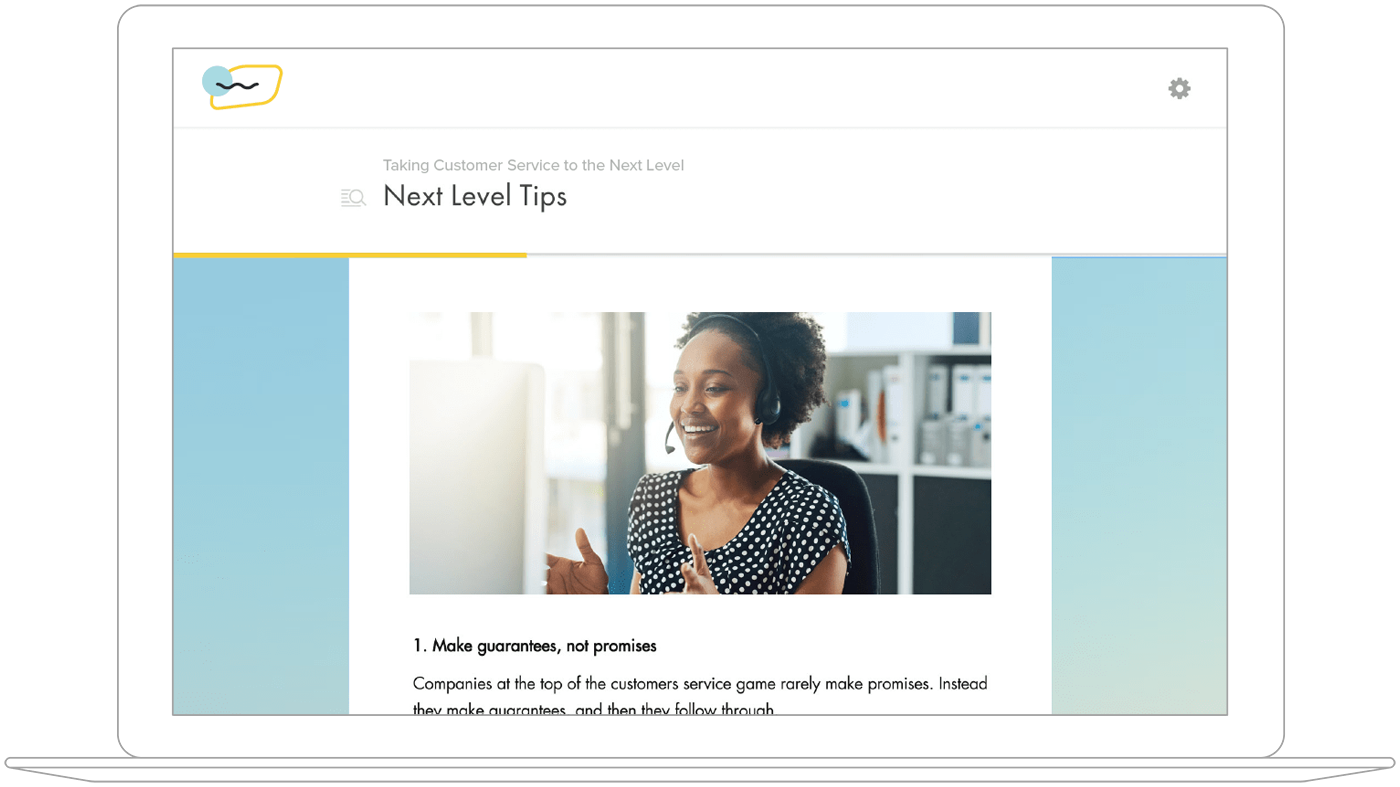 The Leading Online Training Software
With Lessonly, companies and managers quickly transform knowledge into shareable lessons and resources, engage employees through interactive feedback loops, accelerate rep and team performance, and measure the impact of better learning across their organizations.
Ambitious Customers. Real Results.
Training Software and Sales Enablement
Even the top sales enablement tools can only take a rep so far. These tools are intended to enable a representative, not do the entirety of their job for them. Sales enablement solutions encompass the strategy and tools required to alleviate reps of menial tasks so they can better communicate with prospects to seal some deals.
Sales enablement tools examples consist of big names like Salesforce, Mindmatrix, Amacus, Eloqua — to name a few. These tools yield immense benefits for representatives like ease of organization, reminders, and prospect search. The features and functions of a sales enablement platform can be overwhelming. Before tossing Salesforce to a rookie rep, make sure they know what they're doing.
The Learning Management System
Employee training software provides ease of information for all types of industry teams needing to train quickly and efficiently. The software used for employee training generally takes on the bulk of the learning management system definition, but a training management system also involves the methods and theory incorporated to execute learning.
It sounds a bit complicated, but with sales enablement as the topic at hand, we'll simplify it. That's what Lessonly does; we make learning easy so your learners can ultimately live better lives.
Sales enablement jobs and tools usually play into an equation of an exponentially growing team. Not only is the sales team within a company growing in employees, but also, each rep needs to improve and innovate within their role.
The Sales Enablement Definition in a Learning Context
A sales enablement manager that strategizes the use of tools with practices is definitely a recommendation. Though many growing companies already have one in place, this manager makes it their sole mission to find solutions for sales representatives to perform better.
This person has to start somewhere, and likely, they'll start with a course development software (learning software) then sales enablement software. When a new system or new employee is brought into the company, the employee has a lot to learn. With training management software, the sales enablement manager can develop and distribute lessons for the employee to learn any and all systems. In comparison to using a platform like Lynda.com to learn sales enablement systems, using a learning platform, like Lessonly, allows managers to create sales enablement materials in accordance to the way the company itself utilizes them. For example, instead of learning the entirety of the vast land that is Salesforce, an employee can more easily understand the specific ways in which it is used in their company.
Incorporating Learning Management System Software into the Sales Enablement Mix
In addition to more easily learning the ins and outs of a sales enablement platform, employees can use the time saved to progress as workers and enjoy taking on new challenges within their role. The director of sales enablement can foster this by using a learning platform to elicit feedback and suggestions from weekly team or one-on-one meetings.
It's necessary to implement a learning management system that assists and supports these actions. We suggest staying away from the free learning management system. Here is a more in-depth learning management system comparison, but the big takeaways is free learning systems become more difficult to use as a team scales and the systems themselves grow harder to scale. For example, you'll be paying much more than just a sales enablement salary to keep up the learning process with a free LMS; you'll likely have to hire a development team just to customize, maintain, improve, and fix the system. Shift your search to learning management system vendors who are software-as-a-service and provide the particular functions and features you need for your team.
Lessonly as One of Your Sales Enablement Tools
Lessonly is versatile when it comes to learning in business. With our platform, companies can cover anything from general onboarding topics to in-depth role processes, all the while making the content applicable to the company's brand and values.
You don't have to read Sales Enablement for Dummies to understand the purpose of B2B sales enablement. Searching a sales enablement best practice guide and expecting these cliché sales enablement best practices to work instantly will only take a sales manager so far — and reps not much further than that. These practices only set a sales enablement framework for a company. Lessonly enables managers to fill in that framework with great, engaging, informative, and entertaining content.
Lessonly uses the best functions and features of training tracking software to help managers with their sales enablement training. Whether it be learning the specific methods or systems to you company or updating employees on product knowledge, our platform supports the creation, delivery, and assessment of it. Lessonly can even integrate with CRM systems like Salesforce and Asana. Instead of having separate courses to learn the sale enablement app, you can trigger lessons while using Salesforce. For example, if a sales rep isn't sure how your company's sales funnel is organized in Salesforce, they can quickly access their Lessonly account in a Salesforce tab. From there, they can find the appropriate assignment to review the process.
A tool is only as useful as the worker wielding it. With tracking and assessing in Lessonly, you can see who is learning what, when, and how well. Outside of sales enablement tool examples, Lessonly helps foster communication between reps and their managers. Managers can incorporate quiz questions, free-response questions, and even polls to elicit feedback from employees. Time saved working through systems and processes gives way to more time for managers to directly help individuals grow.
Lessonly is also a great platform do distribute weekly updates. Even within our own company, we distribute a weekly industry update in the form of a lesson. This update, though skewed toward sales, keeps everyone in our company in-the-know on competitors and new industry occurrences.
Regardless of your initial intention to use learning software for your team, with Lessonly, you'll find many more enablement uses. Interested in getting onboard with Lessonly to ease learning logistics for your sales team? Check out our free tour.