Writing Performance Reviews
Start down the path toward more efficient employees with more effective performance reviews.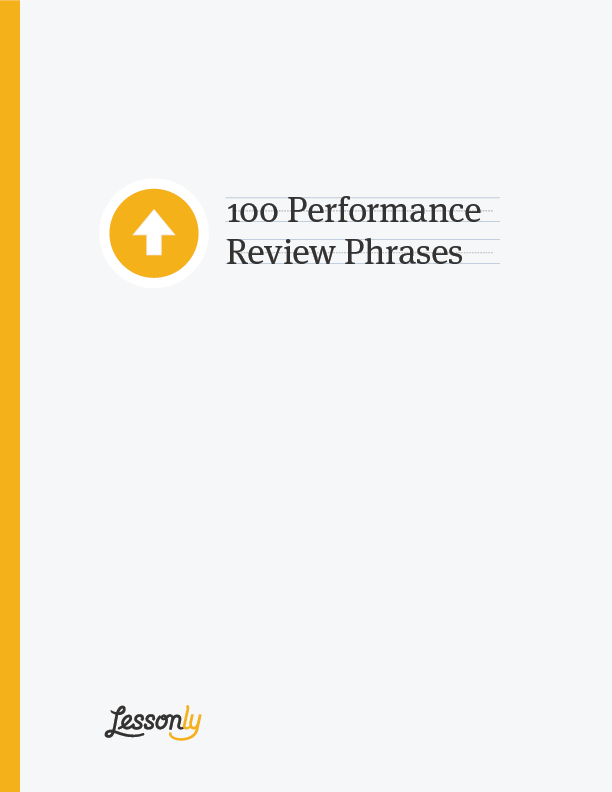 Powerful training, simplified
Join the hundreds of teams—from Fortune 100 enterprises to local businesses—who use Lessonly to onboard, train, and continuously enable millions of employees to learn, practice, and do better work.
Writing Performance Reviews
As a manager, you may be nervous about writing performance reviews, especially for the first time. But, a performance review should be a time to encourage and motivate your employees rather than telling them where they can do better. By keeping a positive voice throughout the review, your employees will leave inspired rather than dejected.
Before writing performance evaluations for all of your team, check out a few performance review examples. You may find one you really like and works perfectly for your team. Then, you do not have to start from scratch when writing employee performance reviews. Consider checking out a couple samples before proceeding with your team to get an idea of how other companies are reviewing their employees.
One way to ensure that you are staying consistent throughout writing performance reviews samples is to use a template. Evaluating your employees on a performance review template instead of on a case to case basis means you are evaluating every employee on a similar scale.
Another way to stay even more consistent and positive is by writing performance review phrases. Writing performance reviews phrases can help any manager know how they want to give feedback even before the review. Reread your phrases you wrote down aloud to see if you can see yourself saying them. If not, scrap your ideas or alter them until they sound genuine. You can't go into your meeting and just read phrases you wrote down–your employees won't believe you.
Employee Performance Evaluations
If you do decide to check out a few examples of performance evaluations, you may want to investigate a few options. You may find that other people are evaluating things you didn't even think about. For example, you are probably going to discuss the quality of their work and their attitude, but did you consider evaluating their mentorship of the newer employees?
Treat your employee review as a time to leave your employees motivated and energized instead of them sulking out of the conference room. Employee performance evaluations are a malleable time for any employee, be sure to make the most of it.
Performance Review Examples
Examples can be helpful, but no one knows your business and your team like you do. If you care more about communication than you care about your team wearing a half Windsor knot over the full Windsor, reflect that on your review. Go ahead and throw out your knot preference from your performance review, the new guy will catch on soon enough.
Using an annual performance review can take your employee reviews to the next level. You should feel confident in changing anything to apply to your team. Examples are a great place to start or complement your reviews, but they may not work as total substitutes.
Saying the right thing is hard sometimes. You can know what you want to say, but people may interpret it in a completely different way. Every person who has ever been interviewed on the local news knows this. Preventing the employee miscommunication can be solved! Reviewing performance review phrases examples can transform the way you think about your comments
Performance Review Phrases
If you want to have an effective performance review, consider role-playing your performance reviews with another manager in a similar position. You can each give each other feedback and be defensive at times to put each other through different scenarios. Being prepared to handle feedback or pushback from your employees before the review process is necessary. If your employees ask you a question about a few employee review phrases and you are unsure how to answer their question, you may lose some credibility.
Different performance appraisal phrases can set the tone for the review process. You want it to stay positive and open so your employees can tell you how you can help in their improvement process. As a manager, using a few go-to performance review quotes can provide consistent feedback to your employees. You need not select your go-to phrase before the first review however. Offer a few different phrases and see how they are perceived. If an employee is offended by one, you may not want to keep pushing that phrase.
Performance Review Comments
Similar to phrases, you want to keep performance appraisal comments positive and helpful. When employee review comments are negative, your employees may be defensive about your feedback. In order to keep the whole review process positive, consider writing down a few employee comments on the performance review template itself.
Actually writing down comments will also allow your employees to review the process and make a few employee review comments themselves. Instead of just telling your employees your thoughts, it can be a conversation to see how both parties can improve together.
Self Performance Review Phrases
Before you even step into the same room with your employees for their review process, consider giving them time to conduct employee self-evaluations. A self-evaluation will be a helpful time to reflect on their past performance and even set some goals for themselves.
In areas where you think they are excelling, they may think they can do better. It can be difficult to see the potential of all of your employees especially if they are relatively new to the team. Also use the time to really define the next steps for their role and what they will continue to do on the team.
When handing them their self-evaluations, don't leave them empty-handed. Similar to how a new manager may feel taken aback when first handed a template without guidance, your employees may be nervous. Give them a sample self assessment performance review and a few self-review tips to get them started. If you have completed self-evaluations in the past, consider giving them a few self evaluation performance review examples from more veteran employees.
Sample Performance Review
Starting your employees with sample self-reviews will also give them experience with performance evaluations. If later in life, they are promoted to manager status, they will have a few sample performance appraisals for their team to look over.
Sample employee performance reviews can clarify expectations and set precedence for your employees. Pending on how in-depth your sample employee reviews are, you and your employees may be able to move efficiently through the review process and start improving quickly.