The Definitive Guide to Measuring Learning
How to start measuring learning in your company.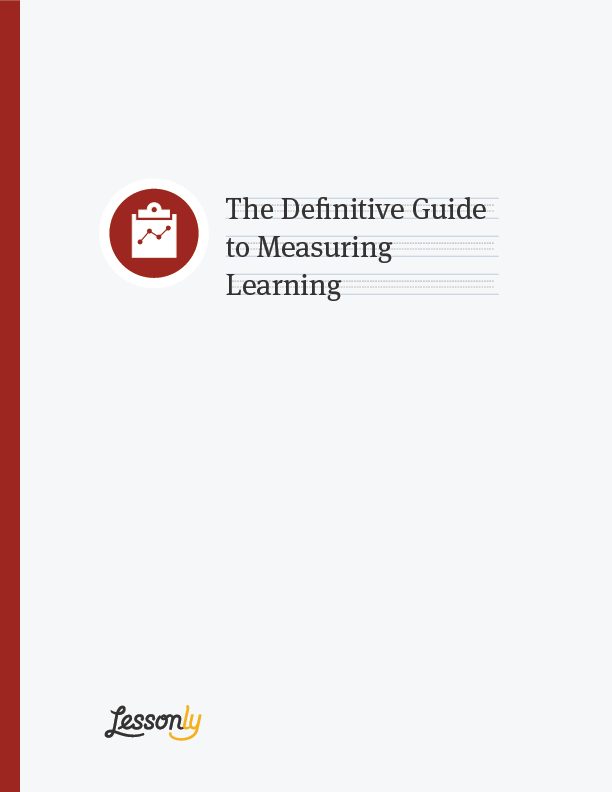 Powerful training, simplified
Join the hundreds of teams—from Fortune 100 enterprises to local businesses—who use Lessonly to onboard, train, and continuously enable millions of employees to learn, practice, and do better work.
After completing any integration, there's always a question of effectiveness. When it's a CRM, you can measure your close rate. When it's an accounting system, you can calculate the expenses saved and revenue gained. But, it's hard to establish how to measure a learning system.
A learning system cannot be graded on the intelligence of your employees or how they feel about different processes. To realistically measure learning you need to have a system in place of how and what, and compare against previous metrics. You cannot improve something you aren't measuring. The guide above will help you figure out how to start measuring learning in your company and what level you actually need to measure.
As a growing company, sometimes metrics are not prioritized. We have to remember the importance of measuring the impact of any system in the first place.
How to evaluate your learning in different stages:
Past
The past is a sunk cost, you must live with whatever money you spent. But, evaluating the past and being aware can lead to a better future. We must not neglect to evaluate our past and forget to compare quarters or years. If you made a poor choice in the past, it's best to learn how your team could have avoided it and do better in the future. Do not linger on the mistakes, but instead evaluate what you need now and in the future from a system.
Present
Ask for feedback from your employees. Ask your employees if they enjoyed their learning experience and how it could be better. It's easier to learn if you enjoy how you're being taught. It shouldn't be a surprise that the people taking the lessons should know the lessons the best. You might have glanced over some low-hanging fruit that was not as obvious to your students. It's important to try and put yourself in the shoes of your learners to really understand how to improve current processes.
Future
You need to establish a set of procedures to continue at your growth rate. Whether it is to invest more time or money in learning and get more users up to speed faster or even spend more time analyzing how learning is impacting your employees. Set goals for your employees using past and present data to see what you can accomplish in the future. Consider spreading the effectiveness of e-learning to different departments to share what your team accomplished in less time than it used to. Every company should be a team effort so share what you know and maybe they'll have some more insights to improve your current lessons.
These are not data oriented or very specific, but it's a big picture to get you started. To see more specific detail of how you can start evaluating your own training process, what level you should be evaluating at, and the do's and do not's of learning impact evaluation, download the lesson above. Stop guessing in your learning evaluation and start measuring the effectiveness of your lessons today.