Sales Training Ideas
Lead your team through the sales cycle—from prospecting to closed-won. These training ideas address key skills your sales team needs for success.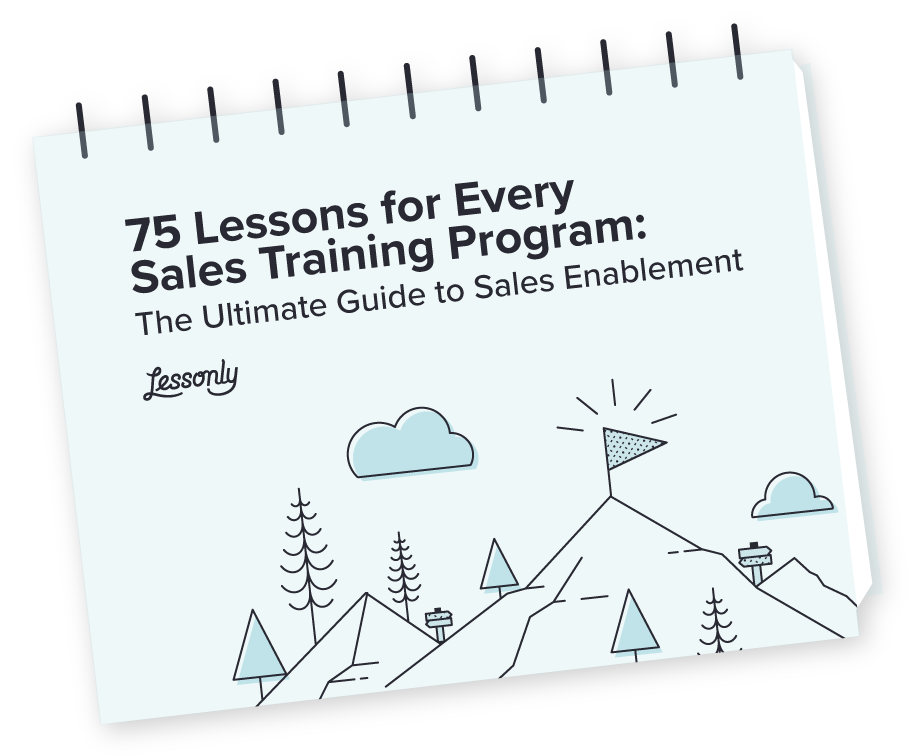 Powerful Training, Simplified
Join the hundreds of teams—from Fortune 100 enterprises to local businesses—who use Lessonly to onboard, train, and continuously enable millions of employees to learn, practice, and do better work.
Sales Training Ideas Free Resource
As a manager, proper sales training can be a tough nut to crack evenly. With copious amounts of advice out there, it's best to develop a concrete plan. You could hire sales training companies, but Lessonly has put together a pretty great resource to get you started. From there you can build and organize your own content.
In this free sales training ideas resource, we'll be covering common sales training courses, sales coaching techniques, sales class examples, and supplying you with other sales resources to check out. Below is a sneak peak into the resource (but we suggest downloading it. It's much more entertaining.)
Lessonly as a Sales Training Software
At Lessonly, we're big fans of the flipped-classroom approach. That means, instead of having a big group sit down and listen, let the group learn on their own, then come back and exemplify what has been learned.
With that said, Lessonly offers a platform for employee learning with intuitive content creation and seamless deliverability. Creators can assign lessons, quiz learners, and track progress all within one interface. So, say you're ready to build that content. What sales training topics do you start with?
Sales Training Courses
Before we suggest specific lessons, let's think broader. A sales training course as an umbrella — a broad topic. Under the course is lessons. Lessons revolve around the topic, but are more in-depth in answering, "Why?"
For example, you can have a course labeled Sales Coaching Techniques but then have lessons underneath it labeled Team Building Activities or Incentive Ideas. We touch on those specific topics in the resource. To cater to a specific industry, maybe you have a course called Automotive Sales Training, but then you have a lesson on Used Car Sales Training Programs.
Here are some subjects we strongly suggest including as sales training courses:
Sales Pipeline Training – From the top of the funnel to the bottom of the funnel, this course should consist of everything a rep should know to make it through the pipeline fluidly.
Cold Calling Techniques – If you're training for B2B sales, you and your reps should be no stranger to cold calling. Create a lesson that takes the dreaded connotation of the word and turns it around for the best. Cold calling gets a bad rap, but it's usually due to reps not researching the proper target.
Presentation Skills – For great sales training, presentations are a must. Giving a great presentation starts with really knowing the client. And it can be different every time. Create lessons about the preparation, the use of media, and the content points to emphasize in a presentation.
Negotiating Skills – No sales rep will deal with passivity. Every rep must be able to deal with discount questions and timing restraints. Have specific lessons about negotiating deals. Whether it's product or contract, there are approaches sales reps must be versed in to effectively win for both sides. That way, when a sales rep is selling a prospect who is also a sales rep, she'll know what to do and be confident in doing it.
Sales Class In Session
After you've built up plenty of training content, and you've dispersed it to new reps to study, let them show you what they're made of. It's good to get your reps immersed in the context before they give themselves the opportunity to trip up. On top of creative contexts, step outside of the material and really get to know the people you'll be working with.
Fun Sales Training Ideas
If you're not mixing in a little fun in your training, then you're basically imitating the classroom scene from Ferris Bueller's Day Off. What we're trying to say is: don't be boring. Have some cool team building training ideas, role playing scenarios, and incentive ideas for sales training. We'll have a few examples fleshed out in the resource above.
Team building ideas – Throw in a few sales strategy games on the first day. Break people up in groups and literally make them build something. Strengthen ties by finding a relation from person-to-person. Have a laugh by everyone sharing their best/worst jokes.
Role-playing scenarios – Don't let scenarios be bland. Creativity gives you an upper-hand! Give your team odd examples of companies to work with. Challenge them with approaches, but also make them laugh.
Incentive ideas – Everyone likes to be rewarded. Throughout the training process, offer small rewards to those who excel. At the end of training, throw a party!
Sales Training Resources
All sales teams need material to reference. If you've built up a plethora of helpful lessons in Lessonly, then you're on top of your game. If not, you'll get there, but until then, have a variety of resources sales teams can access.
Sales articles are usually the first go-to. They're easily accessible on the internet, and if you have a favorite sales publication, it can be delivered right to the office! We have quite the sale leader, Conner Burt. He's been leading sales since the beginning and has had experience working with all pieces of the sales pipeline. He's often giving his own tips on Hubspot's Sales blog. Articles are aplenty, but we suggest that after reading, write down the important takeaway points that you'd like to incorporate later in ongoing training.
Sales training seminars are also really great for takeaways. Whether it's sending a team to one or holding your own, there's plenty to be learned between sales rookies and veterans when you have them all in one place.
Great Training Leads to Loyal Learners
At the end of your training or as you go along, have a discourse with your learners. Ask for feedback. In fact, insist upon it. That way, they know you're learning too.
A combination of great elearning content, ice-breaking, and role-playing will make the sales training process fluid. Heck, by the end of it, it won't seem like training at all. Your learners will associate it with a good time, not a groggy one. After initial training, ongoing training will be embraced and taken in stride.