Sales Training Courses
Check out this resource for a look at some of our favorite sales training ideas.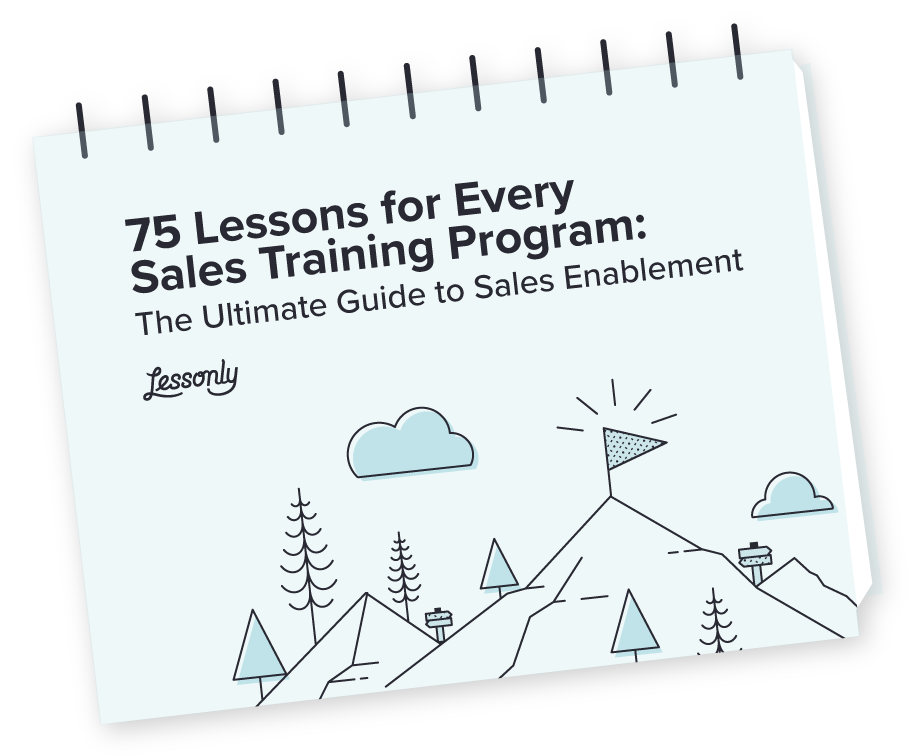 Powerful training, simplified
Join the hundreds of teams—from Fortune 100 enterprises to local businesses—who use Lessonly to onboard, train, and continuously enable millions of employees to learn, practice, and do better work.
Sales Training Courses
Sales is a trying, but necessary part of any business. In order to be successful, you need people skills, tenacity, organization, persistence, and a great voice on the phone. If you are bringing on a set of new hires, trying to improve the productivity of current hires, or even offering a refresher to the current veterans, you will need a sales training course.
Opinions of how to conduct a sales training course vary drastically. One way to consider is walking through the sales process from the very beginning. Walking your learners through the prospecting process all the way to their closing question and then a relationship maintenance lesson is likely the best way to advance through the course. When your learners understand each step in the process while walking through you can describe the conceptual benefit of each area as well as the advancement of the overall process.
Above, you will find our sales training course online. Free lessons can offer a great place to start your training program. You may find that the above lesson even fits your team so well that you can just use it to train your team. In that case, great! We love helping teams learn.
Sales Training Ideas
Some sales training ideas are designed to improve the communication skills and others are designed to improve the cold email or cold call skills of your team. You will likely need to invest time in both areas to improve your team throughout the entire process. Consider offering your team some role playing scenarios with customers so they will learn to handle objections properly and start negotiating at a skill level beyond their years.
Starting with sales skills training can establish the foundation of your team. Communicating what skills your team is going to improve upon before the process even begins can lay out the roadmap. If you are going to incorporate sales training videos into your process, make them fun. Your learners are more likely to remember a video that made them laugh rather than one of those cheesy videos of a guy in front of a green screen with a typical "Oh, hello, I didn't see you there." Wait, that could be hilarious. If you can make that funny ironically, definitely do that and send me the video.
If you decide to invest in a sales training software, I know a great one. An online training software can offer a great way to easily build lessons to train your team and then track your employees. The free sales training above is a great way to try out our application and see what you think. The above lessons are a how a learner will view their assigned lessons.
Sales Training Programs
Numerous sales training programs already exist. It can be a daunting task to try to sift through the unhelpful programs and find the top sales training programs. If you've made it this far, you have successfully sifted. Online sales training programs, like the one above, can give you great insight into where you want to take your sales training for your team. Below are some examples of some sales lessons that have worked in the past.
Sales 101
Sales 101 is the first lesson for your sales team. It will nostalgically take them back to freshman year where initially it may have seemed like a struggle, Sales 101 training may not be easy. For your veterans taking a victory lap or a refresher, it should seem like a breeze.
Make sure to throw in a tough question to throw off your veterans after they get complacent in the lesson. A tough question will also give your new learners insight into how much they will learn in your sales training program.
Action Selling
Action selling is defined by five buying decision stages. Those stages are made up of nine acts. In the first stage of defining the plan to win, the salesperson and their manager must create a plan to win and commit to it.
The second stage is for the salesperson. It is a base foundation level training that includes people skills, asking the right questions, and agreeing on a need. Following this process will be a great way to categorize your sales training and order it.
The fifth act is based primarily on the company, which comes before the sixth act of selling the product. If your customer knows you are a product expert in your industry or in their industry, they will want to do business with you. Next, you sell them on the product. By selling the company before the product, you establish a rapport with your prospect.
The fourth stage is time to buy. Notice Action Selling does not rush the prospect through the funnel but instead lets them take their time getting to know the company, salesperson, and then the product. In the seventh and eighth act, ask for the sale. Get a time commitment as well as a confirmation of the sale. In the ninth stage, you can review the call and bask in your success.
Dale Carnegie Sales Training
Dale Carnegie is one of the most renowned names in business and in sales. If you take the Dale Carnegie Sales Training approach to your sales team, prepare for higher engagement, more positive attitudes, and higher close rates.
The Dale Carnegie sales advantage offers an eight-session course that can be helpful for anyone whether they are in sales or not. For a quick session, consider sending your team to a few Dale Carnegie workshops.
Zig Ziglar
With a name like Zig Ziglar, he likely didn't have a difficult time making friends. It's a great name, I'd try to be friends with him, and it may have helped his great sales technique go viral. Anyway, Zig Ziglar was a bestselling author and motivational speaker.
His techniques worked so well that others have continued his legacy through Zig Ziglar videos and Zig Ziglar seminars. Consider checking out a few options for your team to see the impact Zig Ziglar can make. I just like saying his name. Zig Ziglar.
Sales Training Companies
You may think that sales should just be a natural skill to enthusiastic and extroverted people. It may be for some, but even ones naturally skilled can improve. Ensure that you are getting the most potential out of your team and invest in training. You will notice the difference of your team once you start to climb the ranks of the best sales training companies.
Even if it doesn't work out between your new sales team and your company, they will be grateful they got to experience your sales training.
Medical Sales Training Programs
Remember The Pursuit of Happyness, that movie where Will Smith is homeless? He was a struggling salesman until he landed that job as a broker. If only his company had invested in some medical sales training programs, he may have gone on to not even need to work that temporary job.
Sales Performance International
International companies or traveling salesman may have a more difficult time in their training. Trying to accommodate different cultures in techniques and knowing different areas is an intimidating task.
Training is arguably more important in these companies to increase across-the-globe sales performance. International sales opportunities can be challenging but it can be a great feeling to accomplish, I assume.
Sales Training
For ongoing training, consider sending a few members of your team to regular sales training seminars. It will be a great opportunity to learn from valuable speakers as well as network with peers. You may even close a few deals out of it. Sales training workshops can be a valuable opportunity to role-play different scenarios with individuals outside of the company.
If you are looking for a less expensive form of ongoing training, share regular sales training articles with your team. Even if they are fundamental tips, it's always helpful to review.