Sales Skills
Specific skills to sell products, services, and ideas to a receptive audience.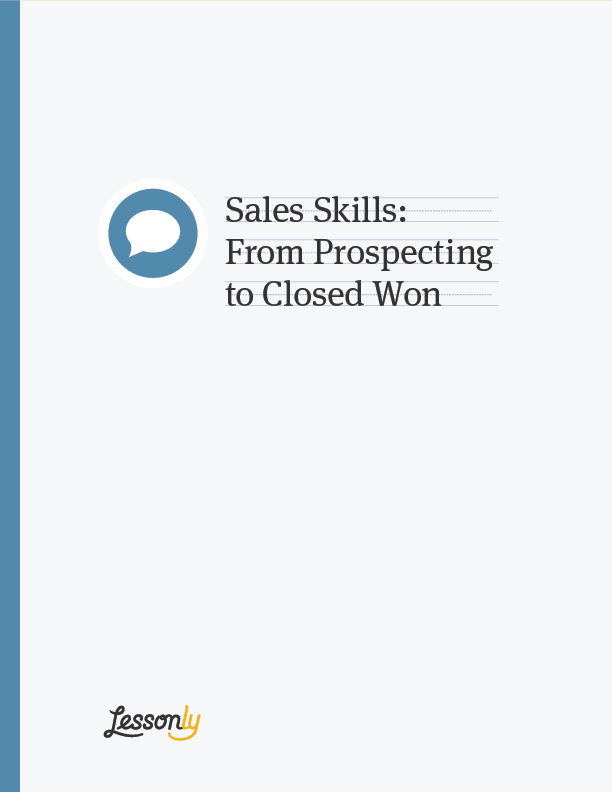 Powerful training, simplified
Join the hundreds of teams—from Fortune 100 enterprises to local businesses—who use Lessonly to onboard, train, and continuously enable millions of employees to learn, practice, and do better work.
Sales Skills and Abilities
Whether you are offering a product to a customer, a service to an entire industry sector, or an idea that is destined to change the future of commerce, the ability to sell those products, services, and ideas to a receptive audience, is dependent upon developing professional selling skills. Having salesperson skills designed to deliver your message to an uninformed public can be very persuasive. Salesman skills, long considered the province of the person peddling insurance door to door, or the disreputable used-car salesperson down the block, is now viewed as an instrumental expertise that does more than merely pad the well-documented retail sales resume.
Basic selling skills have more than business applications. For instance, what better chance do you have to go to the restraint of your choice than by selling the idea to your friends and family? When attempting to swing someone to your point of view regarding the home team's chances at winning it all this season, are you not really just utilizing selling skills to sell your point of view? The point is, we live in a world that is guided by persuasion, and influenced by a compelling sales narrative, so burnishing your sales resume with selling tips and techniques that are geared towards identifying customer needs and closing sales in a prompt and satisfying manner that guarantees repeat business with that customer.
Honing your sales skills and techniques translates into improved performance and seamless transitioning between an interested buyer and satisfied paying customer. Developing sales skills allows you the insight to anticipate customer concerns, which can be easily paired to a selling narrative that positions your products and services as the perfect solution to solve their problems.
Even in retail, retail selling skills can give the customer an extra nudge to purchase an item. Once they hear of the fire sale of the day, they might be a little more excited to pick up that winter scarf in June. Retail sales skills can be applied to any industry whether you are in sales or not. In retail, you can face customers that reject or even ignore you. Through experience, employees learn not to take things personally and move on to the next opportunity.
Marketing in a World of Selling
In years past, there seemed to be a white line running down the collective consciousness of office managers, which often suggested a stark divide between the functions of marketing and selling. For instance, marketing skills were aimed solely at generating leads, which were subsequently passed onward to a motivated sales force to close the deal. Today however, recognizing that garbage in typically results in garbage out, the savvy marketing professional understand that the marketing skills needed today are the ones that can recognize the difference between a viable lead and a prospect that is likely to do little more than generate frustration on the sales side of the office.
As such, when developing a marketing skills definition that you can share with your staff, it should highlight the partnership that the two disciplines share. Therefore, the marketing skills resumé should include many of the elements that cause a retail sales resumé to pop and vice versa when cross training your team. Perusing a marketing skills list should yield a significant crossover when comparing it to that of a sales skills list.
The Zig Ziglar Sales and Leadership Methods
Well-known motivational speaker, prolific author, and award-winning salesman, Zig Ziglar, built a career around developing sales and leadership techniques that resonate to this day. Perhaps one of his defining quotes, "You can have everything in life you want if you just help enough people get what they want," illustrates the heart of the Zig Ziglar sales techniques.
His methods, founded in 1978, the Zig Ziglar leadership techniques have reached more than 250 million people who have learned from his more than thirty self-help books, numerous seminars, and videos. With auditoriums filled with tens of thousands of eager participants, the Zig Ziglar methods are guaranteed to instill first class selling