Retail Skills List
Customer service, sales, and onboarding tips for retail employees.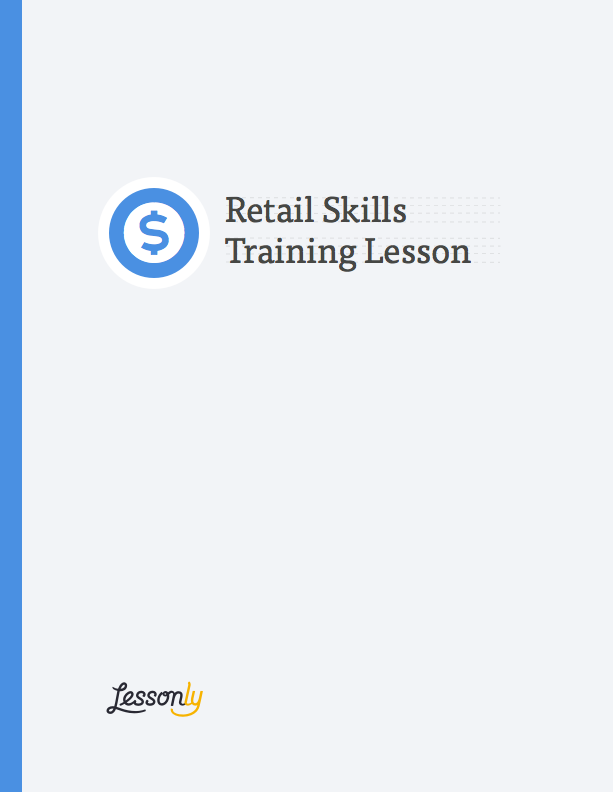 Powerful training, simplified
Join the hundreds of teams—from Fortune 100 enterprises to local businesses—who use Lessonly to onboard, train, and continuously enable millions of employees to learn, practice, and do better work.
Retail Skills
To succeed in retail, you need retail skills. Many retail skills can be learned. In the download above, you will find what retail skills are imperative and the best way to train your new or veteran employees how to conquer retail.
Retail skills can help anyone in any stage of their career professionally or personally. In retail, employees learn the importance of patience, a positive attitude, and prioritization. Although retail skills are an important thing to recruit on when seeking new retail employees, retail skills are important to training. Releasing your employees to the floor can be detrimental to the employees as well as the customers' experiences.
Skills to work in retail can be complemented by natural ability, but many skills on the retail skills list of the internet can be learned. What better place to learn them than the company which the employee will join? If you can teach your employees skills that will improve their ability as a retail employee and their retail skills resume, they will be eternally grateful.
Retail Sales Training
Retail sales training should not have to be a strenuous process. Your employees should be able to take lessons on product updates or policy changes on their own time. A lesson that employees can take at any time is especially helpful due to the variability of schedules in retail employees. Whether your employees are full-time or part-time, their product knowledge and industry trend knowledge needs to be beyond the customers' expectations. When you impress your customers and become a product expert, they are more likely to buy from your business.
Retail sales skills differ from inside sales or even outside sales because a retail sales representative may only have one point of contact with the customer. Once they walk out of the building, they could be gone from that store forever. Retail representatives need to offer a myriad of resources for the customers. A customer could enter your store with very different questions than the customer before. So, educating your retail staff is vital to improving the experience of every customer.
Some retail representatives can overwhelm a customer while others can never speak to customers at all. Both are bad. Retail employees must find the balance that also fits their personality and style. Role-playing retail sales skills and techniques with your retail employees can help a new employee find their style.
Retail Management Skills List
Managing a retail store is difficult. With such a high turnover rate in retail, it seems like there is always training on the schedule.
To become a great manager, you must know your team. When you know your audience, your training improves and becomes more engaging. In the above download, you will find examples of what skills to train on and advice on how to train your team. You may find that the same skills to succeed are the same skills to succeed as a retail manager. Check out the download above and see the skills we think are most important to being successful in retail and see how you stack up.
Retail Objective
To achieve your goals as a retail manager, you need to have objectives. Whether you want to increase local awareness of your store, increase promotion spending, decrease employee turnover, or decrease shrinkage, you need to focus on what your objectives are. Planning your objectives with your team can build morale. When you involve your team in the planning process, they feel like a valued member of the team.
Team members with initiative will thank you for involving them with in-store strategy. Get to know your team, some of them may have the desire to run their own store in the future. Involving the members with initiative will also lead you to more opportunities for your store. When they have a goal of managing their own retail store and when they feel like they have a voice in your own store, they will feel comfortable discussing ideas with you. Whether ideas come from competitors, local stores, or even another industry, do not neglect ideas.
Consider empowering the employee that is passionate about the idea to head up the project. For example, if they think your store should have a twitter account telling potential customers about flash sales or engaging with followers, let them run it. You should give guidelines to keep your brand aligned across all channels and help them with the project but put them in charge. It will also be a great way to judge promotions in the future.
Accomplishing your retail objectives with your team is easy while accomplishing them by yourself is difficult. By delegating and collaborating your team will stick around for longer, and thank you for your help on their retail resume objective if they decide to leave the company.
Retail Job Skills
Crafting the perfect team starts with recruiting. You want to search for the ideal set of retail job skills during the résumé and even on a retail résumé. If your potential new hires do not have any previous retail experience, you should not feel the need to disregard them completely. Instead, ask how they handled issues in the past that are relatable to customer service.
For instance, you can ask a previous sales associate how they established rapport with customers or prospects in previous experience listed on their sales associate résumé. Even if they don't have what you might have expected of a retail sales résumé, you should consider them.
Customer service skills also easily transfer to retail. When a representative works through troubleshooting issues with a customer, they gain skills of answering questions and communicating with customers. When a potential customer or a long-time customer comes into your storefront with a few questions, they expect answers from your employees. Customer service representatives know this feeling and are comfortable being asked questions. If a customer service representative wants to make the switch to retail, a customer service résumé can be helpful. As a recruiter or manager, look for points that step outside the normal role as a customer service representative.
If your prospects have already accumulated a great retail résumé sample, that makes things easier. There is still much to consider after evaluating a résumé including cultural congruency, career aspirations, and more. A great résumé is a foot in the door for an aligned position, but it is not a guarantee.