Free Performance Review Examples
Show employees areas where they are succeeding and areas where they can improve upon.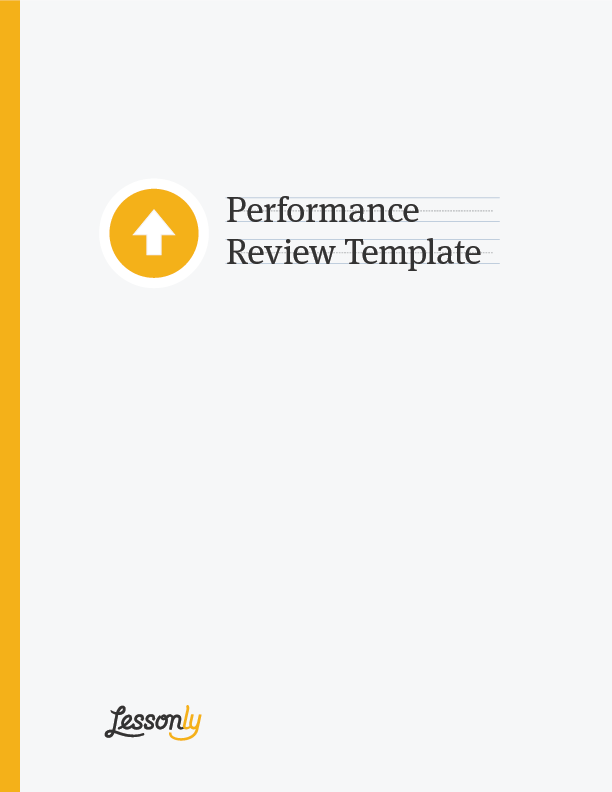 Powerful training, simplified
Join the hundreds of teams—from Fortune 100 enterprises to local businesses—who use Lessonly to onboard, train, and continuously enable millions of employees to learn, practice, and do better work.
Employee Performance Review
The chances are pretty good that unless you are a food or a film critic, you are uncomfortable criticizing those around you as a rule. That being said, as a manager you do understand the importance of providing feedback to your staff as a way of guiding their ongoing professional development. As such, the employee performance review process should not be viewed in a negative light, and an annual employee performance appraisal affords you the chance to sit down with your staff on an individual level and connect with them on the things that they are doing well. It also offers a roadmap towards leading an employee experiencing difficulties on the right path back to full productivity.
Oftentimes, performance appraisals unearth problems that the employee was entirely unaware of, and most welcome the opportunity to be guided away from problem career areas. To be successful, a staff performance appraisal, the entire performance appraisal process should be geared towards providing helpful, non-threatening direction for employees experiencing difficulties and unabashed praise for those aspects of their career that are working well.
Companies use the performance appraisal process to continually grow and advance their workforce. Your employees are your most important resource, and if they are not continuously growing in skills, confidence, and knowledge, then your company is missing out on important human capital, which is instrumental in moving your business forward. Thinking that your employee is only at his or her desk is a mistake. Unleashing their potential begins with a frank assessment of their current skill sets, and an employee performance review is where to start.
The Performance Review Template
At the heart of a successful, employee performance review is an objective, performance review template. Using a performance management template ensures that you do not miss out on any critical information that can be used to assess your employee's job and work performance. A balanced scorecard template guarantees that every employee is being measured against the same yardstick when it comes to selecting a performance appraisal template for evaluation. The advantages of utilizing a performance evaluation template or an employee performance evaluation template are that it provides a firm benchmark on data points that every worker must meet thus ensuring a non-biased review process.
The well crafted employee performance review template is a tool in the supervisor's work chest that is perfect for obtaining a non-biased appraisal of your staff based on the findings of your performance management plan template. As mentioned, your employees want to succeed, and the employee performance review is an excellent way to show them how well they are doing in the reach for their goals. Conversely, for employees not meeting those goals, but are worthy of continued support, the employee performance evaluation template offers a non-threatening way to address the situation and arrive at workable solutions moving forward.
Performance Review Examples
The importance of performance appraisal examples cannot be overstated when it comes to a successful employee review. Performance appraisal samples, along with performance review examples, give your employees a frame of reference on which to examine your feedback on their performance. For those who are unsure of what constitutes a strong performance evaluation sample, there is an array of templates designed to give that exact direction. There is no reason that you should have to reinvent the wheel when there are perfectly good wheels already available and tested.
Drawing from a wide range of examples, to include the performance appraisal sample and the performance review sample, you have the material you need to conduct a solid employee performance review sample. Also helpful in gauging your employees assessment of their own performance, ask them to conduct a review based on a self-performance review sample.
With performance appraisal examples at your disposal, the annual staff review becomes an exercise in developing your employee's talent as opposed to a struggle to come up with objective and proper performance review samples.
Performance Review Phrases
Words can cut, and nowhere is that more true than when dealing with negative words that can have a bearing on a person's living. For that reason, performance review comments should be couched in positive words and helpful phrases that use proper communication to help employees reach their potential.
Finding performance review phrases examples, or self-performance review phrases, you set a positive tone for the performance meeting that encourages the employee to better their performance rather than skulk away and sulk about the results.
That does not need to be the case, because there are a wide range of examples, to include the performance appraisal phrases and the performance evaluation phrases, you have the material you need to conduct a solid employee performance review sample. Also helpful in gauging your employees assessment of their own performance, ask them to conduct a review based on a self performance evaluation phrases that take a positive spin on their performance worded in tangible phrases that will lead to a desire to succeed rather than an urge to flee the meeting based on the performance evaluation comments.
Performance Appraisal Form
In the same way that templates are an attractive option for those human resource managers unwilling to reinvent the wheel, the use of proven, performance evaluation forms provides a level of consistency when it comes to the evaluation of your employed staff. Utilizing a standardized job performance evaluation form, offers supervisors a consistent, unbiased, baseline on which to measure employee performance. That being said, the standardized performance appraisal form offers little in the way of a personalized glimpse into your employee's professional growth.
To move beyond the sterile template view that the standardized performance review form makes available, diligent human resource directors can personalize the experience by adding customized sections that are specifically germane to your firm, or the individual employee's role within your organization. As an example, if your company's annual goal is to increase your online revenue stream by a factor of five, inserting sections that specifically measure those values turns the evaluation process into a meaningful exercise that reinforces the worker's daily and monthly goals. In this way, the employee evaluation process is structured by performance review form, but personalization adds depth and meaning to the exercise.