New Hire Paperwork
The most important new hire paperwork template for any employee you hire in the future.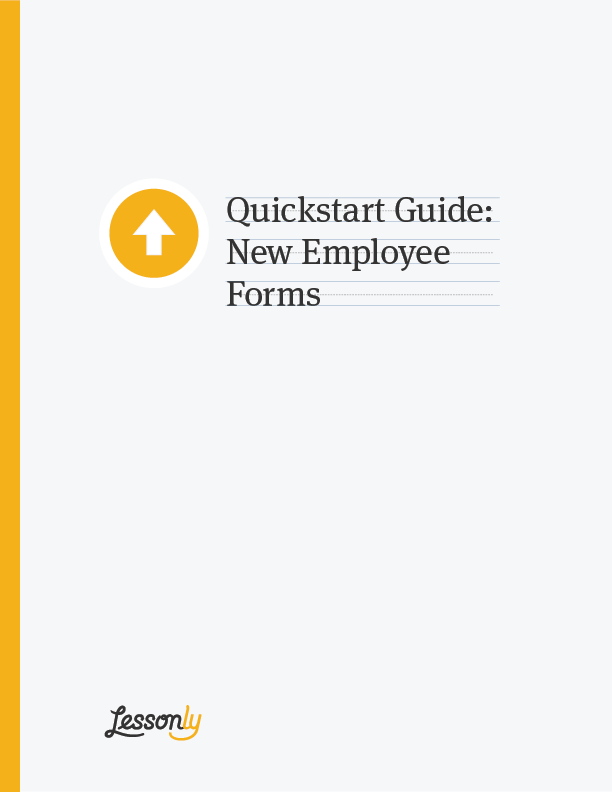 Powerful training, simplified
Join the hundreds of teams—from Fortune 100 enterprises to local businesses—who use Lessonly to onboard, train, and continuously enable millions of employees to learn, practice, and do better work.
New Hire Paperwork
Let's be honest; new hire paperwork is boring. There. We said it. It's out in the open. It can be a burden for any employer to gather everything they need for each employee. Worry not! We took on the challenge faster than Frodo Baggins signed up to take the ring to Mordor.
Sure, forms are boring, however, every business and employee needs a new hire packet. In the download above, we've collected the most important new hire paperwork template for any employee you hire in the future.
Use this packet to give your employees all the paperwork they need for your company and for the IRS. Although both parties of employees and employers have recognized new hire paperwork as a mutual abhorrence, your employees likely enjoy receiving their paychecks at the end of each pay period.
Consider even giving your new hires paperwork before they arrive at the office. That way you aren't making it rain HR forms on your employees as soon as they walk through the door. Instead, they can throw their forms to the ceiling tiles when they arrive. Well, let's hope they don't do that and kept them in order so we can just hand them off then continue the excitement of orientation.
No one wants to remember the first hour of their first day as time spent filling out forms that could have been completed anywhere. Instead, let your employees fill out your forms anywhere. Then you can get started with onboarding activities, office tours, meet the team introductions, and ice-breakers.
New Hire Forms
New hire forms have become commonplace. Often new employees are greeted at the door with a packet of paperwork. To improve that process, consider giving your employees forms before they get to the office on their first day. That will keep the excitement of a first day rolling without much hindrance. Your employees can walk through the door, hand you the completed new hire welcome packet, and then move on to orientation activities.
Although it may be a pain for both parties, new hire packet forms are a realized necessity. Every company has some sort of HR forms, so unless your employees haven't had a job before, they will understand the need to complete forms. To get your new hire paperwork, simply fill out the form above to access the download.
Like stated earlier, timing is everything in new hire paperwork. You want your employees to be excited and keep the excitement going when they step through the door. So, keep your human resources department and your new employees happy by offering them before the start date.
W-4s
What is a W-4 anyway?
The W-4 is a form from IRS for your employer to ensure it is withholding the proper amount of federal income tax. Properly filling out your W-4 can leave you with the right amount of money at the end of the week and leave you owing the government less money at the end of the year.
The IRS suggests you fill out a new W-4 every year or every time your personal circumstances change, for example, you have a kid or you get married. The congratulations from the IRS is a W-4.
What Tax Form is Used for Independent Contractors?
1099 employee forms are used for miscellaneous income by independent contractors. So, when outsourcing a job or you are hiring a contractor, they will fill out 1099 paperwork.
1099 Employer Requirements
If an individual is set to make over $600 in a year, but not qualify as an employee, they need a 1099
There are different types of 1099 forms, so make sure you have the right one
Any 1099 sent to you is also sent to the IRS
1099 Employee Requirements
If how you perform services is controlled by the employer, you are not an independent contractor
If an employer-employee relationship exists, you are not an independent contractor
If the employer reimburses all expenses, you are likely not an independent contractor
1099 independent contractor forms are important to employees and employers both. So, before hiring an independent contractor, consider if they meet qualifications or if they are closer to an employee.
New Employee Checklist
When welcoming a class of new hires, it's easy to get caught up in the excitement and forget a few forms here and there. If you have a new hire checklist, you won't forget anything! By walking your new hires through a new hire checklist, you won't forget anything.
Using a new hire orientation checklist not only ensures that you have every form to please HR, but it also ensures you don't miss something you wanted to do with your new class. Whether it is handing out some fresh new swag to your employees, playing a few games, or even introductions.
Although it might not sound too exciting or like much fun, a new hire checklist for managers can help managers keep track of the day. Consider defining a schedule of times you want to accomplish everything. You don't want your new employees to miss out on the full experience because your safety presentation took too long.
Something I think is important to add to any sample new hire checklist is a tour of the office. You may think the office has a pretty standard layout, but you've been there for a while. You might have gotten lost in your first week. By giving a tour, you can greatly reduce the chances of losing a new hire to the maze of your office.
Consider making a checklist for training. With Excel, you can easily keep track of a new hire checklist. Excel allows you to plan out different categories for different employees, set timelines, and what you want to accomplish at certain times. But, to be fair, I am a huge nerd for Excel. You may hate it, but you can likely find someone in your office or even on your team who is as in love with the program as I am.