New Employee Forms Quickstart Guide
Your guide to what each new employee form covers and downloads for each.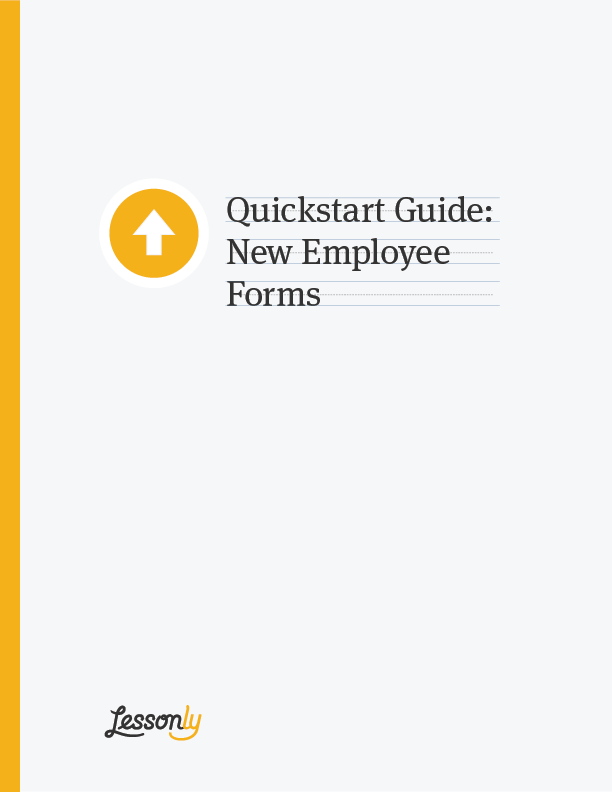 Powerful training, simplified
Join the hundreds of teams—from Fortune 100 enterprises to local businesses—who use Lessonly to onboard, train, and continuously enable millions of employees to learn, practice, and do better work.
New Employee Forms
Every business is required to have new hires fill out a variety of new employee forms. Not only does both federal and state law mandate that these forms be filled out, they'll also help the employer keep track of pertinent employee information. New employee forms must be filled out before or near the time employees actually start working and receive their first paycheck. Every business should establish a new employee forms checklist, as well as a file to store all job-related documents immediately after a hire is made. Examples of new employee forms include a job application, the IRS W-4 form, I-9 forms, sign up forms for employee benefits, official offers of employment and performance evaluations.
New Employee Tax Forms
Employers are required to have new employees fill out a few specific new hire tax forms. The W-9 form is required by the IRS to obtain a taxpayer identification number. Those who are hired to provide to their services to another company, such as consultants, independent contractors, and other self-employed workers, must fill out this form for tax purposes. It requires basic information like the worker's name, social security number and the business's employer identification number.
Another one of the important tax forms for new employees is the IRS I-9 form. This form is designed to provide documentation that a new employee is authorized to work in the USA. Along with filling out the form, employees must also provide supporting documentation to verify their identity and eligibility to legally work in the USA. Employers must examine these supporting documents and believe that they are valid before allowing the new employee to begin working. Acceptable documents in support of the I-9 form include a driver's license, birth certificate, and a social security card to establish one's identity and employment eligibility.
New hires must also fill out the W-4 form. This form allows new employees to instruct employers as to how much money should be withheld from each paycheck for federal income taxes. W-4 forms require the new hire to indicate his number of allowances, additional deduction amounts, and marital status. This form must be completed at the time of hire and be submitted before the first paycheck can be processed. Employers should be aware that employees can alter the amounts on their W-4 forms whenever desired. The form must have the employee's signature and be stored in his or her payroll folder to serve as a record of his or her specific federal income tax withholdings. Certain states have their own variations of the W-4 form to account for state withholding amounts that are distinct from federal withholding amounts.
Job Application Form
Employers should always have potential employees fill out a job application form. This will help the company maintain an organized record of job seekers who've expressed interest in positions. It will also establish an informational starting point for applicants who are actually hired. When attempting to create this form, begin with a job applicant's form template that has areas for prospective employees to record specific personal information such as their name, date of birth, address, phone number, educational attainments, work history and any other details that are relevant to your company. Once the job application template is created, it should be saved and continuously updated as necessary. It can then be manifested as a printable job application form.
A company that would like an example to base its generic job application form off of should take a look at the Mcdonalds job application form. This sample application form is quite effective thanks to its simplicity, organization, and straightforward design. Use it as inspiration to build the initial design of your company's job application form template. Or, take a look at the user-friendly design of the job application form for Walmart if you'd like another source of inspiration for your new hire application. Your first draft of a simple new employee application form should be created with the goal of spacing out pertinent employee information in a way that allows applicants to fill out personal details with ample room to spare. The standard job application form also includes space for references, so leave a substantial area at the end for the applicant to fill out this information.
Direct Deposit Form
Employers should establish a direct deposit form Quickbooks system so that employees can have their paychecks automatically deposited right into their checking accounts. Consider using a Paychex direct deposit form, an ADP direct deposit form, a direct deposit form Chase, or another generic direct deposit form that you can procure from the Internet. All it takes is a simple Internet search and you'll find numerous examples of a direct deposit form template and a sample direct deposit form. To find better results, perform an image search. You'll see examples that contain all of the pertinent information that is required in a direct deposit form including the employee's name, his or her bank's name and address, his checking account number and routing number, and other information. Use these pre-existing forms to draft your own unique direct deposit form template.
Make sure that your direct deposit form is easy to understand and provides significant space for new hires to fill out their personal and banking information. A direct deposit authorization form should always be copied and stored in employee files in a secure manner as its contents are sensitive. Just about every employee will opt for direct deposit as opposed to a traditional paper paycheck that requires them to travel to the bank and make a deposit.
New Employee Information Form
Employers must gather key information about their new employees for more than just record-keeping purposes. A new employee information form should also have a section for at least one emergency contact in case the employee is injured at work. This way, the employer can notify the employee's family member of an emergency in a timely manner. The emergency contact information form should include the contact person's relationship to the employee, their name, phone number and a space for the employee to sign his name and record the date on which he provided the information.
A new employee information sheet should also provide spaces for an employee to provide his or her personal information. This includes an area for his or her full name, address, mailing address if it is different from his residential address, social security number, home phone number, cell phone number, date of birth, job title, department, and supervisor name. Employers can find examples of a new employee information form template online that they can use to base their own forms off of.
New Hire Checklist
Employers will greatly benefit from using a new hire checklist when bringing a new employee on board. A new employee checklist is essential for organizational purposes during the onboarding process. List out all of the items that the company needs from an employee on this checklist so that they can be marked off once provided. These include the job application, resume, the tax forms outlined above and proof of identity and eligibility to work (license, social security card etc.). If you do not have a checklist in place already, download our new employee checklist template as a helpful resource.
The new employee checklist should also have a space that can be marked when the employer provides a new hire with his new employee packet. This packet should include items that outline the company's mission, policies (including an employee manual) and information about drug testing along with a form for employees to sign that indicates their acknowledgment of drug testing procedures and the potential for termination due to a positive test.
It is prudent for companies to perform a web search for examples of an employee exit checklist template. This way, employers can get an idea of the sort of information that companies need to obtain from employees who voluntarily leave and those who are terminated.
New Employee Orientation Ideas
Employers will benefit from gradually integrating the forms, job application letter, and new hire checklist outlined above into the new employee orientation process. Don't bombard new hires with these forms all at once during the new employee orientation definition. New employee orientation best practices include a well-structured series of coordinated events that educate new hires about the company, its policies and expectations of employees. Remember, assimilating oneself to the norms of a new organization is oftentimes an uncomfortable and intimidating process for new employees. Companies should be open to new employee orientation ideas that other organizations use in order to make the transition as seamless as possible.
Note: Neither the content of this page, or of the downloadable resource within is to be considered legal or financial advice. Please consult with your company's attorneys and accountants before onboarding a new employee for regulations that dictate your specific situation.