Free Customer Service Tips
Actionable advice to start improving your team's customer service today.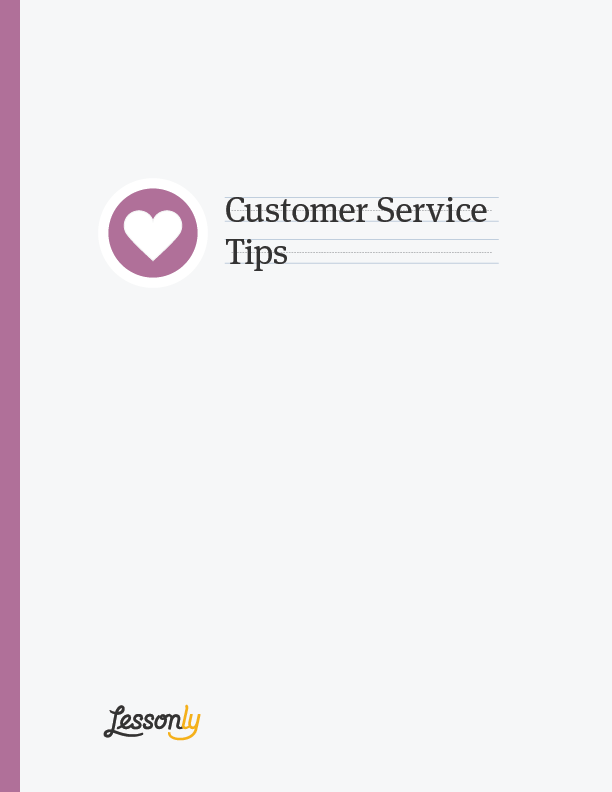 Powerful training, simplified
Join the hundreds of teams—from Fortune 100 enterprises to local businesses—who use Lessonly to onboard, train, and continuously enable millions of employees to learn, practice, and do better work.
Since customer service is often the only contact your business will have with customers, it's vital to provide a stellar customer experience time after time. The resource above provides several customer service tips to bolster the overall customer experience. The best customer service tips or customer care tips always result in a satisfied customer who is willing to tell their friends about their experience. If your business has a customer service team, it's a great practice to use the resource above and offer them customer service tips of the day or a list of the top 5 customer service tips. In any case, the following information highlights some of the best practices for converting customers into raving fans regardless of your industry.
Customer Service Managers
Customer service managers are responsible for managing customer care teams and making sure the needs of the customer are being met. The resource above addresses a few customer service manager tips, customer service training activities and the importance of online customer service training. While it's important for those on the front lines to have sufficient training, it's also important for the customer service manager to stay up to date on the latest management and motivational techniques. The most effective customer service managers use a wide range of customer service training activities and practices to motivate their team.
Customer Service Week
A growing number of customer service managers reserve one week each month to celebrate Customer Service Week. During this week, the customer care managers implement fun and creative customer service week games and engage their team in multiple customer service training activities. The goal of this week should be to raise awareness about the importance of customer service and provide the team with the tools they need to succeed. While customer service week is one example, the resource above provides additional customer service manager tips and customer service training tips focused on increasing the quality of customer service.
Customer Service Representatives
As the voice of the company, customer service representatives are on the front lines and have the most contact with customers. Since not every customer will be happy, it's imperative to for customer service reps to know how to handle a difficult customer. Simply put, the best customer service reps never settle. Instead, they are always fearlessly searching for how to be a better customer service representative. You can use the resource above and the following information to help hone, polish, and update your skills no matter what environment you work in.
Customer Service Basics
On the road to learning how to be a better customer service representative, sometimes you have to go back to the customer service basics. Check out these good customer service tips for anyone working in customer service.
Always use "please" and "thank you" as a sign of respect and gratitude.
Instead of saying "no problem," use "you're welcome."
Smile whether you are having face-to-face interactions or over the phone when dealing with a customer.
Excitement is contagious, so you should convey your excitement to solve your customer's problem.
Instead of telling the customer what you can't do, be positive and tell them what you can do.
Use the same manners in email or social media communications as you would over the phone or in person.
Remember, the most important customer is the one in front of you.
Customer Service Etiquette
When dealing with customers over the phone, all of the customer service basics still apply. In addition, this environment typically requires call center customer service training with an individual set of customer service phone tips. Use the resource above and the following customer service phone tips and telephone customer service tips to manage the call and communicate effectively with your customer.
One of the top customer service phone etiquette tips is to clarify your customer's complaint. Customers are often emotional and unsure of their problem. As a result, it's important to take time to listen to the customer, understand the problem, and resolve it as quickly as possible.
Another one of the top customer service over the phone tips is to use open-ended questions, which will allow your customers to explain their problem.
Active listening entails summarizing what your customer has said to ensure you're on the right track and to show them you're listening to their concerns.
In the process of asking open-ended questions and active listening, you will more than likely be able to resolve the customer's problems and find opportunities to turn problems into sales.
Serving Customers in the Retail Space
In a fast-paced retail environment, reps require special retail customer service training. However, there is no need to reinvent the wheel. Instead, several retail customer service ideas and lessons can be learned through the Nordstrom customer service philosophy. For over 115 years, the upscale fashion retailer has received stellar Nordstrom customer service reviews, which has allowed it to create the finest shopping experience in the industry. The Nordstrom customer service model includes several of the most effective practices for any customer focused environment. Check out the resource above for some of the top examples of customer service in retail to gain a glimpse of how Nordstrom made its brand synonymous with customer service.
Managing Difficult Customers
It would be awesome if every customer you came in contact with was excited to speak to you, but this is hardly the situation. Instead of looking at difficult customers negatively, look at it as an opportunity to wow and provide world class customer service. Regardless of how irate or unreasonable a customer may be, it's important to understand how to give good customer service even when you may want to scream and yell. Before you do, take a deep breath and use the following tips.
Listen
In addition to listening with your ears, you must engage your heart and mind. Make sure you are not distracted and don't attempt to give your customer an answer before you have a full understanding of their problem
Empathize
When you are listening to a customer's problem, simply put yourself in their shoes, which will allow you to have empathy for their situation. Empathetic and good customer service phrases, such as, "I understand why you are upset…" will pave the way for them to receive and accept your solution later down the road.
Accept
Even if you think the customer is wrong, accept what they say, which will give the perception you believe them. This will allow the customer to relax and actually get to the root of the issue.
Respect
One of the top good customer service qualities is respect. Every human deserves respect and when it's your customer, you must make sure you go above and beyond to convey your respect for their problem. When your customers feel respected, they are much more likely to respect you.
Negotiate
After you have listened to the customer, empathized with their problem, accepted what they were saying, and respected them; you've more than likely put the most difficult aspects to rest. It should be much easier to negotiate with the customer now that everyone is on the same team.
10 Tips for Better Customer Service Training
Teams who deliver the best customer service know how important training is to their customer service improvement strategies. If companies want to figure out how to improve customer service in the workplace, they need to build, deliver, and measure customer service training and enablement like never before. Here are our top 10 customer service tips to create the best customer service training program possible.
Listen to your team's needs
Creating the best customer service training starts with an in-depth evaluation of your team's training program and their needs. You need the right data and information to make educated decisions about your training efforts. That's why the best leaders talk to team members, review data, and consider the market. This will help you identify success and challenges and gauge the team's learning needs.
Soft skills are necessary for good customer service
Despite the importance of soft skills in interactions with customers, most training programs primarily focus on hard skills and info about products, services, and processes. A blended training approach on hard and soft skills can drastically improve the quality of customer service.
Plan great training
It's important to remember the true purpose of training. By following a thoughtful and deliberate process, teams can easily identify essential objectives, outcomes, and goals for your training efforts.
Onboarding is key
When we think about training, our brains often jump to onboarding. As they should. An onboarding program can make or break a rep's experience with a company. It's important to consider objectives and an appropriate timeline for thorough and complete onboarding. 
Ongoing training drives performance 
Training isn't just about onboarding. The best customer service teams never stop learning and growing. While onboarding new reps is crucial, it's also important to deliver continuous learning opportunities to seasoned reps so they can improve their skills, stay up-to-date on best practices, and grow in their career.
Practice makes prepared
Reps can't deliver good customer service without learning and practice backing their approach to helping customers. When training is paired with practice, it reinforces newly learned information. Teams who rehearse, refine, and repeat skills with ongoing practice get better results.
Work with subject-matter experts
In the past, training has typically been created solely by trainers. When entire teams share the responsibility to teach and train one another, they harness the power and expertise of frontline employees, managers, and everyone to create training  It's a great way to scale training and capture useful knowledge for the benefit of everybody.
Microlearning is powerful
Sharing lengthy pieces of information during training is ineffective. Since reps are busy fielding interactions, bite-sized learning with small and focused topics is better suited for day-to-day learning.
On-demand training works
Access to on-demand training is helpful for customer service teams. Time is less flexible for reps, so on-demand learning can drive performance and productivity. Searchable training is also helpful in empowering reps to access information right when they need it.
Get training feedback
Training shouldn't be created in a vacuum. It's important to gather feedback and ask each learner how satisfied they were with the training. Additionally, give them the opportunity to provide open-ended feedback to improve their training efforts.
These are just some of our favorite customer service examples and tips. If you want to learn more about taking good customer service to great customer service, check out Lessonly's customer service training manual doc. Or, get a demo of Lessonly today and see how we can help you learn, practice, and Do Better Work.