Free Certificate of Completion Templates
Four modern certificates of completion that you can download, customize, and share with your team to show your appreciation.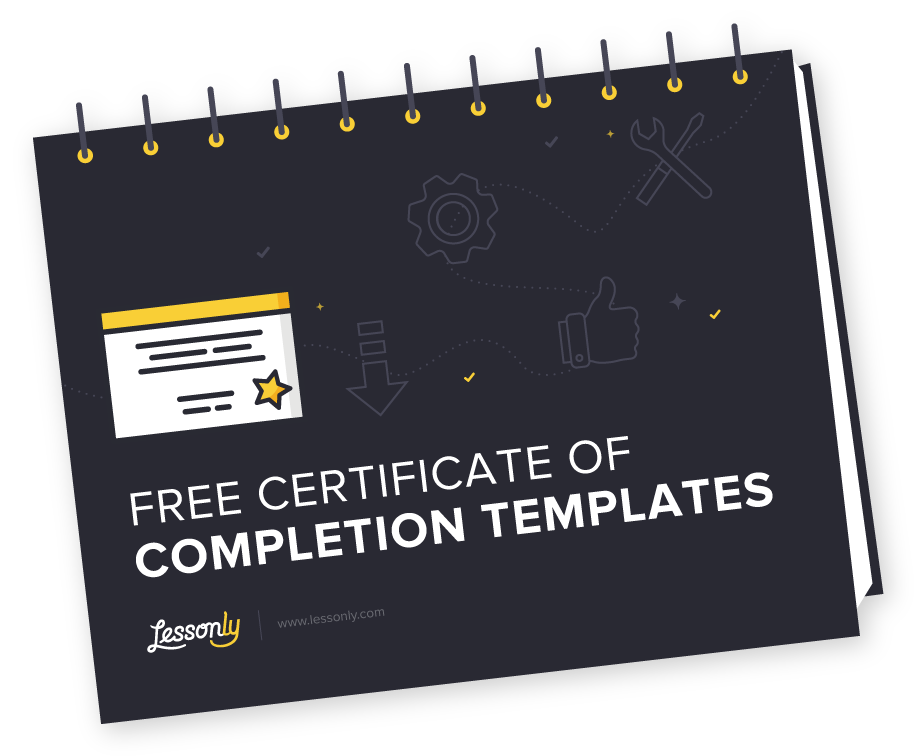 Powerful training, simplified
Join the hundreds of teams—from Fortune 100 enterprises to local businesses—who use Lessonly to onboard, train, and continuously enable millions of employees to learn, practice, and do better work.
4 Free Certificates of Completion
We've put together 4 free certificates of completion that you can download, customize, and share with your team to show your appreciation. It's as easy as getting a Vegas-style marriage certificate at a drive up wedding window!
This download includes 4 certificates of completion templates that are:
Free

Downloadable

Customizable

Printable

Styled from Classic to Modern

Custom designed by Lessonly

Microsoft Word format
Make Your Own
To make your own certificate, simply follow these steps:
Fill out the form (don't worry, we hate spam just like everyone else).

Download certificate templates.

Edit the text fields in Microsoft Word for the template you want to use.

Edit the background image using Word's color and filtering tools.
Award to Team Members
There are a number of ways to share your certificates when a team member completes a course or a task—but the two most popular are to print them (with or without a frame) or share them electronically via email. If you want to get in touch with your millennial employees, try sharing a certificate on your social media channels!
Use Templates for Various Awards
The possibilities are endless—here are a few award ideas:
Certificate of Completion
This is the primary use for these templates. Create a certificate when a team member completes a special task, course, or important project. For example, once a new hired completes onboarding, this certificate of completion can be used to congratulate them.
Training Certificate
Sometimes employees feel tired or drained after completing training. While organizations can overcome this by making training more engaging—a completion certificate could be a good way to keep your team excited about training.
Certificate of Achievement
Certificates of achievement show employees that you noticed their good work and took the time to congratulate them. Give a certificate to praise an achievement when team members accomplish a large goal, celebrate a work anniversary, or crush their KPI and performance goals.
Certificate of Appreciation
Much like a certificate of achievement, we find that certificates of appreciation are most fondly regarded when they are given in surprise. When employees go above and beyond in their service, help other team members complete a task, or work to keep the office looking clean and professional, recognize them with a certificate of appreciation to keep spirits high.
Award Certificate
Certificates of completion can be given out as awards. This is a great way to add the trend of gamification to the workplace. Once the key leaders in your organization latch on and have fun with this concept, it can be a great way to drive engagement and identify team members who are key brand advocates.
Participation Certificate
Not everyone can win every contest. So, if you want to reward everyone, consider giving certificates of participation and certificates of appreciation. No matter which certificate of completion you choose to reward your team with—it's a small way to show that you're proud of their work and value them.
The Difference with These Certificates
Every team has their own style and culture. These 4 free certificates of completion can work across a variety of teams for different purposes.
Downloadable Certificate Templates
All 4 of these certificates come packaged in one downloadable Microsoft Word document. Once you fill out the form, simply click the "Access Your Resource" button on the following page and the document will automatically download to your computer.
Customizable Certificate Templates
We have included text fields within the Word document for each of the fields that can be filled in before printing. Each certificate's font, spacing, color, and image can be edited in Word for endless customization possibilities. This means you can use the free certificate templates for nearly anything—from a chili cook-off to a pumpkin carving contest.
Printable Certificate Templates
As with any Word template or document, simple prepare and print your certificates. We recommend printing your certificates on thicker paper or cardstock if it will not be framed. If you're only using one specific certificate, be sure to select the only page number you need to print so you save ink and paper!
Certificate Templates for Word
We have found that most people would rather have a Word certificate template than just an image, so that's what we delivered! Each of our 4 certificate templates were created in Microsoft Word so they're easy to edit and print. In fact, when you download them, they all come in the same Word document so you can see all of the variations without having to open multiple windows.
Certificate of Completion Sample
When you offer a certificate of completion sample to your team before the event, there will be a defined finish line for their task. Take these free printable awards and increase morale, engagement, and employee satisfaction in your office.