Instructional Design
The main appeal of instructional design is its ability to prevent organizations from wasting time, money and energy teaching employees materials they don't need to know, already understand or are too far above their current knowledge base to be of any real use. Whether you're taking an instructional design workshop or utilizing instructional design software in your business, the main idea is to create materials that will prove genuinely useful to the learning process.
Instructional design takes into account the many factors involved in learning. Rather than simply collating the materials to be taught, assembling students and imparting information, instructional design requires that organizations take into account the needs of students, the learning context, the goals of training, how technology will be used and more. By so doing, they minimize the chances of learners walking away empty-handed and of companies wasting large amounts of resources on training programs that are ineffective, poorly timed or not engaging.
When designing training materials, an instructional design approach is not crucial, per se, but it adds so much to the learning process that organizations often choose one over the less streamlined and more cookie cutter approaches of decades past.
Instructional Design Models
While instructional design makes the training process much easier in many ways, that does not mean it itself is simplistic. To the contrary, the field rests on many different instructional design principles and curriculum development models and approaches teaching in a multitude of ways. This is helpful to organizations, which instead of having to start from scratch when training their employees, can build on preexisting instructional design models to formulate their programs and lessons.
The problem with many kinds of learning is that they are very abstract. They require learners to grasp concepts that are too far afield from their current plane of understanding, resulting in poor pedagogical outcomes. Instructional design theories hold that by using models, real-world templates to guide the development of instructional materials, instructional designers will have an easier time creating content that reaches people where they are, helping them access their preexisting stores of knowledge and retain their new learning.
Instructional design models guide instructional designers and training developers toward their desired outcome with specific systems of approach. Over time, these systems have developed to become more flexible, to be easier to tweak and alter along the way and to prioritize creative thinking and problem solving on the part of the learner.
We'll discuss three of the most common of these models below.
ADDIE Model
In many ways the gold standard of instructional design models, the ADDIE model is the foundation on which many other models (and indeed, the field of instructional design as a whole) is built. ADDIE training uses a cyclic approach to instructional systems design. It helps designers create training materials and support tools through repetitively thinking through the problem, addressing it, and evaluating at the end whether or not it has been solved. If not, the process can be repeated as often as necessary.
ADDIE is an acronym, it's letters standing for:
Analysis: This is the stage in which instructional designers gather the information they will use throughout the rest of the cycle. They determine the problem, the student's learning needs, abilities and environment, and the goals of instruction, or the desired outcomes of successful training.
Design: The design phase is where instructional designers break down each step of the pedagogical process into the component parts it will require, such as the learning objectives, assessment materials, subjects and topics, content and lesson plans, and examples and exercises. This is also the area where instructional designers decide which technologies they will use for instruction, and lay out graphic or visual design approaches to be used throughout the training.
Development: Development puts all the design decisions into action. Designers create storyboards to flesh out the subject matter they decided on in the previous step. They create the content, lessons, examples and so on, and make the graphics necessary to carry out their visual design plan. They also begin integrating whatever technologies will assist in the training, whether it is simply for classroom use or involves delivery to an elearning environment.
Implementation: This phase involves training both the instructors who will teach the course materials and the students who are supposed to learn from it. Teachers must be familiar with the content and the technology it utilizes, able to help students through it as well as with technical issues such as registering or using the software. Students must be able to navigate the application and learn the selected materials.
Evaluation: The final stage involves evaluating whether the training product was a success and takes the form of formative and summative evaluations. While formative evaluations involve reflection at each stage of the ADDIE model, summative evaluations come only at the end and rely heavily on user feedback.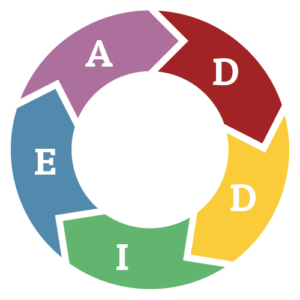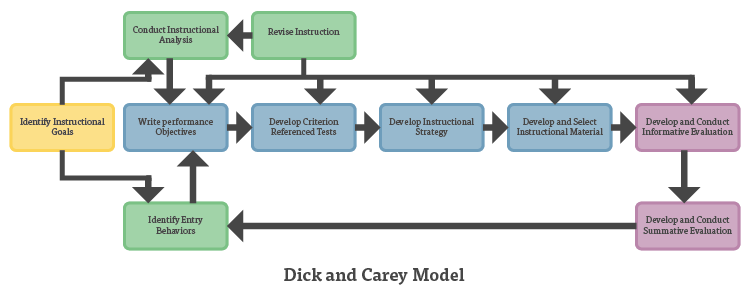 Dick and Carey Model
The Dick and Carey model is similar to the ADDIE model in that involves a specified series of steps. In brief, the model begins by identifying instructional goals, and proceeds through a series of nine total phases to build a training program based on meeting these goals, ending with a summative evaluation to identify whether or not the initial instructional goals have been met. The Dick and Carey model is designed to be extremely flexible, so that at any stage of the process instructional designers can review progress to that point and decide to go back to any other stage to strengthen materials, ask further questions, reconsider approaches and so on.
The nine steps of the Dick and Carey model are:
Identify Instructional Goal(s): These detail what the learners should be able to do or know by the end of the training program.
Conduct Instructional Analysis: This stage requires that designers figure out what learners must know and be able to do in order to perform desired tasks.
Analyze Learners and Contexts: Instructional designers must know who they are teaching, what skills their learners will be working with, what they already know, their demographics, and any other related characteristics that will weigh on their ability to learn.
Write Performance Objectives: The objectives describe both what should be learned and how trainers will know it has been learned.
Develop Assessment Instruments: At every step, assessments will determine student progress and where more work is needed.
Develop Instructional Strategy: This phase involves figuring out how the information will be conveyed, in the form of lectures, activities, and assessment.
Develop and Select Instructional Materials: The materials to be used.
Design and Conduct Formative Evaluation of Instruction: Designers target weak points in their plans thus far and try to figure out which need improvement.
Revise Instruction: This seeks to remedy the problems targeted above.
Design and Conduct Summative Evaluation: The final phase aims to ensure that all instructional goals have been met and the instructional design product is complete.
Rapid Prototyping Model
Although instructional design models have a long and successful history, one criticism that has popped up over the years is that they can be difficult to "fix" when they fail to meet their original goals. Because the ADDIE model and the Dick and Carey model both rely on a series of steps with a full summative evaluation coming only at the end, problems may be missed during the design process that simply won't be caught until then. Students and teachers, the users of the product, also aren't given the chance to add their input until the end as well, necessitating the start of a whole new cycle to incorporate it. This makes even the flexibility of the Dick and Carey model problematic, because the longer designers spend without evaluation, the longer it will take the truly fix the problem.
Enter rapid prototyping, which is in many ways similar to the ADDIE model, but with the added advantage that it iterates frequently and therefore, enables easy fixing of problems that crop up as it is being used. Rapid prototyping integrates evaluation into every stage, taking designers through a series of continuously escalating cycles. Designers start with a basic approach such as pen-and-paper brainstorming, writing down ideas and working through the various stages of the design model, completing an entire cycle and evaluating it before repeating the process with increasingly more sophisticated media.
Rapid prototyping has another distinct advantage, which is that it results in a prototype significantly faster than other instructional design models. Some believe that having a working prototype for what form the training program will take, and how visuals and technology will interact with it, is necessary to truly understand the totality of the objectives. Rapid prototyping, therefore, allows instructional designers to get to that place of total understanding without the expectation that they will be "done" by the time they get there.
Rapid prototyping expects more iterations and so places the emphasis on continued development. Additionally, it allows designers to test out their own materials more frequently and more completely, to develop templates from their successful work and note where problems often crop up and deliver a more complete product at the end.
Instructional Design Training
Because instructional design is considered a rewarding career, with good pay and a relatively high degree of autonomy and creativity, many people would like to enter the field. If you are thinking of getting an instructional design certificate, but aren't sure where to start, you can choose between several approaches.
The first is to jump in feet-first by landing a job at an instructional design organization, without having taken any prior instructional design courses. However, while this is a faster and sometimes easier way to enter the field, it may not be the best approach.
Because instructional design relies so heavily on proper educational approaches and, in some cases, training people to a very high level of mastery, if you have not experienced this kind of education yourself, you may be at a disadvantage. An instructional design degree proves that you are able to learn to the same kind of high standard you may be expecting of the learners for whom you create materials. It also shows that you really care about your field and increases your chances of receiving raises and promotions from whatever company you eventually join. Therefore, if possible, you should begin your career by pursuing instructional design certification.
Luckily, sources of instructional design training are not hard to find, and it is relatively easy to complete an instructional design certificate online from a reputable organization. Instructional design programs aren't everything, but they can really help jumpstart your career, so before choosing, peruse the best instructional design programs to choose one right for you.
Instructional Design Careers
A career in instructional design may prove lucrative as well as rewarding. According to the Bureau of Labor Statistics, the median pay for an instructional coordinator (which is another name for those working in instructional design jobs) was $60,050 per year. Other sources estimate that an instructional designer salary can range from around $40,000 starting out to almost $90,000 for people who have advanced to high positions in their field. For some, the instructional design salary may be even higher.
Of course, research shows that job satisfaction is less about the money and more about the sense of purpose, achievement and belonging that you experience during your day-to-day work life. In this sense, instructional design is also a good choice because those who work in the field know that they are helping people to learn and organizations to succeed every single day.
Instructional designers may help workers, CEOs, children, adults, second-language learners or native-speaking professionals. They work in public or private settings designing curriculum, aligning training materials to organizational values and ensuring that the needs of both teachers and learners are always met.