Enterprise Training Software for Customer Service Teams
Lessonly is the powerfully simple training software large teams use to learn and practice like never before.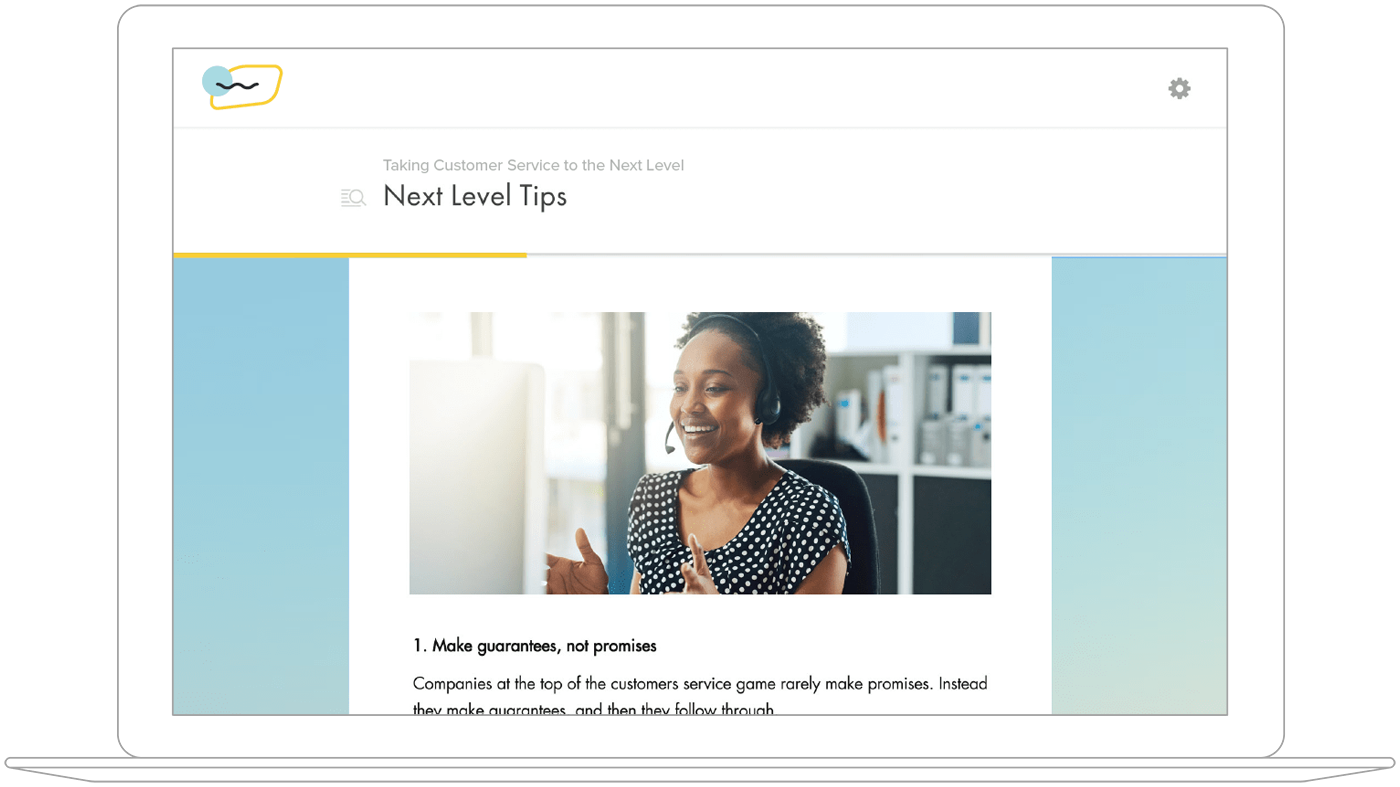 The Leading Enterprise Training Software
With Lessonly, companies and managers quickly transform knowledge into shareable lessons and resources, engage employees through interactive feedback loops, accelerate rep and team performance, and measure the impact of better learning across their organizations.
Ambitious Customers. Real Results.
Your Guide to Enterprise Training Software for Service Teams
"What is enterprise training software?" you ask? Enterprise software is software that's used for large organizations. It could refer to software products that are used by governments or by sizable businesses. The purpose of enterprise software is to achieve something that a smaller solution could do for one or a handful of people and to scale it up until it is useful for a larger group. Part of the purpose of enterprise software is to keep large teams, sometimes spread over multiple locations across the country or across the globe, and to keep them focused on a common purpose, goal, or level of skill sets.
This brings us to enterprise training software. If you have hundreds of employees, or more, working at different locations and you want to train them all to adhere to specific standards and methods of customer service, you could invest in a truckload of written material and ship it to all of your locations. Or, you could hire customer service coaches and trainers to travel to all of your locations. You might even ask them to be sure to deliver a consistent message to every student at every location they serve.
Or, you could invest in enterprise customer service training software. Customer service training software is especially important for maintaining brand consistency which means your team will likely provide customers with the same experience no matter where they interact with your brand. Today's most successful companies use the best customer service training programs on the market. And here at Lessonly, helping your organization deliver the best customer service training programs is what we do best.
5 Challenges for Enterprise Customer Service Teams
The purpose of customer service standardization is, as we said, to standardize the customer experience across multiple locations and events over time so that your customers have a consistent experience each and every time they interact with your brand. This is important for maintaining your brand integrity, the feeling that your organization is a singular personality that your customers expect to experience consistently. But it's also important for adhering to regulatory compliance and best practices.
Naturally, there are a number of challenges to delivering these standards for large customer support organizations. They are:
Keeping large teams engaged and consistent
People are individuals with individual ideas, habits, and instincts. People will often break away from the stated goal of an organization when pressured by timelines, quotas, difficult customer needs and so on. This is especially true if you have employees across multiple states or countries whom you expect to deliver consistent customer service.
Creating and sharing training content quickly and at scale
The traditional way to deliver information to large, disparate groups of people is to ship training materials and trainers to various locations. Or, you may require new support reps and team members to travel to your headquarters for in-person training. Obviously, these formats come with numerous practical and logistical challenges.
Delivering targeted training
Your customers are human beings, and like your staff—who may be spread over different locations and cultures—they have different expectations, financial considerations, and attitudes. Not all customer service training topics are needed at every location and by every individual. Different types of customer service training are needed at different times and places.
Sharing effective feedback with reps and agents
In any endeavor, and in any type of organization, individuals require personalized feedback from their manager or boss. But as many large support teams know, it can be difficult to review countless customer interactions and then share feedback with each and every agent on their performance.
Effectively train BPO's 
Training business process outsourcers (BPO's) can also be a challenge. Often, outsourcing professionals expect an elevated level of autonomy as they provide the services that your organization needs. But this does not negate the need of your organization to deliver a consistent customer experience to the people you serve.
How Enterprise Customer Service Training Software Can Help
You may be thinking that you have heard these types of claims before about delivering consistent, standardized training for your teams for consistent and effective customer service. And while it can seem like a large task to undertake, it doesn't have to be. That's why Lessonly leverages several key capabilities of modern information technology to deliver e-learning software solutions. Let's take a closer look at how your organization can leverage enterprise customer service training to overcome the challenges mentioned above.
Multi-channel functionality
Customer service training software supports multiple learning formats to improve user engagement such as customer service training videos, quizzes, learning checkpoints, and more. This also means that your training efforts can deliver the same content to increase the likelihood of consistent support, regardless of who your customers interact with or how they interact with your reps across different channels.
User-friendly tools for training content development
Enterprise training software makes it easy to create, share, and update your training materials in minutes, not in days or weeks. It also promotes democratized learning, which gives your teams the opportunity to work with experts in a given subject matter to create accurate, top-quality materials and content. This means if you have customer service training ideas that you want to put into effect—you can!
Skill-based, targeted training
Lessonly's enterprise raining software gives leaders the ability to develop content based on specific learner skill sets and learning needs to help effectively close skill gaps and deliver the knowledge your teams need. These include training tools for employees that enable them to find the answers and learn the skills they need when they need them.
Risk-free simulator training
Enterprise training software also gives your team powerful practice tools that give reps the chance to practice mission-critical service skills like communication and empathy for real-life customer interactions in a risk-free environment. Our online training system makes risk-free training easy to access, and scalable.
Deliver content to BPO teams
Overcome the BPO learning gap with enterprise service training software specifically designed for outsourced teams (BPOs). This means that your outsourced reps can receive the same level of attention and training as your in-house team.
Deliver Enterprise Learning with Lessonly's Training Software
Customers are the foundation of every great business. That's why world-class enterprises enable their support teams to make good customer interactions great. With Lessonly's enterprise training software, customer support teams can quickly onboard new agents, align reps across global locations, and deliver better support than ever before. Learn more with this quick preview of Lessonly!