Delivers Quick & Relevant Knowledge with Lessonly's Intuitive Online Training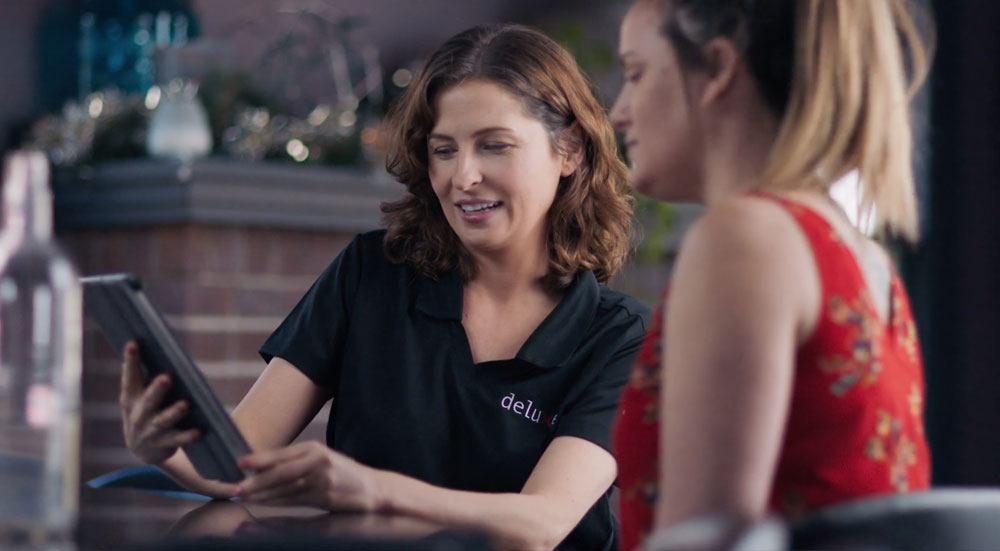 "I love how focused Lessonly is on our success. They model the mindset we are working to drive within our organization at Deluxe—a maniacal focus on customer outcomes."
—Allison Montgomery
Executive Director of Sales Enablement & Operations, Deluxe Corporation
More than a century ago the inventor of the checkbook founded Deluxe Corporation. That humble beginning has turned into a company that helps consumers, small businesses, enterprises and financial institutions thrive. As an integral part of everyday business, the Deluxe team is passionate about the work they do and helping customers create jobs that grow the economy.

Deluxe recently went through a transformation that involved reorganizing the company to best serve its customers. "At that time, we created a centralized sales enablement and operations function for the entire organization," explains Allison Montgomery, Executive Director of Sales Enablement and Operations.
In conjunction with this transformation, the company started looking for a new training platform to help them unify their sales and marketing efforts. With a large customer base of 4.5 million small business customers and over 4,000 financial institutions, the Deluxe team needed an easier way of delivering training to their enterprise-wide organization. "We also needed speed. We needed to get up and running quickly, and we needed resources and support to help us get there," explains Megan Friedrich, Senior Manager, Sales Productivity at Deluxe. That's when they reached out to Lessonly.
"We needed the right balance of speed and functionality. We needed a flexible product and agile team. That's why we're really pumped about Lessonly."
—Allison Montgomery, Executive Director of Sales Enablement & Operations, Deluxe Corporation

As part of the Deluxe Corporation's transformation, they also decided to recreate their brand. The new brand was officially unveiled during Deluxe's first ever enterprise sales kickoff at the beginning of the year. Allison notes that the kickoff really signified the moment when the entire team needed to be ready to deliver consistent messaging and service. "As part of our One Deluxe transformation, we needed to educate the field on our full suite of offerings to ensure we bring the best of Deluxe to our customers. To support the brand launch, we needed to train and certify our teams on our brand promise and messaging. Finally, we needed to provide the field with the relevant content they need to have valuable customer interactions. All of this led us to purchasing and implementing Lessonly," she explains.
Before Lessonly, the Deluxe team relied on different subject matter experts or product managers who spent a lot of time setting up calls with different teams to go through training sessions. So, it was also important to find a tool that would enable them to create a more formal and effective training process, which was something they were missing from their previous training platform. "In the training world, it just wasn't user-friendly," says Nicole Olson, Sales Productivity Consultant at Deluxe. "Now, anybody can go into Lessonly and start building a course, and we're able to produce a lot more than we've ever had in the past. It used to be a very slow and cumbersome process as we were always waiting on somebody to finish some aspect of it."
The enablement and operations team also heavily relied on the Lessonly Services team to help build-out of their product training courses. "To be honest, we wouldn't have gotten it done without them," Nicole notes. "The fact that we were able to just pass it off to the Services team, and they knocked it out was a great response." Megan also appreciates the partnership with Lessonly Services. "Lessonly has been a great extension of our team. We had a very quick need to get up and running in less than 30 days. So the Services component has been critical."
And, in an effort to improve the user experience and create an engaging enablement process, the team took advantage of Lessonly's integration with Seismic. The combination of two powerful tools allows Deluxe to deliver training with no confusion. "Our users can search for Lessonly training content right within Seismic," explains Megan Friedrich. "Beyond being able to search for lessons, we've also integrated training content within communication posts, sales playbooks, and toolkits—which all use Seismic—to increase adoption and results."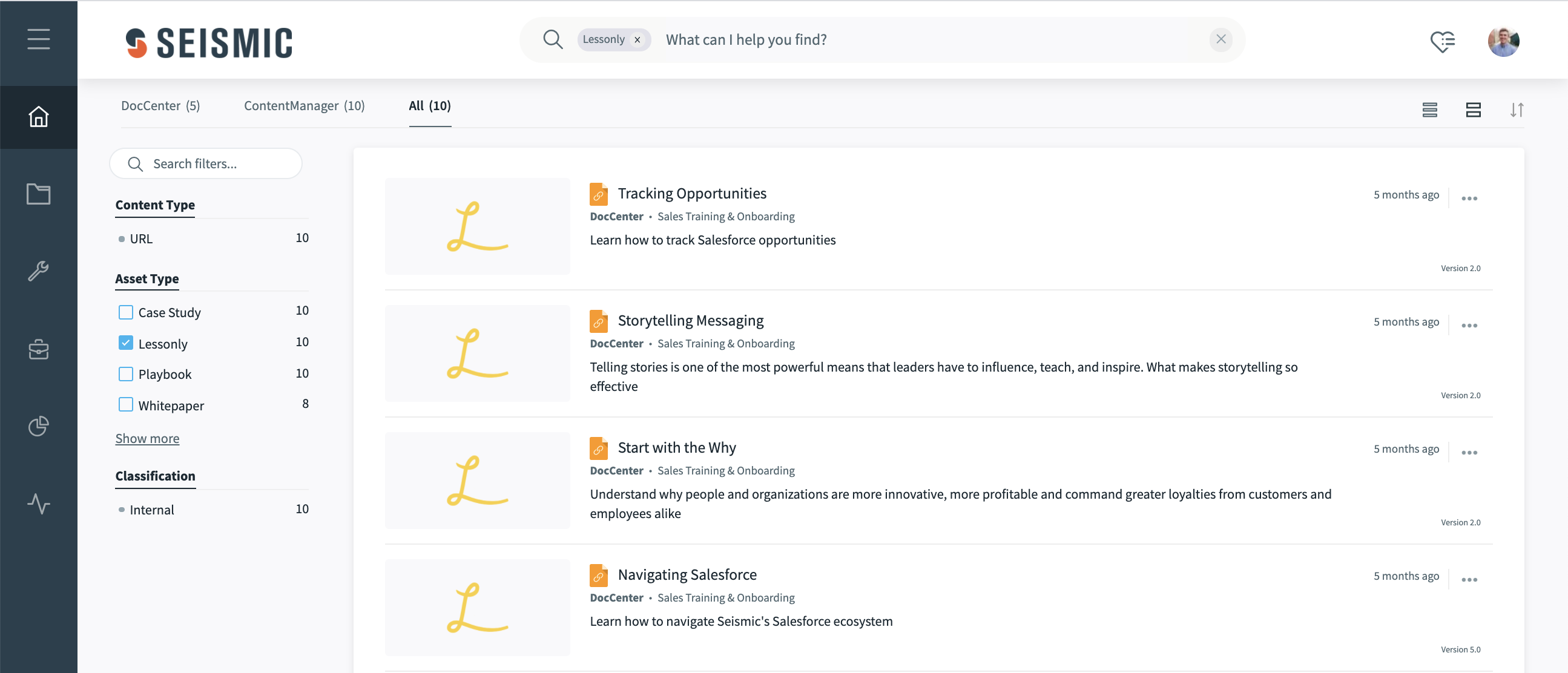 Deluxe is also in the process of creating a more formal onboarding program for its team of nearly 250 and counting sales reps. "Our goal is to create a six-week onboarding period for new hires," explains Megan. "I think it's just going to make the experience of a new hire ten times better because it's going to be a really easy process for them to get the information they need to start doing their jobs and actually start selling." 
From onboarding to offering continuous training, Deluxe has really turned to Lessonly to empower their sales reps and be experts in their target verticals. 
"The world is moving so fast. Our customers aren't just looking for us to solve the problems they know about today," shares Allison. "They need us to bring them insights and anticipate the challenges that they are going to face."
"We're able to leverage this clean, simple platform to deliver everything to the team, and they think it's the greatest thing ever. It's super high tech and it's super easy to use."
—Nicole Olson, Sales Productivity Consultant, Deluxe Corporation
Allison is pleased with the early impact that Lessonly has made on the Deluxe team, noting that they can track training data and metrics to see if learners are actually leveraging the information they receive. ""We can measure that and we can coach individuals that may need additional help. Beyond that, it's helped our stakeholders understand the solution set that we have and how these solutions solve problems for our customers," she notes. 
With a 98% learner satisfaction rating, Deluxe's new training efforts have also been well received by teammates across the organization. "We've gotten a lot of really, really great feedback," exclaims Megan. "We've heard from sales leaders who have been at Deluxe for 20 years and are excited to see the level of investments we're making. They feel like they have the tools they need to do their job."
In addition to transforming their training to match their company's new strategy, the Deluxe team has found a true partner with Lessonly. "We don't focus on implementing all the best practices. Instead, we focus on the right practices that drive meaningful results given where we are in our transformation. It's important to find partners who can meet us where we are and help us evolve with measurable and achievable results. Lessonly has helped us achieve that," Allison explains.
At the end of the day, Allison suggests looking for a tried true partner who will help you do Better Work. "When making a technology purchase, it's not just about features and functionalities within the product. My advice is to really think about what type of partner you want. Do you want someone who is going to lean in and help you succeed? Do you want someone who will help you and your team think differently? Do you want a partner who will bring their full team to bear to ensure your success? If so, then you'd be remiss to not explore Lessonly."