We're taking a quick break from our regularly scheduled programming. Instead of writing about training and enablement for frontline teams—let's chat marketing.
As a marketing team at Lessonly, one of the things we champion most is continuous rapid improvement. We're convinced that Lessonly.com is our primary product, and so it deserves regular TLC. We never let the site sit completely static—we're constantly doing small tests and experiments. Trying new things, with a healthy mix of winning and losing, is how we keep innovating.
Occasionally, we decide it's time for a bigger update/refresh, and we're very proud of the one that hit the interwebs this week. 
For those of you interested in peeking under the hood, here's our thought process behind the newest improvements to Lessonly.com!
1. We're creating better experiences and telling better stories.
B2C companies like Nike and Apple are as close as it comes to digital marketing royalty—they're the gold standard of great websites. 
And while those of us in the B2B realm use an expansive arsenal of martech to gather data and shape decisions, we often get laser-focused on our tech stacks, funnels, conversion, lead flow, and other marketing jargon. We far too easily lose sight of the pervasive power of stories and experiences. 
The best B2C brands on earth do both science and story, but they lean on experiences and stories to propel their brand forward.
So we're looking to our B2C friends for inspiration. This plays out across our entire site design, but particularly shows up as we explore our mission and our culture. We've still got a long way to go, but we believe that it's time to raise the bar on digital experiences in the world of B2B.
2. We're learning that we're all humans first, employees second.
People buy from people, and while we call ourselves a B2B business, the reality is, we're a human to human business. We love our customers, and they're kind enough to show us lots of llama love back. 
Because of this, we made faces a priority on our new site. We're only using pictures of real customers and real employees that work at Lessonly—no stock photos here. Elevating our customers and featuring their stories are the most important things we can do to show off who we are. So be on the lookout for far more quotes and videos of our customers, than words about Lessonly. Our customers and our employees are the heroes; they deserve to be front and center.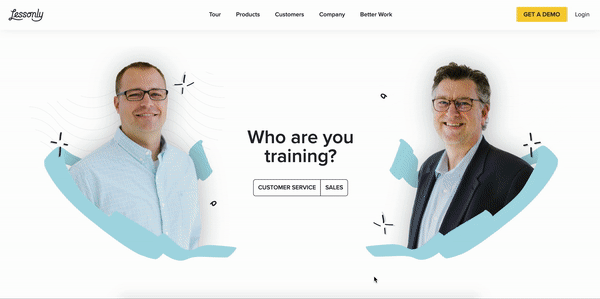 3. We're looking to have conversations like friends do.
The conversational marketing movement, largely championed by Drift, has erupted over the last two years. While the world of B2B buying has traditionally been filled with jargon, positioning, and tech specs, we revamped the copy across our site to be more conversational, like we're talking to a friend instead of a software-buying humanoid.
"…We revamped the copy across our site to be more conversational, like we're talking to a friend instead of a software-buying humanoid."
We cut out buzzwords, shortened our copy as much as possible, and chose to show what we're about through thoughtful design as instead of over-explaining ourselves. 
We also made sure it was possible to start a live conversation with a real human on every page of the site. All because…?
4. We're streamlining processes in the name of less friction.
Very few people enjoy friction in the buying process. We see it as a massive part of our job to deliver seamless experiences that are catered to our future customers. The days of filling out a multi-field form and waiting an hour for a sales development representative to call you back are gone, and we're not mad about it.
In the newest iteration of the website, we continued to eliminate forms. We definitely still have a few left (we're working on that), but with the help of some chat bots, we're having more real, human interactions than ever. We've also keep leaning into giving our content away ungated—and trusting that if that person finds value in what we're selling and has an interest in Lessonly, they'll come back to us when the time is right.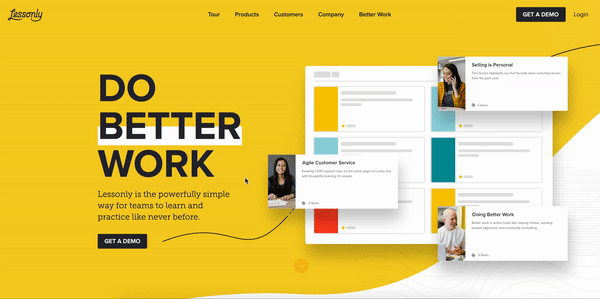 5. We're elevating our mission.
As our business has scaled, we've done lots of different, amazing design projects, including Do Better Work (our book/mission/value system) and Yellowship (our annual conference). 
"Our mission is an integral piece of everything we do as a business, and we wanted that to hold true in our branding."
As we noticed the differences between these "sub-brands" and the Lessonly parent brand, we aimed to better integrate them—particularly Do Better Work. Our mission is an integral piece of everything we do as a business, and we wanted that to hold true in our branding. You'll notice the hand drawn elements from our Better Work design aesthetic working their way onto the Lessonly brand, integrated across the site as accents with photos or product images. You'll also see Better Work as a greater focus on our mission and our culture pages!
Llama mia, here we go again?
A thoughtful website refresh is a big project, spanning brand, demand gen, content, development, and more. But every time we've put in the effort, it's been some of the most impactful work we've done to move Lessonly marketing forward. Thanks to so many Lessonly teammates and customers who partnered with us to make this latest iteration of Lessonly.com possible!
Here's to meaningful experiences, greater humanity, more conversations, less friction, and of course, Better Work, in the months ahead. See you for next year's site update! 
---

P.S. A special shout out to my teammates who championed this website revamp:
Helen Gardner — Senior Graphic Designer
Anna Oakes — Graphic Designer
Olivia Schwan — Marketing Specialist, aka writer extraordinaire
Fox.io — Development
Zach McFarlen — Sr. Director, Brand