If you're a sales leader or rep, you don't need us to tell you that your days are extremely busy. You know how much you have to juggle with selling to prospects and all of the administrative tasks that come with it. After all, reps on average spend 65% of their time on tasks other than selling. That includes things like updating prospect notes, connecting with prospects on social platforms, personalizing sales decks, and everything in-between. 
That also means that sales reps have to use a number of different sales enablement tools and applications to do their job effectively. In fact, some research shows that reps on average use as many as 8 different tools every day. And while these tools should figuratively help sales teams perform faster and better at scale, it doesn't mean there aren't some challenges along the way. After all, the ultimate goal of sales enablement is to equip sales reps for every conversation with prospects through the entire sales process. 
This all means it's extremely important to invest in the business enablement tools that are right for your team. But with over 1,000 vendors in the sales tech space (us included), building the best tech stack should be a thorough and deliberate effort. And if it's done in a way that reinforces your sales enablement strategy, you can empower your sales team to work better, sell more, and grow your company. And folks let me just say, it doesn't get any better than that triple threat. So, how can you be 100% sure that the sales tools you choose are the right fit? Let's take a look.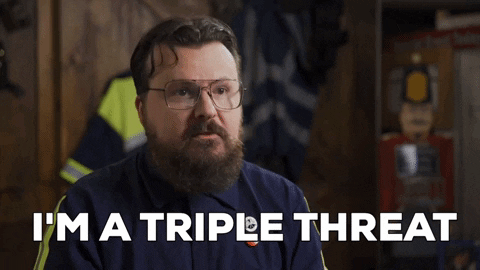 How to Choose the Right Sales Tools for your Tech Stack
It may be common sense that not all sales enablement tools are created equal, it's also true that not all companies have the same needs. Before you start reaching out to vendors, the very first thing on your list is to spell out all of your core business needs. Once you've completed this, take a close look to make sure your customers' needs coordinate with these. When buying tools or designing frameworks consider what the process looks like from the customer's perspective and keep their needs at the heart of your decisions. Then, use that list to evaluate potential solutions. And remember, as your sales organization grows, your tech stack almost always does, too. 
So, for the sake of this post, let's compare your sales tech stack to a nice, mouth-watering burger. As we've already shared, you have a large menu of items to choose from. So once you've defined your company's sales lifecycle, it's time to choose the top sales enablement tools (or menu items) for your tech stack that will satisfy the hunger of your sales reps. This includes everything tools like:
Customer relationship management (CRM)

Prospecting and lead generation

Sales enablement content management 

Sales reporting and management

Sales training, enablement, and coaching 
The Importance of Integrating Key Ingredients 
Just like you wouldn't pick items for your burger that don't compliment one another, you also shouldn't pick tools that make your sales reps' lives more stressful or complicated. That's why we believe it's important to build a stack that streamlines reps' workflows. The key to this is looking for tools that integrate and connect with one another—especially when it comes to selecting the right sales training and coaching software. Here's why.
If sales teams find the right training tool that works and integrates with the other sales enablement tools they already use on a daily basis, the hurdle to delivering ongoing training significantly dwindles. That's because reps don't have to jump from one tool to another to find, access, and complete training. For example, Lessonly integrates with a ton of popular sales tools like Salesforce, Seismic, Gong. These integrations allow sales teams to link items like employee data, marketing content, and call recordings directly to training all within one platform. This creates one central and powerful tool that enables reps to learn in one streamline place. As a result training completion, engagement, and comprehension increases, and what's not to love about that?
By integrating your training platform with some of the best sales enablement tools out there, teams also have access to reporting that will make it easier to identify areas where reps are succeeding and where they need improvement. Simultaneously, sales enablement technology can efficiently unify content analytics, business intelligence, data from their CRM, customer experience data, and more. This is all extremely important when it comes to improving sales effectiveness across the sales cycle because it gives sales leaders access to a lot more data that can help them make informed decisions on their team. And, we truly believe that makes for a truly powerful combo. 
Streamline
Sales Enablement Training
with Lessonly
Lessonly integrates with a slew of other sales tools that teams use. And with the benefit of an open API, teams can connect Lessonly with practically anything they use for simplified learning. Our sales enablement software provides an amazing training and coaching experience for your sales team that's easy to use and engaging. Ready to take a bite out of better training? Jump into this lesson to learn more.