Here's the TL;DR version of this blog post: Our guest on this week's episode of the Practice First podcast, Joel Goldberg, is an all-star, and his episode was a home run. Joel's kindness is evident. His appreciation for baseball, hustle, and stories, contagious. And his desire to watch teams—both in business and sports—practice and win together is inspiring. But if you're like me and want the details and takeaways of our conversation with him, you're in luck!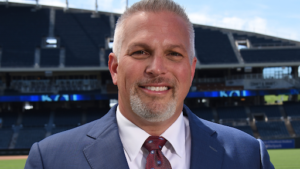 Who is Joel?
Joel Goldberg is keynote speaker, business consultant, and beloved announcer for the Kansas City Royals. If you've ever wondered what there is to learn from announcing thousands of hours worth of baseball games, wonder no longer, because Joel shared his learnings freely with us, and he shares even more of them on his own podcast, Rounding the Bases. Below is his full episode on the Practice First podcast.
In this episode, Joel and
Practice First
host, Ben, cover…
⚾ How Whit Merrifield nearly quit, but practiced and became the Royals' best player
1️⃣ Why a "tough, gritty, hard-working" person will always be Joel's first round draft pick
🏆 How trust, relationships, and constructive criticism are essential for any team to win
🎙️ Why repetitions and failure have allowed Joel to thrive in announcing
(While this CliffsNotes version is nice, I'd be remiss not to mention that this episode is just fun to listen to. Joel literally talks for a living, so as you can imagine, he's got the kind of voice and energy that makes you wish he'd never stop talking. Okay, shameless plug over.)
3 Lessons I'm Taking With Me
There are way more than three lessons to take from this episode, but these three quotes specifically jumped out at me.
1. "Start with the right people, and everything else will fall into place."
In this episode, Joel talks about the Royals' current best player and one of the MLB's best hitters of all time, Whit Merrifield. Starting with the right people, in Joel's eyes, means finding someone who will outwork everyone else. It's not about being the most talented or qualified, but rather it's about being a "tough, gritty, hard-working teammate" that's willing to put in the reps to become excellent. Whit Merrifield almost quit when he was in the Minors, but with some encouragement from his father, who also played baseball, he stuck it out, practiced like crazy, and turned into a Royals' fan favorite.
2. "Constructive criticism flows once trust, relationships, and an exchange of ideas are already established."
This applies in baseball, in your home, at the office—everywhere. Once a baseline level of trust and mutual respect is established, teams can know that the people around them are rooting for them, standing with them, available for them, and wanting what's best for them. Criticism sans-relationship feels mean and aggressive. Criticism in the context of a team that cares for each other feels empowering and comforting that someone would care enough about the total success of the team to speak up and drive better outcomes.
3. "Learning to fail comes with repetition."
In this episode, Ben asks Joel if he ever gets nervous to announce a big game on live television. And in turn, Joel said he doesn't really, and then asked Ben if he gets nervous walking into the office. Announcing a baseball game well requires being accurate on stats, knowing the players' stories inside and out, bringing energy and joy to the stadium, and more. Joel said that with time and repetition, he's been able to refine these skills and also become more comfortable with failing at them because no one is perfect. He does mess up stats at times. He does stumble over his words. It's part of the job, and there is freedom in failing because when he's not afraid of it, that's when he can actually do his best work, take risks, and announce anxiety-free. What's not to love about a lesson like that?
That's all on Joel's episode, everyone. Hope you learned as much from Joel's experiences and stories as I did.
Also, one final thing—we'd love to hear from you! Connect with our hosts on social media (Conner Burt or Ben Battaglia) or shoot them an email at practice@lessonly.com!
Practice First is produced by Lessonly 💛
Our training software helps over 1000 business teams across the globe learn, practice, and do better work. Learn more and listen to more episodes at lessonly.com/podcast.