Whenever we talk about creating the best onboarding experience around trainers, it seems to hold a little bit of daunting weight. New employee onboarding training is going to be each employee's first impression of your company and it's your responsibility to ensure that not only are they excited to be there, but that they understand how to do their job and do it well. That can often feel like being tossed into a pressure cooker on high!
Now that it's 2020, you throw in COVID-19 and the fact that a high percentage of onboarding training is being done in a 100% remote environment, and you're out of the pressure cooker and straight into the fire! So, when you're tasked with creating an engaging digital employee onboarding experience in a post-COVID world, the question becomes, "How long should onboarding training last?" I wish the answer was, "2 weeks is the perfect length!" Unfortunately, the answer is the one that everyone dreads: It depends. 
What does it depend on?
There are several factors that you should consider when you are determining the most effective length and complexity of onboarding training for your organization, especially if you are using a new hire onboarding software. Let's talk about what you should be looking at so that you look and feel like a rockstar, rising from the ashes like a phoenix and releasing your new employees to soar into their new role! (Too dramatic? Nah, no way.)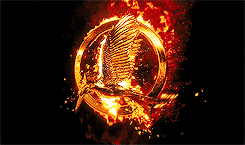 The Better Work Training Method
Lessonly's Better Work Training Method is meant to represent the multiple cycles that make up your training program and to identify the people at your organization that keep the wheels of training turning. It functions a little bit like bicycle wheels in that once it starts turning, the wheels turn in tandem and connect back to one another. So, it's as easy as riding a bike, right? Sure it is!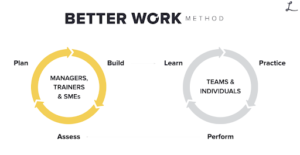 The Better Work Training Method starts on the left bicycle wheel with the managers, trainers, and SMEs at your company assessing your training needs, making a plan to meet those needs, and making it come to life by building it. Once it is built, you send it out to your learners, where they learn and practice whatever information you want them to absorb, and then they perform. The output of their performance becomes the input for the next cycle of assessment and the wheels continue to turn as your training program continues to evolve. Wait—so what does this have to do with the length and complexity of my onboarding training? 
Good question
The answer is everything! At a high level, when you are assessing and planning the needs of your team from an onboarding perspective, you want to think about the "who, what, where, when, and why" of the two phases on the right bicycle wheel from our Better Work Training Method: Learn and Practice. Let's dive into the details and think this through!
Learn
Your learners in this case are new employees, which is a totally unique audience.
During onboarding training, you want your new employees to know about your company so that they feel comfortable and passionate about where they work. But, you obviously also want to emphasize any information they have to know before doing their specific role on their own confidently. 
As you identify what you want your new employees to learn during training and come up with a robust employee onboarding checklist, only then you can start to think about how it would be most effective for them to learn each thing. If a topic requires a dynamic and interactive training, it's best to do it in person. But, if your new employees are fine to learn something on their own, use employee self-onboarding when you can with your onboarding and training software. Mix it up!
Okay, you have the what and the where. Now, you can move on to one of the most important aspects of planning—creating the onboarding training structure. When should a new employee learn about each topic? Think about each topic and determine if the information is foundational, introductory, intermediate, or advanced. Simply put, onboarding training should build from foundational to advanced.
Every piece of your onboarding training should have a purpose. When a new employee begins onboarding, it can often feel like drinking water from a firehose. So, you do not want to be teaching them anything that is not absolutely relevant and necessary to the context of their role.
Practice
You have thought about every aspect of the Learn phase and now you should begin thinking about where you might incorporate some element of practicing into your onboarding training. Let's do some quick brainstorming on considerations for who, what, where, and when practice should happen!
Who: Individual, with another new employee, a tenured agent, or their manager

What: Quick knowledge checks or graded quizzes, role playing, shadowing a tenured agent, having a reverse shadowing experience 

Where: Screen sharing, audio, webcam, email, or chat scenarios (if you have an

onboarding system

like Lessonly) and in-person role play or shadowing

When: More opportunities for practice as your onboarding training progresses with those intermediate and advanced topics

Why: Practice makes progress, and allows new employees to do their best!
Get to the point: How long should onboarding training last?
Once you think about each aspect of the Learn and Practice phases, the length of your Onboarding Training should come organically. If you want a recommendation, it would be to spend about a quarter of your onboarding training on topics that fall into each of these four categories: foundational, introductory, intermediate, and advanced. This includes incorporating practice elements when appropriate. So, if you have one day's worth of information and/or practice for each category to execute, your initial onboarding training would be four days long. This is why the Plan and Assess phases are so important to your training process!
Also, do not build your onboarding program and leave it for years without ever looking at it again. Iterate! That is what the Better Work Training Method is all about; After each Onboarding Training class, you should be looking at the employee performance in order to begin assessing where improvements can be made for the next class.
Time to Fly
So, it's been a bit of a whirlwind. We went into the pressure cooker talking about onboarding training, were thrown into the fire when we started discussing training length, and then we rode our bicycles through the Better Work Training Method to (sort of) come to a definite conclusion about how long onboarding should last. The point is this: Try not to put guardrails on "onboarding training" and do what is best for your company and your new employees to create a culture of camaraderie and compassion right from the start! You never get a second chance at a first impression.
Want to see how Lessonly helps frontline teams like yours? 💛
Our training software helps over 1000 business teams across the globe learn, practice, and do better work. Click any of the tiles below to discover more of what we're about at Lessonly! Or, if you don't know where to start or have lots of questions, here are the 5 most important things to know about us.