She's been practicing basketball since she could walk.
She was named one of the WNBA's Top 15 Players of All-Time.
She's won four Olympic gold medals.
She currently serves as GM and VP of Basketball Operations for the Indiana Fever.
She opened Tea's Me Cafe, the sweetest tea shop in Indianapolis.
And she's a speaker, author, philanthropist, and simply delightful human, too.
Honestly, what can't this woman do?
Team, we're talking about Tamika Catchings!
We first had the pleasure of meeting her last fall at Yellowship19 where she sat on a panel that talked about ways to be a better teammate and do Better Work with the people around her. On that panel she said, "What's my mission on a team? It boils down to three C's—Commit. Compete. Contribute." So as you can imagine, when we decided to launch a podcast all about practice, Tamika was on the short list of people we called. Her dedication to basketball, care for her teammates, and extreme ownership of her words and actions were inspiring. And we wanted to learn more.
We picked her brain and learned more of her story on the Practice First podcast, and let me tell you, this interview is full of insights on being a leader in practice, focusing on the small things, and making practice more than just a repetition game. Listen to her episode below or on your favorite podcast app!
If you're looking for a high level overview of what to expect to learn from this conversation, we've got you covered. In this episode, Tamika teaches us:
How adversity and big goals in her early years fueled practice and growth

Why focusing on little rituals and the fundamentals are so essential for success

What lessons she's bringing from her career as a player to her off-the-court role as a GM

How she's leaning into empathy, communication, and leadership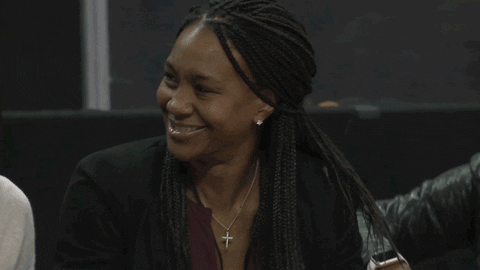 "We make time for what we make time for."
I was planning on summarizing my favorite snippet from Tamika's episode right here, but honestly, I think she says it best. Here's my favorite quote from this episode:
"A lot of people are like, 'I just don't have time to practice, I don't have time to do that.' And I don't agree. You know, I think we make time for what we want to make time for, and for me, basketball was that. The WNBA was not a goal of mine in seventh grade because we didn't have a WNBA. My goal was to be in the NBA, and so I knew that I had to practice even more than the guys did, and if I could get 24 hours of practice in a day, trust me, I would try it."
The two takeaways from this quote to me are…
"We make time for what we want to make time for." The way we spend our time is, in large part, a reflection of what we prioritize and what we think matters. I want to be someone who prioritizes practice, even if that means just getting 1% better every day.

Tamika had an inspirational amount of grit, dedication, and passion for practicing basketball growing up with the hope of hitting big goals and becoming a professional basketball player, and she did it. A commitment to practice pays off in the long run.
That's all on Tamika's episode for now, friends. You can keep up with her on Twitter or Instagram, or follow the Fever at @indianafever.
Also, one final thing—we'd love to hear from you! Connect with our hosts on social media (Conner Burt or Ben Battaglia) or shoot them an email at practice@lessonly.com!
Practice First is produced by Lessonly
Our training software helps over 1000 business teams across the globe learn, practice, and do better work. Learn more and listen to more episodes at lessonly.com/podcast.