Welcome to July! There's a lot to share, so let's dive right in. Check out our launch video below, and read on for more.
The Better Work Training Method
Product fit is obviously very important when choosing a software vendor. In our experience, choosing a partner whose philosophy aligns with your team's is also very important—and directly impacts program success. Our philosophy informs how we build the Lessonly platform and partner with our customers.
Last year, at the inaugural Yellowship conference, we unveiled the Better Work Training Method, a six-step process for building effective training programs that's based on our work with millions of learners at more than 750 companies around the world like Trunk Club, US Cellular, and Zendesk.
Today, we're pleased to announce the next step in the Better Work Training Method: a flexible framework of practical guidance outlining best practices for developing richer training programs and doing Better Work. The Better Work maturity model is a way to visualize the development of a given team's training program, across all six phases of the Better Work Training Method. The maturity model also serves as a lens through which opportunities for improvement are identified and progress is mapped so that leaders and their teams may continuously grow toward a world-class training program.
The Better Work Training Method is free to use and useful to any team building a training program, with Lessonly or otherwise. And we will continue to grow and improve the Lessonly platform based on the principles and practices reflected in the Better Work Training Method. Lessonly customers can contact their CX Manager to get started with the Better Work Training Method maturity model today.
Micro Feedback
Most customers we talk to care deeply about keeping their training as accurate and relevant to their teams as possible, and leveraging learner feedback is an efficient way to do this at scale.
For this reason, we're excited to launch Micro Feedback as a new feature and compliment to the much-loved and often-clicked Ask the Expert button in Lessonly. Now, when learners highlight text in a lesson, a pop-up tooltip will appear allowing them to easily ask a question or send specific feedback about the selected content.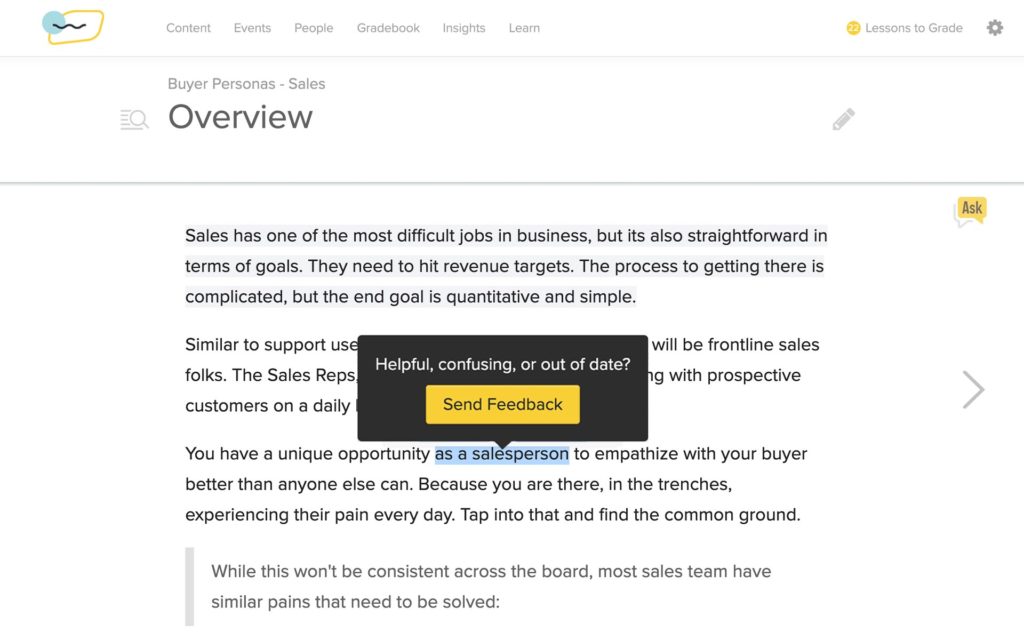 That's it for July—we'll be back with more in the coming months! In the meantime, if you're interested in learning more about how these new features and Lessonly can help your team Do Better Work, watch a demo today.