Take a moment to compare the two professions below and try to guess what they are. Hint: one might be about how to manage training programs, and the other works on Sundays…
Profession 1
Quick to Process

Wears a Headset & Helmet

Completion Percentage

Interceptions

Touchdowns

Wins & Losses

Games Started

Seasons Played

All Pro Selection

1 of 32

Average Annual Salary ≈ $17 Million
Profession 2
Average Handle Time (AHT)

Wears a Headset

Customer Satisfaction (CSAT)

First Call Resolution (FCR)

Escalations

Net Promoter Score (NPS)

Minimal Sick Days

Adherence, Longevity, and Promotability

Annual Team MVP

1 of 3.4+ Million

Average Annual Salary ≈ $38 Thousand
In case it's not obvious, Profession 1 is none other than a starting quarterback in the National Football League (NFL), and Profession 2 is a customer service support leader in a contact center. I found this to be an interesting juxtaposition. They're similar in a lot of ways. I believe most folks would consider the stakes higher for the NFL quarterback. However I'm not so sure a customer service agent would agree. Look at how they're measured thus deemed successful and good at their craft. While NFL quarterbacks are under constant pressure from the changing defensive fronts charging and blitzing them, they at least know what to expect. Oftentimes, support agents don't, and that's why I want to talk with you about the importance of training and the benefits of training, too.
The importance and expectations of both professions
NFL starting quarterbacks are often considered and marketed as "the face of the franchise." You see their faces on season tickets and billboards. They appear as guests on local and national television shows and radio stations, and they're the most likely position to receive endorsement dollars. They're also the people who are expected to successfully guide the team to the playoffs and ultimately, the Super Bowl. 
I think this same spotlight and responsibility should be put on customer service agents as well. They're the face of the franchise, or at the very least the voice of the franchise, and they're the people who are expected to deliver the brand experience customers expect. And we have to remember that unlike NFL starting quarterbacks, customer service agents don't get to see what's coming. And what's coming includes customer expectations that have been created by the likes of Netflix, Amazon, Uber, Airbnb, and on and on. I once heard customers with high expectations referred to as "the on-demand consumer." 
With all of this in mind, customer service agents should be enabled and empowered to deliver Super Bowl Championships (the brand experience they want to deliver, and the experiences their customers expect) as well. Different types of training and development can help meet these training needs, and in the same way NFL quarterbacks train like crazy, I think support agents should, too.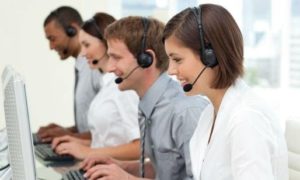 Becoming the face of the franchise
Very few people are born as the face of a franchise. So, how does one become that? Hard work and via a proven formula for success: Learning + Practicing + Performing. I'm not here to debate whether or not the quarterback should be the face of the franchise, but I am here to highlight how the importance of training helped them become that (or, at a minimum, become great at what they do), especially in a contact center environment. 
The ability for customer service agents to continuously learn, put those learnings into practice, and get great coaching in support of their learning and practice is paramount to performance, customer experience, and NPS. Having spent many hours in contact centers sitting next to customer service agents, I've heard and seen the benefits of training. It enables team members to be the face of the franchise with confidence. Training and development programs put them in a position to anticipate what's coming, and how to respond in Super Bowl Championship fashion. That's the purpose of training. 
And having spent way too many hours watching NFL football games, the benefits of hard work and training are apparent. After spending plenty of time sitting with customer service agents from different contact centers, it's become super clear which organizations are invested in their teams (and subsequently, their customers) and which ones aren't. As consumers calling into contact centers, the benefits of hard work and training are apparent as well. We all can tell those who are in position to deliver Super Bowl Championship experiences and, unfortunately, those who aren't. 
Final Thoughts
So regardless of what types of training you decide to go with for your support team, just keep in mind that that behind-the-scenes work and practice does not go unnoticed. Your agents are the face of your franchise, your frontlines, your company's voice. And the benefits of training to your employers and to your customers are innumerable.
The thing I'll leave you with is—I'm not so sure customer service agents shouldn't be wearing helmets as well! I admire the agents I've met and truly respect the companies who prioritize training and invest in their teams.
Ready to train your team online with Lessonly? ?
We're ready when you are. Building a world-class team takes both learning and practice, and Lessonly helps teams like yours do both. Learn more by clicking on the tile below that most interests you!