Every product update we make in Lessonly is designed to put learners first and bring our customers more clarity, alignment, and connection on their teams. I don't know what it is about this June product launch specifically, but there's something about these simple Practice updates that have especially "wow-ed" me. I hope they "wow" you, too.
For those of you with Practice, buckle up, because this month's updates will change how your learners approach Practice scenarios, get agreements, and turn best practices into the norm.
Here to share a quick rundown of what's new in Lessonly is Kim from our product team.
If you're looking for a 30-second version of what launched today, check out the list below. We'll elaborate more on each of these line items in the following sections if you're looking for more details.
✅ Want your learners to know which practice elements are graded and which ones aren't? No prob-llama, folks.
? Now, share tips in your Practice scenarios to clarify which Feedback Criteria your learners should focus on as they hone their skills and refine their responses.
? Stylistically, Practice in lessons will look a whole lot more like On-Demand Practice.
? Say hello to a new, simple way to showcase a highlighted example video, screen, or audio recording right in your Practice scenarios. 
1. Graded vs. Not Graded Practice Scenarios
Clarity is kindness. We've made improvements to Practice in lessons to provide more clarity around which scenarios are graded vs. not graded, so everyone from Creator to learner is on the same page and aligned.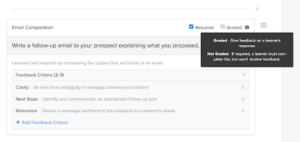 When adding a practice element to a lesson, Creators can now click on a "new tool tip" for an explanation of the difference between a graded and not graded question.
Learners will be able to see if a practice scenario is for a grade or simply for the sake of honing their skills by the scenario's label of either "Evaluation" or "Let's Practice!" This change will allow learners to better set their expectations for what happens after they record or write an attempt. Here's what the new functionality looks like:
A Graded Practice Element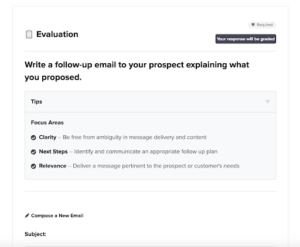 A Not Graded Practice Element
And as an added bonus, if a learner completes a not graded scenario, but still wants to share their practice attempt with a teammate, manager, or Lessonly user for feedback, it's simple with the new High Five! pop-up.

2. Feedback Criteria < Tips 
Previously in Practice, we displayed Feedback Criteria in an expandable section labeled "What should I focus on?" But as of today, we've changed the name of this section so it's more about tips and helping, and less about criteria. We've also updated it with new styling as you can see below.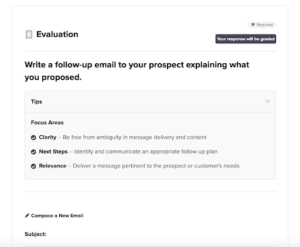 This change in verbiage is to be more inclusive of people who are completing practice scenarios where "Feedback Criteria" is not necessarily as applicable to the advice, recommendations, and well, tips, that Creators have for their learners. 
3. Highlighted Example 
Providing learners with a highlighted example defines what great looks like and gives learners a clearer idea of how to effectively practice. With the ability to visualize what a 10/10 pitch, response or call should look like, learners can now make best practices their practices and grow faster.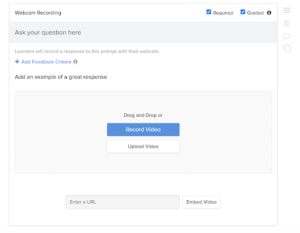 In lessons, you can now add a highlighted example of the following Practice elements:
Webcam Recording

Screen Recording

Audio Recording
When an example is provided, learners will see it included in the tips section.
One final note on highlighted examples: They can be recorded, uploaded, or embedded via a URL! It's never been easier to showcase what you're looking for from your teammates.
4. Styling Changes
Last but not least, let's talk about style. The two main styling changes to Practice to note are both related to video files in practice.
First—you've likely copy and pasted video, audio, or screen recording links and shared them with your team. Now, that URL will be a direct Lessonly link that takes you to a viewing page within your Lessonly account. This is a simple, but significant brand shift to keep everyone aware of what they can expect when they click on a link.

The second style change is that the learner-facing "Record a response to the prompt above." note has been removed from the webcam, screen, and audio recording practice elements in the name of simpler messaging and a sleeker learner experience.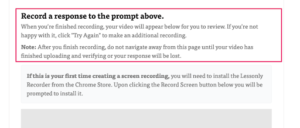 One Final Announcement…
That's all that's new in our Lessonly product this month. If you've made it this far though, we'd be remiss not to mention that we had another kind of launch last week that's been in the works for months—the Practice First podcast is live! We have three episodes ready for your ears! If you're looking to learn the secrets of world-class "practicers" and apply them to your job in the name of growth, progress, and Better Work, this is the podcast for you. 
Thanks for reading, team. Until July!
Want to bring Better Work to life on your team with Lessonly?  ?
We're in if you're in. Click on any of the tiles below to learn how Lessonly helps frontline teams around the world learn, practice, and perform—even remotely!