Riddle me this: I have listened to "September" by Earth, Wind, and Fire on loop today, and it's still not getting old. If that's not a tell-tale sign of a classic song, then I don't know what is.
In all seriousness, I'm excited it's September, and I'm even more excited to walk you through the updates our Product team has been hard at work on over the past few months that we're getting to push live today. Let's dive in, shall we?
What's New in Lessonly?
Here's the highest of high level overviews of what's new (plus, a bonus returning feature that we want to flag for ya.) 
🥳 SCORM lessons are all business in the front, but as of today, they are also a party in the back! Now, scores from SCORM lessons will appear right on your lesson overview pages.
👯 You've been able to download a lesson as a PDF for a while, but not like this. Now, that PDF will look identical to the learner view of the lesson for easier review.
👀 For those of you who use Practice, now you can see new feedback request not just in your email inbox, but also inside Lessonly. It'll appear in the "Responses Awaiting Feedback" section of your On-Demand Practice tab.
📹 Here's the oldie but goodie: the Highlighted Example feature in Practice. With the ability to see great audio, video, or chat examples, learners can now make best practices their practices and grow faster.
For some more context around each of these, here's Alec to walk us through how each of these updates can level-up your training
Let's dive a little deeper into each of these four features: 
🥳 SCORM Lesson Updates
For you SCORM lesson users, this update is game changing. Now, anywhere that "Score" or "Average Time in SCORM" is displayed in Lessonly, that SCORM data will pull into Lessonly and look just like the typical values displayed on any other, non-SCORM lesson in your lesson overview page. So basically, there won't be any UI changes to make from the Admin perspective when it comes to inputting how long your team spends on your lessons and how they performed. Which means less manual work for you and more time investing in your people.
And just as a reminder, this update is true not just for lessons, but also for paths and Certification paths.
👯 Lessons Into PDFs
Prior to this update, the "builder" view of a lesson was what was downloaded if you ever wanted to download a PDF… which got the job done, but we thought it could be better. We realized that there's a pretty extensive training auditing process that lots of our enterprise customers specifically navigate in order to have lessons and paths approved, so a cleaner way of saving those out was definitely called for.
We heard you, and we did something. Now, it's out with screenshotting lessons or simply saving the builder view of a lesson and in with getting a clean PDF with the learner's view of a lesson. Hopefully this makes things easier for you!
👀 Get Feedback Requests Inside Lessonly
If someone asks for feedback, now it shows up right in the app, not just as an email in your inbox. So say your teammate asks you for feedback on a practice scenario. Now any feedback requests that you collect will live in a section in your On-Demand Practice tab under "Response Awaiting Feedback." The result? You can provide feedback to your teammates faster, and it all lives in one place that isn't your inbox.
📹 The Highlighted Example Feature: Not New, Still Cool
Providing learners with a highlighted example defines what great looks like and gives learners a clearer idea of how to effectively practice. With the ability to visualize a 10/10 pitch, learners can know what the gold-standard is and work toward that. We've watched customers (and even some prospects) leverage this feature, and they love it. And we think you will, too.
In lessons, you can now add a highlighted example of the following Practice elements:
Webcam Recording

Screen Recording

Audio Recording
When an example is provided, learners will see it included in the tips section.
One final note on highlighted examples: They can be recorded, uploaded, or embedded via a URL! It's never been easier to showcase what you're looking for from your teammates.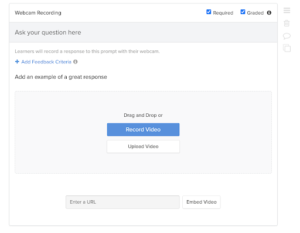 Alright, that's all for this month. If you have any questions at all about what's new in Lessonly. As always, if you have any questions at all, don't hesitate to reach out to our support team at support@lessonly.com, or contact your account manager. We are here to help, and our greatest joy is watching you do Better Work with your team.
Until October, team!
Ready to get results and win as a team with Lessonly? 💛
Building a world-class team takes both learning and practice, and Lessonly helps frontline teams do both. Learn more by clicking on the tile below that most interests you, or if you don't know where to start, check out the five most important things to know about us.