By the time you get to the end of this sentence, you'll be feeling veeeery sleepy… because we had the privilege of talking to mindset expert, celebrity hypnotist, and motivational speaker, Ricky Kalmon this week on the Practice First podcast!
Everyone, meet Ricky
Ricky is known for everything from making NFL players think napkins are $100 bills, to helping corporate executives reset and reframe their work styles to develop better habits. But, Ricky didn't become the incredible hypnotist and consultant that he is without thousands of hours of practice. And in this episode, he shared some of that wisdom with us.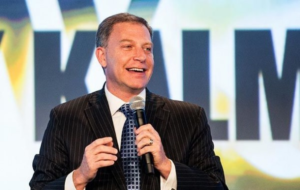 Take a listen if you want to see why…
👣 The repetitions of practice make it easier to think on your feet when things don't go as planned
🧠 True winners in life prioritize both mental and physical forms of practice
💪 The most successful people make mistakes, but still maintain self-belief 
💯 Unconscious excellence at work starts takes time and conscious excellence

Ricky's episode was captivating to me, and I want to highlight three of my favorite quotes from his conversation with Ben. 
1. "Nobody wants to sign up to fail, and that's why people don't try."
We talk about the value of failure often on Practice First because it always leads to learning, but what we don't talk about is how hard it is to sign up for failure. It's not fun to be bad at something. It's not enjoyable to hit rock bottom or to feel mediocre. But feeling inadequate or like there's room to grow is something that top performers practice seeing as a good thing, not a bad thing. I don't know about the rest of you, but if you're anything like me, you probably have some room here to lean in harder to the things you're not great at and see the chance to try, fail, and learn as a gift, not a hassle.
2. "Practice creates an automatic response."
In this section of the podcast, Ricky compares practice to highway hypnosis. When we arrive somewhere and feel like the miles and hundreds of tiny decisions we made while driving our vehicles are suddenly blurred, that's because we don't even really have to think about driving anymore. The best employees, leaders, hypnotists have practiced their craft so often and spent so much time being conscious of their actions, words, habits, and more, that they default to those same responses when more difficult curveballs come their way in business or life.
3. "Practice is an investment in the individual and an investment that takes time."
Our world is increasingly valuing personal development. And if I'm honest, sometimes  it feels selfish and needy to me. But more and more I'm realizing that it's not selfish for any of us to invest in ourselves (to a point, not every day can be a treat yo' self day). When we practice our skills, whether we're taking a class, asking for feedback, or doing something else, we become better employees, colleagues, friends, and teammates. Practice is always worth it, and Ricky made that super clear in this episode.
Final Thoughts
To learn more about Ricky, rickykalmon.com is the place to go. You can explore his podcast, his latest book called Leverage your Mindset, his app, and more. Happy listening!
And as always, we'd love to hear from you! If you learned something from Ricky's episode or know someone who'd make a great guest on our podcast in future episodes, you can connect with either of our hosts on social media (Conner Burt or Ben Battaglia) or shoot them an email at practice@lessonly.com. 
Practice First is produced by Lessonly 💛
Our training software helps over 1000 business teams across the globe learn, practice, and do better work. Learn more about Lessonly right here or listen to more episodes of Practice First at lessonly.com/podcast.