Today's world of training and development has long since moved from simply showing a new hire their desk, introducing them to their team, and setting them off on their own to sink or swim in a chaotic environment. A clear training and development process can result in increased motivation and morale, higher productivity, lower employee turnover, and tangible outcomes like increased profits.
An employee training and development program, which allows for a seamless transition between these two realities, is the best way for organizations to get the most bang for their recruitment buck. To minimize costs and maximize results, leaders need to create a training and employee development plan that works best for their teams.
The
Difference Between Training & Development
Training and development has dramatically changed in recent decades. Businesses have had to learn how to operate in as lean of an environment as possible. And, the success depends on a trained staff of dedicated workers who are looking to have a larger impact on your organization. By recognizing the difference between training and development, businesses can structure their learning opportunities accordingly.

Training is different from development in that it's developed by the organization with the goal of offering technical knowledge and expertise in accordance with their job requirements.

Effective training breeds success. It's important for employees because it helps them comprehend the job requirements and achieve them more efficiently. Training informs employees about the rules, processes, and policies of the organization so that they are able to work and behave according to the culture of the business. Training also helps groom employees and prepare them to carry out their jobs more efficiently.
The best types of employee training methods for your workforce may include:
Instructor-led training

eLearning

Simulation employee training

Hands-on training

Coaching or mentoring

Lectures

Group discussion and activities

Role-playing

Management-specific activities
Development is more of a long-term process through which conceptual and intellectual knowledge helps employees achieve overall development and education. The objective of the ongoing process of development is to increase staff efficiency and effectiveness at the workplace.
A difference between training and education, or development, is not pertinent to a particular task; rather, it is a holistic process that aims to bring about personality development on the whole. Its goal is to facilitate overall growth of individuals to enable employees to face possible challenges. It helps alter the attitude and approach of the employees so they become more competitive.

The best types of employee development methods for your workforce may include:

Ongoing training

Task/job rotations

Coaching

Mentoring

Workshops/Committees/Working Groups

Simulations

Conferences

On-the-job development

Self-study

Performance reviews

Career planning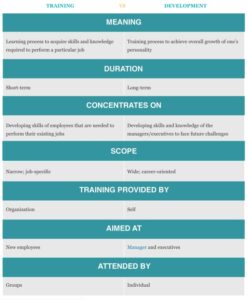 How are employee training and motivation related?
The quality and variety of the employee training and development programs you provide are key for motivation. The prime motivator for employee training is to improve productivity and performance. And when executed well… BOOM! It does just that. It provides your employees with the expertise they need to fulfill their role and make a positive impact on your business. The skills they learn empower them to deliver better quality work overall. It also gives employees a clear understanding of their roles and responsibilities within your organization. They know their targets and are equipped with the tools to effectively meet them.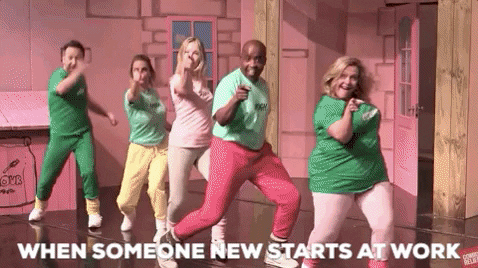 We've found that understanding and motivating employees is the key to increasing self-worth in the workplace. Training can help employees understand how their work fits into their company's structure, mission, and goals. And, employees often become more motivated when they understand how their work matters.
Train and Develop Your Employees with Lessonly
Training and organizational development opportunities are a real investment. Organizations that want to harness the full value of their employees and foster loyalty and retention will find training is a winning prospect for all involved. So whether you are training your employee to handle their entry-level position, or you are looking to groom that worker for future management responsibilities, determining the correct course of action begins in properly identifying the problem before applying an adequate solution. Let Lessonly get you started: Better Work Starts Here.