Before you start reading this, take two seconds to make sure you have this song playing in the background. It's the best way to set the stage for this week's guest on the Practice First podcast!
Alright, ready to know the person behind those killer vocal and guitar skills? Grab your dancing shoes and maybe even a toothbrush (you'll have to listen to the full episode for more context on that, my friends), because this week's guest on the Practice First podcast is John Splithoff.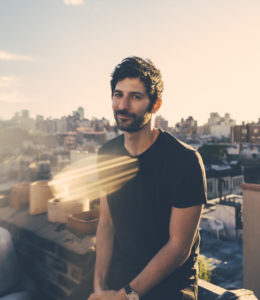 So, who's John?
John is a Chicago born-and-raised artist that's now based out of NYC. He's been writing songs since he was in high school, and he simply loves music. He studied it down at the University of Miami with the hope of one day building a career in singing and songwriting—and that's exactly what he's up to today.
One thing we learned from our conversation with John though is that there's no way he'd be where he is today without countless hours of practice. He's practiced making meaningful music and studied thousands of songs people love to listen to to refine his own craft and write better songs. We're lucky to welcome him to Practice First! Here's his full episode:
In this episode, Ben, Conner, and John discuss the value of…
🗣️ Staying in vocal shape and keeping practice dynamic
🎶 Establishing a consistent routine to produce better quality music
🔁 Refining musical skills with repetition "without trying to make everything perfect"
🎤 Knowing when to share music with others and when to create music for yourself
Let's dive into a couple of these topics a bit more.
🗣️ Staying in Vocal Shape
As you can imagine, living in an NYC apartment in 2020 was not easy, but John did it. He couldn't perform this year how he'd hoped, but it's given him the opportunity to write new music, lean into different routines and methods of songwriting, and develop his skills outside of gigging, touring, and performing. 
One comment he made that stuck out to me was that he hasn't been able to fully "sing out," simply out of respect for his neighbors. He's pivoted to singing scales and writing more frequently and iteratively to stay quieter, and adapting in this way, if you ask me, is a skill that only comes with years of discipline and practice. 
🎤 Creating Music for Others vs. Yourself
In this episode, Conner asks John how he balances writing music with other people in mind versus writing things that maybe only he enjoys. Basically, Conner was asking if John sits down and thinks about selling songs, being catchy, and pleasing the masses, or if he just writes to create something he loves and hopes others will, too.
His answer? He's practiced both in his life, but more often than not, he leans towards the latter of these two options and writes things he loves. Granted, he did mention that if he's sitting at his desk for 10 hours a day for weeks on end, working on the same song or the same riff or the same melody, he will often share it with others and ask if they enjoy it. Creating great music for John (and let's be honest, creating any great work for the rest of us) looks like coming up with ideas and getting excited about them, but being flexible enough to make them better as we collect feedback and discover alternate options.
Final Thoughts
Our conversation with John was a fun one, and we're obviously biased, but we think his music is great. You can learn more about John at johnsplithoff.com or listen to his work here on Spotify or Apple Music. 
And as always, we'd love to hear from you! If you learned something from John's episode or know someone who'd make a great guest on our podcast in future episodes, you can connect with either of our hosts on social media (Conner Burt or Ben Battaglia) or shoot them an email at practice@lessonly.com. 
Practice First is produced by Lessonly 💛
Our training software helps over 1000 business teams across the globe learn, practice, and do better work. Learn more about Lessonly right here or listen to more episodes of Practice First at lessonly.com/podcast.