Here's one thing I know: There's A TON to look forward to in this fresh new year for the Lessonly team. But, we'd be remiss to keep rolling full steam ahead without taking a moment to look back and reflect on some of our favorite content from 2020. 
We kicked content creation into high-gear last year to offer customer service, sales, and training leaders with resources that range from podcasts and ebooks, to coloring pages and certifications. As you can imagine, the past twelve months were filled with content we weren't planning on because meeting our audience where they're at looked different. And we're grateful for that because we learned a lot and had a blast along the way. In no particular order, here are ten of our favorite resources from 2020.
1. A Refreshed Training Plan Builder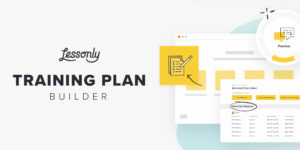 The not new, but way improved Training Plan Builder has lived on our site for years, and it was simply time for a glow-up. With refreshed copy, design, and development, this nifty template now allows users to create a custom training template for their employees by filling out a simple form and answering questions about what skills are most vital for their teammates along the way.
2. Our Customer Service Enablement 101 Certification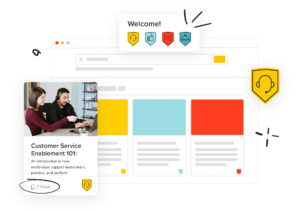 The largest product launch of 2020 was Lessonly Certifications (read all about it here), so it was only fitting to create a certification of our own—Customer Service Enablement 101. We created this certification to help customer service trainers, managers, and coaches hit big goals, boost CSAT, and lead their teams to customer service greatness. With the help of six experienced CS gurus, our CEO, Max, and three all-star customers, this video-based certification is a great tool to take CS teams big and small to the next level. Check it out for free here.
3. A blog post on connection and camaraderie in a WFH world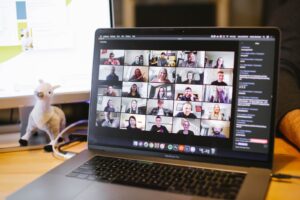 Our content manager, Rachel Saltsgaver, wrote this empathetic, valuable blog post in March of 2020 as many teams were pivoting to remote work for the first time ever. "While some of us may have dabbled in working remotely in the past, this is a completely new experience for a lot of other teams. And, understandably it comes with some challenges. But, just because we aren't actually going into the office doesn't mean team connection and camaraderie has to suffer." Read the rest here.
4. Our Little Llamas Activity Hub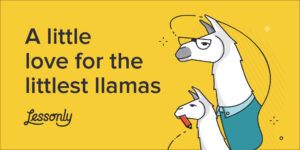 Ollie Llama and the Lessonly marketing team put their hooves together to create some fun activities to entertain kiddos and adults alike. For hours of fun and the cutest coloring pages, I Spy puzzles, and word searches, visit the Little Llamas Resource Hub.
5. This 3-Part Sales Readiness Webinar Series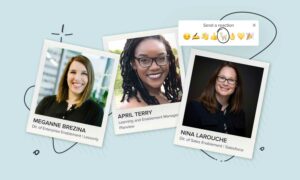 This webinar series featured some of the best sales coaches, enablers, and leaders we know. The primary goal of the series? Learn from the pros how to set metrics that matter, get reps sales ready fast, and drive revenue and results. To read more about our guests, hosts, and content, check out these quick webinar recaps of part one, two, and three of the series. And stay tuned for a resource that consolidates all of these insights into one. 👀It's coming later next month!
6. The
Practice First
podcast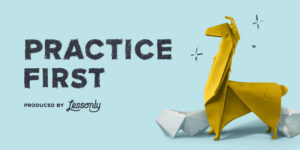 Good teams learn, but great teams practice. Last year, my teammates hosted a podcast where they talked to chefs, sommeliers, circus performers, Olympians, sales leaders, announcers, pilots, and more to learn about the role of practice in their day-to-days. Practice is essential in becoming exceptional at any craft, and we loved learning from the fifteen guests who joined us for Season 1 of Practice First. You can start listening today at lessonly.com/podcast.
7. Our Business Impact of Training mini-ebooks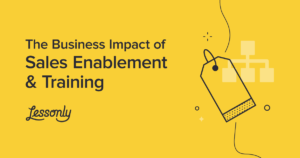 Raise your hand if you want to see a major ROI on training. If your hands aren't in the air, something tells me you're lying and you need to check out these two mini-ebooks—The Business Impact of Customer Service Enablement & Training and The Business Impact of Sales Enablement & Training— ASAP. The short-and-sweet resources feature some pretty mind-blowing stats around the benefits of training. See them for yourself, and click the links above!
8. A new report: Practice = Revenue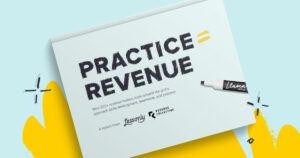 200+ global revenue leaders from companies like Slack, Yelp, Zendesk, and Zoom made it official for us: Practice equals revenue. Teams that refine their skills simply do Better Work. This report explores five key trends we uncovered about the impact skill development and practice have on revenue generation orgs. You can peruse the report here.
9. The Major League Sales Coaching Playbook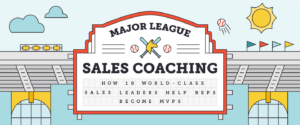 Okay, so this is a baseball-themed ebook for sales coaches and managers. And while most people don't hear the word "ebook" and think, "Woohoo, what a blast this will be to read!", the people who've browsed Major League Sales Coaching feel a little different because the lineup of leaders who shared their insights is unreal. To explore the home run advice and level up how you coach your team on skills, performance, deal cycles, and more, click here. 
10. These 20 practical (and fun) ways to rock a virtual SKO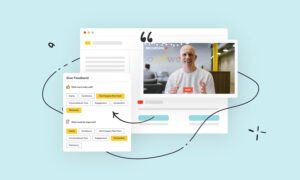 "We're living in a virtual world. No more travel. No more team off-sites or all-team meetings in the office. We have no choice but to pivot. But, that doesn't mean it's time to panic." Sales leaders, with the 20 tips outlined in this blog post, your virtual SKO can still be one marked by connection, progress, and enablement that sticks. Read on and steal any and all of our ideas here.
Final thoughts
For more content like this, visit lessonly.com/resources and explore any of our blog posts, ebooks, videos, certifications, and more. And, if you can't find what you're looking for, just chat with us in the right-hand corner. We'd love to point you in the right direction. Here's to a 2021 filled with more content that helps teams like yours train and grow in new ways.
Lessonly helps more than 3 million learners and 1,000+ teams Do Better Work 💛
If you want to learn more about making the move to online training with your team, we'd love to chat with you. We're here to help your team learn, practice, and perform. Try a Lessonly lesson out for yourself (for free!) today, or feel free to drop us a note at hello@lessonly.com.