Big changes have arrived to the overview pages! We've taken a completely fresh approach to showing you what is most important to be able to see and do when looking at a lesson, course, user, or group overview page. The output is truly delightful. The biggest changes you'll see are:
New and Improved Design
Keeping up with the design improvements we started with the new gradebook redesign, we've rebuilt the overview pages from the ground up with the best possible user experience in mind. All the functionality you have relied on from overview pages still exists, but what you'll find is that it looks (and functions) much better. We also made sure to keep mobile in mind with the redesign, so you could get the data you need from your mobile device as easily as you can get it on your desktop.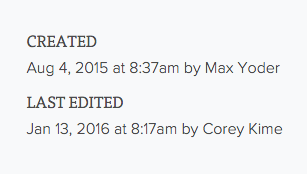 Better Insight into Created and Last Updated Data
It is now much easier to not only see who created a lesson or course (and when), but you can also see who last updated it (and when). This can be extremely helpful in terms of knowing if your content has been recently worked on, or is out-of-date and needs a refresh.
Visualize Your Lesson's Performance
Lesson performance has been hugely helpful to trainers to see what questions are missed most often and how they can improve their lessons. We're making even easier to spot those areas for improvement by charting your questions and displaying which ones have been missed most.
Quickly Add Members and Managers to a Group
We've simplified the process of making a user part of a group or setting up a manager for a group! On the overview pages, you can now see a section listing who those users are with an option to add or remove them as needed.
These changes should help make these pages even more useful to use as well as put a little more delight in your day. If you have any feedback or questions, please let us know!