Life as we know it isn't quite life as we've known it. This past month has rattled our routines and prompted us to reflect on how we're caring for our customers.
At Lessonly, we're leaning into the fact that nothing feels normal right now. This is a time to simply do our best and have boatloads of grace with ourselves and those around us. Our customers are running the gauntlet of emotions right now: Some are struggling, others are bored and restless, and others are recharging and learning now more than ever. Everyone is experiencing this time differently both personally and professionally, and here at Lessonly, we're here for you through it all.
The question we've been asking ourselves these days is, "What does helping others do Better Work look like right now?" Our answers are all hinged on empathy. We created a Little Llamas resource hub for parents, built a page dedicated to helping teams get remote training up and running for their frontline teams, and hosted virtual Llama Lunches to give our friends a place to share how they're pivoting at work. And the llama love we've received for these things and for Lessonly's platform has blown us away. 
Here's what our customers are saying…
Pillars of Wellness, Inc.
"Because of Lessonly, we transitioned our onboarding process virtually and quickly trained our entire staff in telepsychology. With the efficiency afforded by Lessonly, we have even opened up employment for displaced therapists and interns. It's not an overstatement to say that Lessonly has literally saved lives."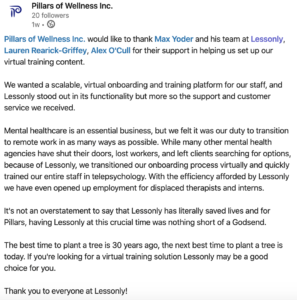 See the post here.
EP Wealth Advisors
"Lessonly might be called a learning management software (LMS) by some, but I'm calling it my Groovy Thought Partner (GTP)."
—Sherryl Ray | Director of Employee Enrichment at EP Wealth Advisors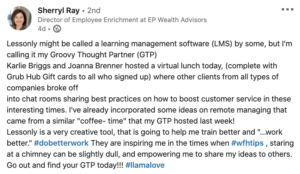 See the post here.
Uberflip
"In tough times, [Lessonly] is not trying to benefit from the uncertainty in the market, but instead they are showing compassion by creating a printable coloring book."
—Celeste Cote | Account Executive at Uberflip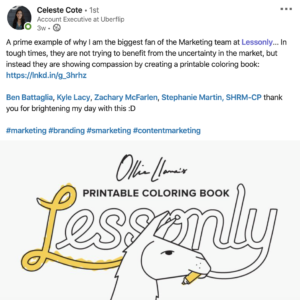 See the post here.
Olympus Care Services 
"From my side, I couldn't have imagined a more perfect time to have signed up for Lessonly and to launch it to the team at Olympus Care Services. With everyone working from home, it gives them time to grow. Almost 1,000 lessons have been viewed this month and 130 completed yesterday (for a team of 40)."
—Jane Iredale | Employee Development Officer at Olympus Care Services
We've also received countless messages and emails sharing even more llama love. Here's just a sneak peak of what people are saying:
"Thank goodness we have Lessonly!"
"Business is booming sadly due to the COVID-19 Pandemic. I always knew working for this company was more than just a pay-check, and now in this crisis, I see just how much of an essential service we are!
Customers are sending funds to their loved ones to be able to support them as many are losing their jobs (Korea, China, Singapore among the highest), others are sending to support buying basic supplies and medicine, some customers have loved ones stranded in foreign countries due to all the international travel bans, and the list goes on and on.
As the various countries are in shut down mode, governments are begging us to keep our production doors open, so while the Philippines, India and soon to happen Colombia, are in a community quarantine, governments are providing our workers exemption certificates so they can unselfishly support our customers in this urgent time of need.
Thank goodness we have Lessonly!  As the high volumes are too much to bear, we've had to funnel global training via Lessonly and speed-train and upskill many on our processes.  Lessonly has been essential to us in this current situation we are dealing with."
"Lessonly has become an integral part of our day-to-day business."
"We are experiencing unprecedented growth and a phenomenal work load throughout our organizations. Lessonly has become, and will continue to be, an integral part of our day-to-day business. Our store staff will be increasing by 2x in the coming weeks and we cannot do that without Lessonly!"
"Lessonly is saving my life right now."
"Lessonly is saving my life right now! Feeling very grateful that I put in the time to digitize so much of our onboarding content, because it's enabling us to still onboard new hires while going through this WFH mandate."
Closing Thoughts
We're honored to be navigating this season alongside hundreds of teams like yours. We're taking things one day at a time, but one thing won't change—we're committed to helping people and businesses do Better Work through powerfully simple remote training and enablement, the occasional coloring book and I Spy game, Llama Lunches, and nothing but support from our CX team.
Ready to learn more about remote training? ?
We're ready for that, too. Click on any of the tiles below to learn how Lessonly helps remote frontline teams around the world learn, practice, and perform—whether they're physically together or spread out across the globe!