Guiding employees to better performance is undoubtedly an honorable goal, but oftentimes, the practical implementation of that objective is less than ideal, creating resistance among teams instead of buy-in. One question that often arises is, "How will this investment in learning make a meaningful impact in the company?" Historically, customer support may have been viewed mostly as a means of curbing dissatisfaction and reducing churn; however, progressive businesses are recognizing—even embracing—the notion that that customer support can, in fact, drive revenue. Accordingly, the consequences of not investing in customer support are likely much greater than the cost of proactively developing an excellent support experience.
Customers who interact with support are worth 2.5 times the MRR of those who don't
This figure comes from Intercom, who calculates MRR (monthly recurring revenue) as a metric for measuring the cost-effectiveness of their own customer support team. By doing the math on customer acquisition, activation, support, and other costs, and comparing it to the revenue from those customers, Intercom concluded that the human element of a support team makes a big, measurable difference on whether or not a customer will return or spend more with a company:
Reducing your spend on customer support might look tempting in the short term, but will erode your profitability in the long run—unhappy customers will simply leave. That's why we've put even more emphasis on growing our support team—both in headcount, and tools for support, such as improved processes and training.
Outside of hiring new employees, "improved processes and training" present the best opportunities to develop a best-in-class customer support experience. Sponsoring professional development and conference attendance, and investing in apps like Zendesk, Lessonly, and Intercom are all worthwhile, practical ways to fuel support team growth. And while these all represent expenses, as Intercom states above, the ROI of wise support investment is often much greater than the cost of doing nothing.
At Lessonly, we invest heavily in our training our Customer Experience managers from day one, knowing that they will, in turn, better equip our customers with the knowledge they need to use Lessonly. Better-equipped customers spend less time calling us and more time driving productivity learning amongst their teams. And more productivity learning leads to better work and more growth—for Lessonly and our customers. These cascading results, make the decision to proactively invest in our CX team a no-brainer.
Customers With the Best Experience Spend 140% Going Forward
Intercom isn't the only company to realize the positive returns that customer support investment can have on a company's bottom line. In a recent Harvard Business Review article, Peter Kriss, Senior Research Scientist with Medalia, compared the revenue implications of customers who report the worst support experiences to those who report the best experiences. Those with superior experiences are likely to:
spend 140% more with that company in the future
renew for another year 74% more often
remain a customer for 6 years on average (instead of just 1)
Let's say, for example, that two companies—Company A and Company B—each account for $20K in ARR (Annual Recurring Revenue) at a SaaS company. Company A decides not to renew because they struggled to launch the product and found customer support to be lacking. Company B, who had a much better customer experience, not only decides to renew, but also upgrades to a $40K package. If Company B continues to have a good customer experience and continues to renew for, say the 6 year average
Kriss highlights above, the revenue impact of excellent customer support would be massive: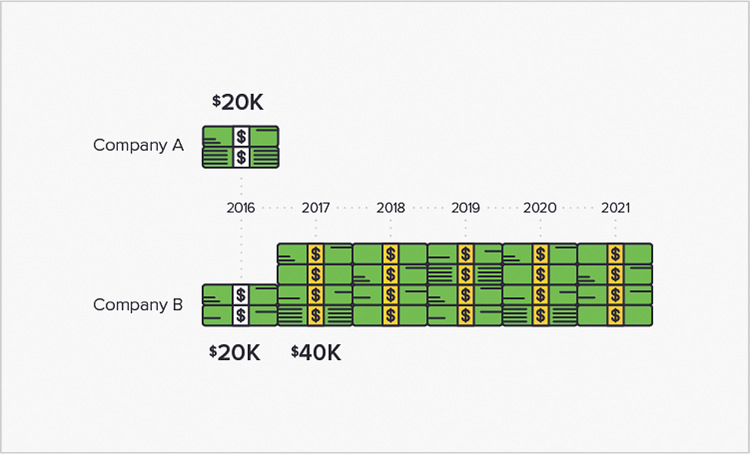 Increasing team skills by ⅓ increases the likelihood of objectives being met by 90%
Whether it's an increasing the number of answered calls, support tickets resolved, or any of the other KPIs in the customer support space, accomplishing more of those is a good step toward great customer service. Diving deeply into the Value of Training, IBM came to the conclusion above, citing strong evidence that increasing overall skill of a team affects that team's success rate of any objective dramatically. This finding speaks to the power of equipping teams with the tools they need to do their jobs and do them well. Every team has different targets depending on the company, but here are just a few examples:
Reduce the amount of customer interactions needed for resolution below 5
Reduce the average response time to 45 seconds
Increase overall customer satisfaction to 75%
Increase overall Net Promoter Score (NPS) to 8
According to the IBM statistic, a well-trained team expands its capabilities of meeting goals from under 10% to over 90%. This isn't to say that an untrained team can't or won't hit goals when given the chance, but the time and effort spent continually developing a support team produces results.
There's a tale we hear often in which a CFO, worried about the company's bottom line, asks a CEO what will happen if they spend money training employees and then those employees leave. In response, the CEO asks, "What if we don't train them and they stay?" Customer support teams are continuing to prove the cost of investing in them is always lower than the cost of not doing so. When higher renewals, longer contracts, and more satisfied customers are on the line, the decision seems easy.
Develop your customer support team with Lessonly
As the use of support and training software grows, industries are gaining more and more insights into the return on investment that a customer support team brings to the table. The three data points above are perfect examples of the enormous upsides that can be gained with team learning software. When properly enabled, support teams contribute real value to a business. And when properly trained, those support teams do their absolute best work.
Progressive support leaders use Lessonly to build their customer support teams and reap the rewards. Take the next step with a self-guided tour of Lessonly's team learning software. Sign up today.