One of my least favorite ice breakers is having to give fun facts. I always struggle to think of something that will make me seem cool or interesting, especially since I think the best facts are those that truly catch your audience off-guard. However, I do have one that usually gets people: When I was in college, I worked as a Student Ambassador for a Division I football team.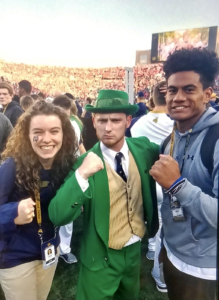 Anyone who knows me well finds this even funnier, as I'm a self-proclaimed hater of sports. I'm horrifically uncoordinated, absolutely despise being sweaty, and actually had to have my freshman roommate sit down and explain positions and rules to me during our first semester. Any attendance at a football game prior to college was likely so I could watch my friends in the band. Thus, it was some stroke of marvelous luck that I was hired at all, and even more surprising to those who knew me when I started expressing an interest in football.
My job was to sell Notre Dame, both the university and athletic programs, to top tier high school recruits and their families who had traveled from all over the country. While at the time I wouldn't have called myself a salesperson by any means, working for such a renowned team taught me many of the foundational elements present in the best sales training programs. Our bosses had a commitment to and expectation of excellence but, since their top "sales reps" were a bunch of undergrad students, they were truly tasked with building sales training for beginners. So, what elements allowed for such a successful team to operate off the skills of football novice individuals like myself? They developed their representatives through only the best sales training programs, the takeaways of which I will now impart to you. 
Don't skip basic training
My boss may have been willing to take a risky bet on someone without a football background, but he sure as heck wasn't about to put me out in the field without extensive sales and marketing training. Never mind the fact that I was in my third year at school — my peers and I were given a 30+ page university history booklet and sent on admissions tours to memorize the script. I had a separate binder that included pictures and bios of every member of football staff in the building, maps of the complex, and facts about every aspect of the players' daily life. We shadowed more experienced ambassadors for our first games and weren't allowed a recruit of our own until we had proven ourselves considerably. 
Sure, this may appear to be a bit overkill, but the reason our ambassadors had such an excellent conversion rate from prospective students to players was due to the preparation provided in our extensive sales training programs. Our managers made sure that all material studied was relevant and included as many fun sales training activities as possible to keep us engaged. By making sure we were well-rooted in the basics and encouraging us to continue to practice, our leaders ensured that our team was always at the top of our game.
The game is always changing
One thing that I loved about working with player recruitment was the value placed in my feedback, even as a student. Coaches would count on the ambassadors to come up with suggestions for improvements to the prospects' schedules, as well as for observations with regard to the character of our recruits.
The top sales training programs are those that constantly evolve with the needs and feedback of sales representatives. They are the ones out in the field living the sales, and their feedback is of great value to both you and your company. By keeping processes up-to-date and listening to your players, you can better equip them to perform at their best.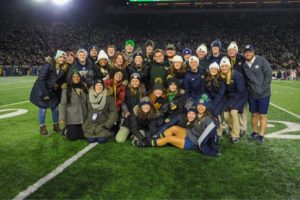 Never underestimate the value of team spirit
The fact is, while I learned to love football, it was not the love of the game that drew me to my job. What sold me on the opportunity and kept me there was the environment I was surrounded by each day. Our bosses instilled a sense of pride in both the team we supported and the importance of our role, leaving all of the student ambassadors feeling both respected and as though we were a part of something bigger. 
Building morale and camaraderie will look different from organization to organization, but it is a critical component of any sales training curriculum. Make room for bonding time amongst your team members, whether that be in role-playing exercises or group discussions.  Allowing them to share and encourage each other will boost both their comprehension and confidence, leaving you with a team far beyond stadium-ready.
Add Lessonly to your sales team's playbook
Winning sales teams use Lessonly to tackle new rep onboarding, increase sales productivity, and enable their reps. Our online training software provides all of the tools needed to empower your sales team and create an MVP-worthy sales training program. Take the next step and watch this quick preview of Lessonly.