Skills! If you're wondering what word almost always makes an appearance in Lessonly's internal meetings right now, that's it, my friend. Skills. And, I think I can speak on behalf of my fellow llamas and say that we're all over-the-moon excited to talk about our newest product add-on, Lessonly Skills. It goes live next week, and it's our biggest product launch since Practice was created a few years ago. It's a big deal, and we're pumped about it.
So, why Lessonly Skills?
At a high level, Lessonly Skills enables teams to deliver personalized coaching at scale. Managers, coaches, and trainers can assess their teams, analyze each rep, and ultimately drive more productivity and revenue because everyone receives coaching that's relevant to them right in their moment of need. 
If you want to see Skills in action, join us virtually on May 18th for our first-ever public product launch. The day will be full of keynote sessions, workshops to help you level up your skills, and even fun events like yoga and beer making. And if you're not sold just yet, this video will convince you otherwise. 
Back to those 5 llamas…
There's another perk in store if you join us for Skills Summit: You'll get to spend time with some of my incredible teammates like the five highlighted below. 
So, without further ado, meet these amazing llamas and learn more about their extraordinary skills. 
Scott Cook: Our resident trumpeter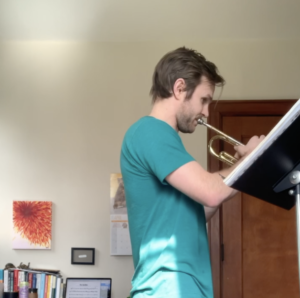 Pro tip: Click here to actually hear Scott play!
"I was obsessed with Star Wars as a kid, particularly the music. We went on a family camping trip and an older gentleman was having a yard sale outside of his RV. One of the things he was selling was his old trumpet. I was seven, and my dad told me he would buy me the trumpet only if I learned how to play it. After that, I couldn't stop playing. I started lessons, joined the 5th grade band (as a fourth grader – big deal status), started playing in local youth orchestras, and eventually went on to get my Bachelor and Master degrees in Trumpet Performance from the Jacobs School of Music at Indiana University."
— Scott Cook, Sr. Services Delivery Manager
Alex Yoder: Simply the best chef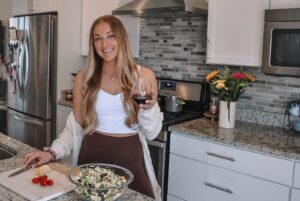 "My favorite three words? 'What's 👏 for 👏 dinner?' (always in that order and in question form). My passion for cooking began at a young age, specifically when I would help my mom in the kitchen. I loved the idea of not only getting to eat a delicious meal, but also gathering together to share an experience and creating a lasting family memory. My love for cooking prompted me to study nutrition, wellness, and the overall effects of food on our health. I'm currently enrolled at the Integrative Institute of Nutrition to become a Certified Holistic Nutrition Health Coach. You can follow along on Instagram at @With.Wellness."
— Alex Yoder, Field Marketing Specialist, II
Meganne Brezina: An equestrian extraordinaire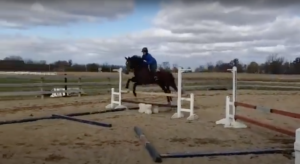 Pro tip: Click here to see a 10-second video of Meganne in action!
"I developed this skill by spending hours (and hours) at the barn, learning, observing, practicing, and doing it all over again. There's no secret to hard work other than putting in the time, accepting feedback, and being willing to take a risk (like piloting a 1,200 pound animal over a jump and knowing that they will come with you!)"
—  Meganne Brezina, Head of Revenue Effectiveness
Jeremy West: Ron Swanson's long lost cousin

"I got into woodworking about five years ago. I've always liked to build things, but hadn't since I was a kid. I got some of my dad's old tools and started tinkering around, and from there, I was hooked. I am self-taught, mostly by YouTube. Right now, I'm focusing on cutting boards, charcuterie boards, coaster sets, and other small things. I'd like to get into building furniture for our house sometime soon. I think woodworking appeals to me because I have a "blank slate" to start from each and every project. It requires me to see what the piece can be, rather than what it currently is."
— Jeremy West, Technical Account Manager
Paige Scott: The strongest llama this side of the Mississippi
"I love weightlifting because there's always room to grow; I can always improve my technique and add another kilogram to the bar. But, I have to show up consistently and with purpose to get better. Talent can only get anyone so far in this sport, and it's grit that makes lifters great."
— Paige Scott, Product Manager
Final thoughts
That's all for now! I hope their stories inspire you to dedicate time and effort to what brings you life so you can hone your skills in brand new ways. And again, if you've got a reignited passion for skill development because of this, don't hesitate to register for the Level Up Skills Summit. You won't regret it!
Lessonly is the tool to level up customer-facing reps
Frontline teams are unstoppable with Lessonly's training, enablement, and coaching software. Learn more about what we do by clicking on any of the tiles below, or set up a 15-minute, no pressure chat with one of our teammates.