When I saw my first card on the desk, it felt like Christmas morning. After I had left work the day before, Karlie had handwritten—in bright pink ink—why she appreciated my work here at Lessonly. The positive vibes I felt from that completely unsolicited sentiment will stick with me for a long time—well after my years here.
These are Lessonly's You Art Awesome cards.
Employees here will likely experience similar mornings when they come to work. Receiving one of these cards feels like discovering a love letter from a secret admirer, just much less secretive. A salesperson who crushed this quarter's goal will receive a card just like the developer who spent countless hours fixing an annoying bug in our software. From our very first day at Lessonly, we're encouraged to give out these kudos to team members who deserve them.
The practice is almost as old as Lessonly itself. When we were a four-person company, Max could easily voice his appreciation. As the company expanded out of just one room, he became worried that his culture of candor and compassion would suffer.
"Palpable appreciation is what underpins a culture of candor, so we take it very seriously," Max says. "You Art Awesome cards drive so much appreciation across Lessonly."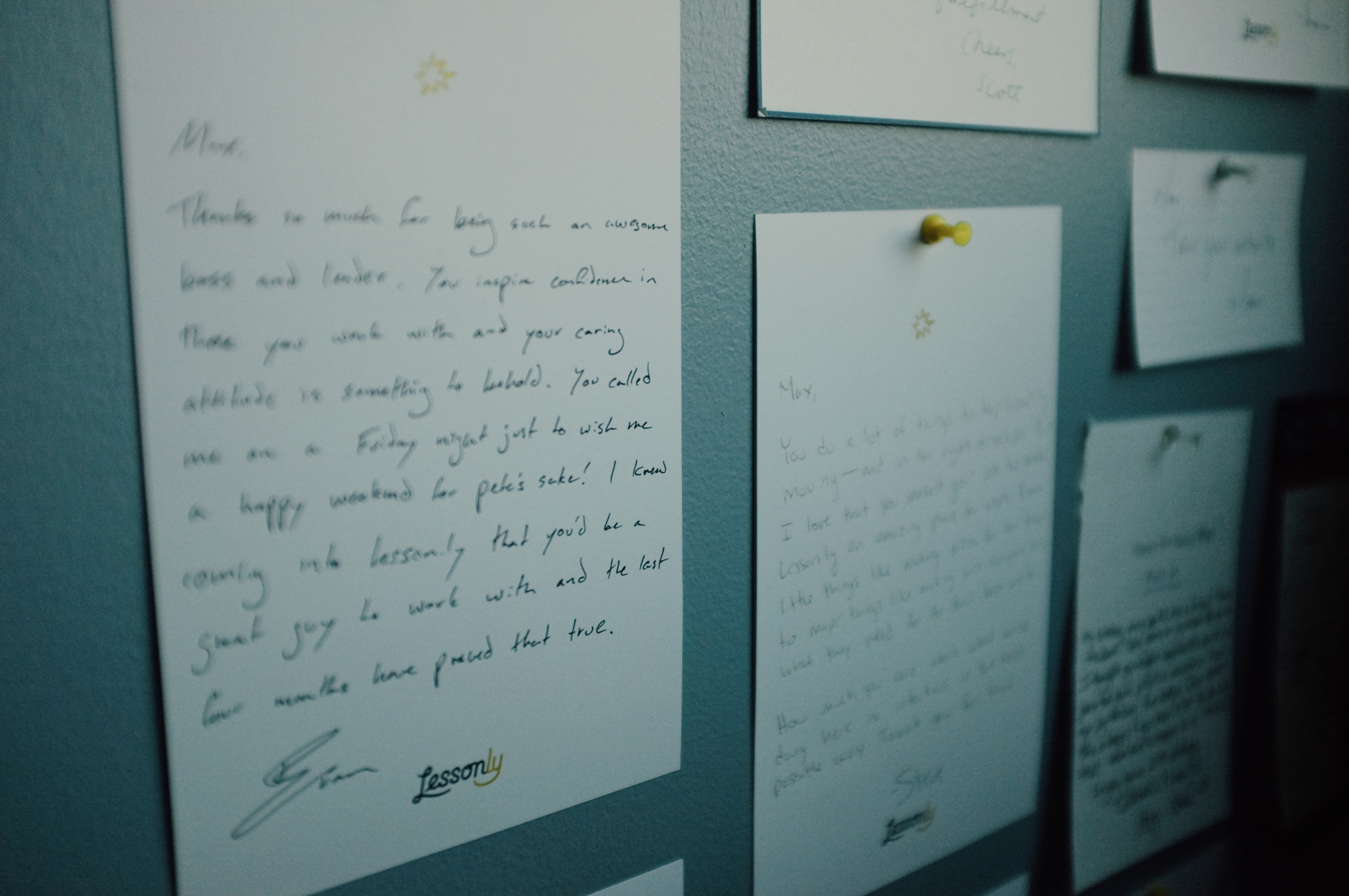 Aaron Milam, our Director of Engineering, took Max's constant showing of appreciation into the You Art Awesome cards:
"The idea actually came from a previous employer," Aaron says. "It seemed like a great part of their culture that I wanted to bring over. I thought it would work well at Lessonly. It's a really special way to show your appreciation."
Team members who consistently go above and beyond receive a gift for earning five You Art Awesome cards, but that's not really the point. These cards bring us closer together as a team, and it really shows. Conducting a completely informal poll of some of the Lessonly team, getting one of these cards can make you feel:
awesome (of course)
joyous
noticed
loved
"like a high-five"
warm and fuzzy
accomplished
motivated
grateful
appreciated
inspired
As our team continues to grow, you can expect You Art Awesome remain a key piece of our culture here at Lessonly.