Twice a year, the entire Lessonly crew takes a half-day to leave the familiar schoolhouse and get out of the office.
We're talking, everyone in the company, attending an event that is just as vital to Lessonly's success as the work we would be doing on any other day.
We call these events the State of the Union. SOTU for short.
Midway through 2015, just before the company outgrew one floor of the building, Max, Lessonly's CEO, brought everyone together to discuss where Lessonly was headed for the rest of the year.
"With a start up, we're always so focused on grinding out new sales or new products and we don't usually stop to take a breath," Evan, one of our account executives, says. "SOTU is a chance to pause and celebrate some accomplishments, recognize new and existing team members, and get up out of the weeds for a few hours."
When Lessonly was only 15 llamas strong, a half-day event for half the day wasn't insignificant, but it also wasn't an enormous challenge. Now, with upward of 70 people at the company, taking a half-day out of everyone's calendar takes more effort. However, the State of the Union remains a key pillar of Lessonly's organizational culture.
"We hold this event twice a year to ensure we all understand the collective direction we are heading, why we choose that route, and what it will take to get there," Max says. "In doing so, we ensure that we are all rowing in the same direction, with the same intensity, and the same goals."
Each State of the Union begins with high-level overview from Max on the past six months, followed by updates from the leaders of each department. Sales, marketing, customer experience, and product were the four original departments, but with the growing company, we've added updates from the talent, services, and operations departments as well. During our latest SOTU, which took place at the lovely Indiana State Museum, Lessonly's leadership all had great things to say about what the team has done to make Lessonly so special:
"Every company is more than software. The relationships between people are what drive our business," – Max Yoder
"There are lots of companies, but it's the people and the culture they create that allows a company to succeed," – Justin Fite, Chief Sales Officer
"We have a culture here that's extremely strong and we don't talk about it enough," – Kyle Lacy, VP of Marketing
"Your happiness at work affects all the other aspects of your life. Working here makes me a happier person," – Brian Montiminy, Director of Finance
"I love these events. It's really nice to step back and get a bird's-eye view of the business," Scott says. "It's not every company where you have great leadership explain where we've been and where we're going."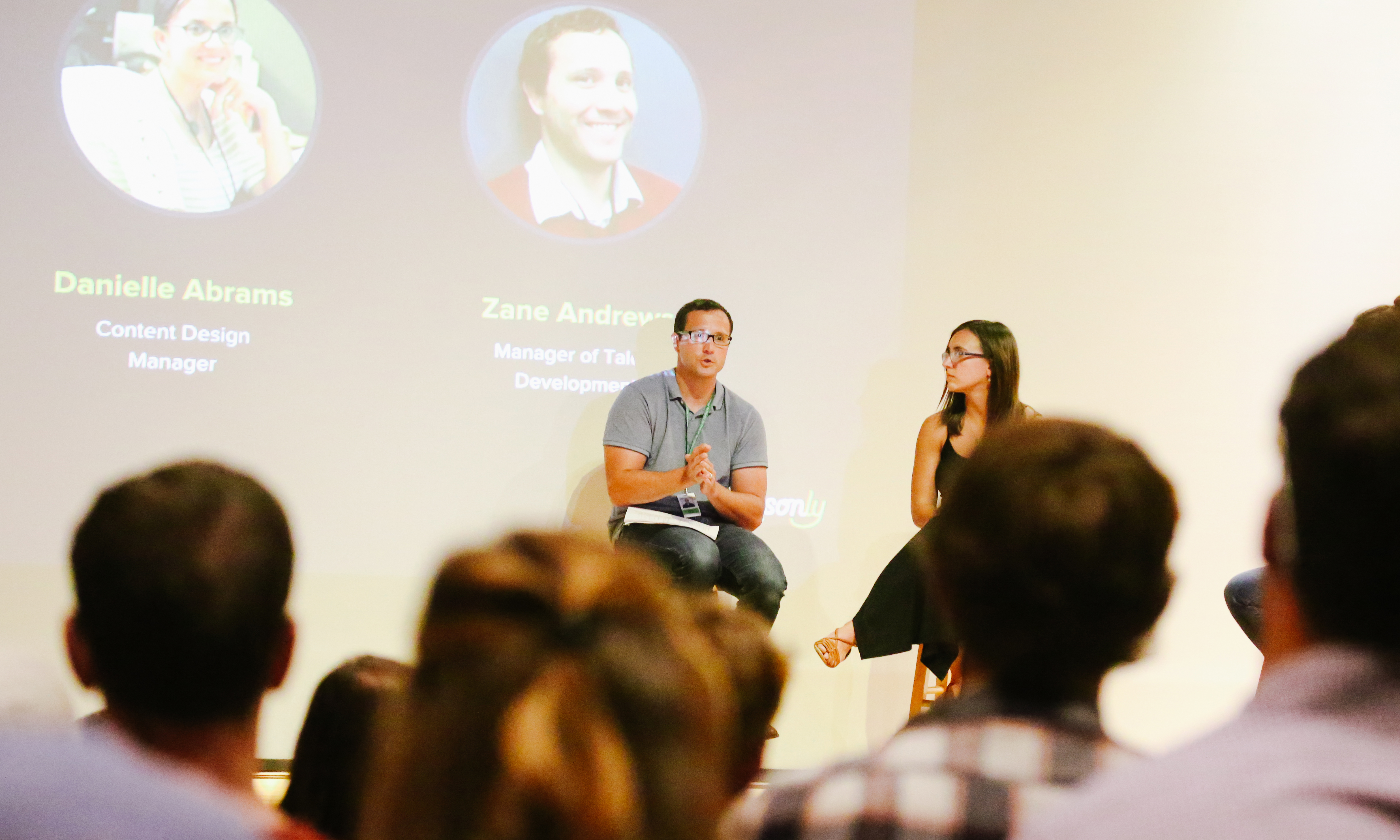 In an effort to shake up the voices on stage, we invite interesting speakers from a variety of disciplines to speak to our team. We've been honored to learn from local voices in the Indianapolis tech scene like Kristian Anderson and Scott Dorsey, to Zach DePue, Concertmaster of the Indianapolis Symphony Orchestra. This year, we heard from Brian Millis, who spoke about how a personality tool called the Predictive Index helps us work better as a team. These keynote speakers tie what we're doing here at Lessonly to a larger vision. This breaks up the monotonous #bizspeak that is easy to fall into.
For Nicole, a new Lessonly employee, her first SOTU carried great weight, "Getting to hear from every department allows us to keep a strong sense of community and work towards a unified goal. Keeping everyone on the same page will allow us to be more effective."
You can never be too sure what the future will look like around here. Lessonly continues to grow, change, and adapt our processes to meet the needs of our customers. But these State of the Union meetings have ingrained themselves into our culture, and keep our team focused on our mission, vision, values, and most of all—our people.