Lessonly by Seismic had an action-packed summer launching Knowledge and then being acquired by Seismic. And we did not stop there. Our Product team kicked off pumpkin spice season with some sweet updates and toasty integrations for you to savor with your favorite fall drink. Keep scrolling to check out what's new with Lessonly products this October:
Lessonly's October Product Highlights
🤝 Reinforce resources in Seismic with Lessonly content using the new Related Training card. 
🎨 Bake more personalized branding into your learner experience with a customized homepage banner.
💭 Integrate Lessonly and Seismic content into Knowledge for a global search experience. 
💻 Update user email addresses via Bulk User Import [Admins only]
🌊 Share your feedback and shape the future of our product with our First Wave Beta Program.  
If you're needing the whole story on the latest releases from Lessonly's product team, you're in the right place. We recently announced our new beta program at Yellowship—Lessonly customers can sign up here.
We're also jumping out of our seats to share more about our new integrations between Lessonly, Seismic, and Lessonly Knowledge. Our job is to continue putting your reps' experience first in everything we do. Admins, we've made managing your Lessonly instance even more delightful, with more customization and user management enhancements for you. So cozy up and keep reading for more details!
Related Training with Seismic
Introducing the new Related Training card. Seismic content managers can connect one or more lessons from Lessonly straight to Seismic content. This added element accelerates a rep's content use with easy access to related training that applies to the content they're looking to use. It's in-the-moment coaching at scale. Learn more.
Customized Learner Homepage Banner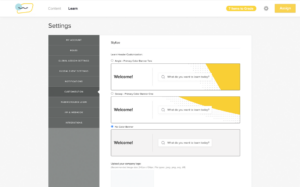 A pop of color and modern design for your Learner's homepage? Yes please! Admins, reflect your company's primary color for all users by selecting a banner style in the "Customization" tab under the settings cog. Learn more.
New Knowledge Integrations
Knowledge Integration with Lessonly
Knowledge users can now integrate lessons into Lessonly–natively. Enable quicker access to knowledge that lives in Lessonly in just a few clicks. Ollie—Lessonly's bot—searches any publicly shared lesson, including the title and description. With this even tighter integration, customers can easily give learners the answers they need from previously shared lessons, accelerating their path to productivity. Learn more.
Knowledge Integration with Seismic
Teams that use Seismic for their content management can now configure Seismic natively within Knowledge, so that Ollie—Lessonly's bot—can surface collateral and documents from Seismic when reps are looking for answers. This new feature will make it even easier for reps to discover, access, and use content in the channels they work in each and every day, like Slack. Learn more. 
New First Wave Beta Program
This month at Yellowship, Lessonly by Seismic's Better Work Conference, we announced a new beta program open to any and all customers who would like to join. Shape the future of our product by providing feedback early and often. Oh, and an added bonus? Customers who sign up to join the First Wave Beta Program earn Llama Loot points. Join today!
Bulk User Import Enhancement
For our admins out there who use the bulk user import tool, this one's for you. You can now use the bulk user import tool to update email addresses for existing users.
Previously, if you needed to change the domain on all of your users' email addresses, it required Lessonly Support. Now, admins are able to make these updates themselves. When the admins visit the Bulk User Import page, they'll be able to upload a CSV with a column titled "Email" and a column titled "New Email." Learn more.
That's all for this month
Well, it's almost all. We teased this in the email that went out today too, but we have a fun product webinar coming up soon for Lessonly by Seismic customers, followers, fans, or really anyone who's curious about our product. It's fall-themed and called "Pumpkin Spice & Training Advice." We'd love to have you join us next Thursday, October 28, 2021, at 12pm ET.