Big changes are coming to Lessonly lessons, and a bunch of them rolled out today. The design is cleaner, and the content elements and whitelabeling options are more flexible. The result is an improved experience for learners and lesson creators alike.
Here are a few highlights:
The table of contents button is now a drop-down, making it easier for learners to see what's coming without losing their place in the lesson. In-lesson text searching will be a part of the table of contents in a couple weeks.
The progress bar got a makeover. It still works the same but doesn't look two-thousand and late anymore.
Images, videos, and docs now have 25% more room to breath, so learners can engage with them more easily. In the old layout, the maximum image width was 582 pixels; now, it's 750 pixels. Soon, lesson creators will have the option to make select images and documents even wider, up to 910px. Creators are excited about this because it lets them display their most important learning content more prominently.
You can now customize the typestyle for your lessons. This is huge for branding, as it helps our clients evoke their look and feel more closely. Customization-wise, type styles was our most-requested feature, and we are pumped to release it. You can update the type style for all of your lessons via the Settings page, which you can find under the cog icon: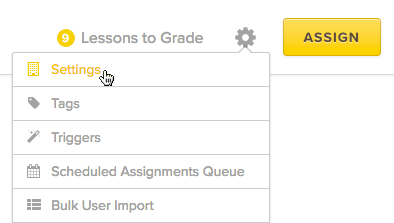 While you're updating your typestyle, you can also update your custom link color. This was also highly requested, so it's a big day for all of us 🙂 Again, a company's brand is evoked via nuance, and custom link colors contribute well to this end.
Lastly, you can create Callouts! Our clients love using images to call out tips and best practices, define terms, and offer other helpful context. When we talked to clients, we found they liked how the colorful callouts were easy to distinguish from the core lesson content, but they didn't like that the text within them was not searchable, selectable, or easy to update. Problem solved! Callouts can now be applied to your text, no image hacking required.
When capturing and editing lessons, you can create Callouts like this: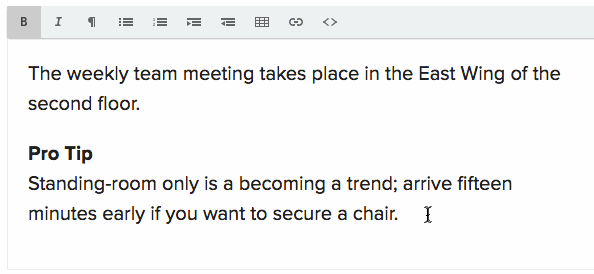 They will display to your learners like this:

If you have a custom color enabled, it will replace the yellow.
Thanks to all of the clients who helped drive this redesign. We are thrilled and appreciative. If you have feedback, please send it to support@lessonly.com.