Over the past few weeks, there has been much ado about the disruption of corporate learning and the definition of a new term, "digital learning." Kicked off in an extensive article by Josh Bersin, Principal and Founder of Bersin by Deloitte, learning companies—and the organizations that use them—are in the midst of orienting themselves to this definition.
Here at Lessonly, things haven't changed much. We've always believed that, as learning (and business) continues to change, there should be one constant: focus on the learner's experience.
The traditional LMS has never been learner-friendly
What Josh observes, in addition to an increased adoption of new technology in the learning space, is an increased acceptance of what he calls "employee-centric design,"
Just as we use apps like Uber to locate a ride or like Doordash to order food, we need learning and information support to be as easy and intuitive to use. Shifting from "instructional design" to "experience design" and using design thinking are key here. And we have to look at employees' journeys at work, so we can produce learning that is simple and easy in the flow of work.
The employee journey is not unlike the "customer journey" that revitalized the sales and marketing landscape not too long ago. Similarly, business leaders and L&D departments are rethinking how their employees interact with learning software. By improving the learner experience, employees and teams are more likely to view learning, training, and development as beneficial rather than burdensome. And when learning software is built around the needs of the learner, funny things start to happen:
Learners find learning to be useful instead of time wasted
Learners retain more knowledge
Learners become better at their jobs
Companies benefit from more productive and capable teams
These are broad strokes of course, but they are a framework for a well-implemented learner's journey.
Continuous learning is natural for learners
What is the right way for employees to learn in a business setting? Seamless and intuitive knowledge sharing is quickly becoming best practice. Josh points out that this continuous style of learning is becoming more prevalent because of the pace of today's workplace:
In addition to spending as much as 25% of our time doing email, we're now taking almost a week less vacation than we did in the 1990s and we spend an inordinate amount of time looking for information. In a given week, employees take less than 25 minutes of time to actually slow down and learn.
This type of in-the-moment learning is the best way to introduce employees to the idea of learning as a tool for better work. Instead of putting learners through long, in-person classes or unskippable learning courses, continuous learning reinforces knowledge on a physiological level.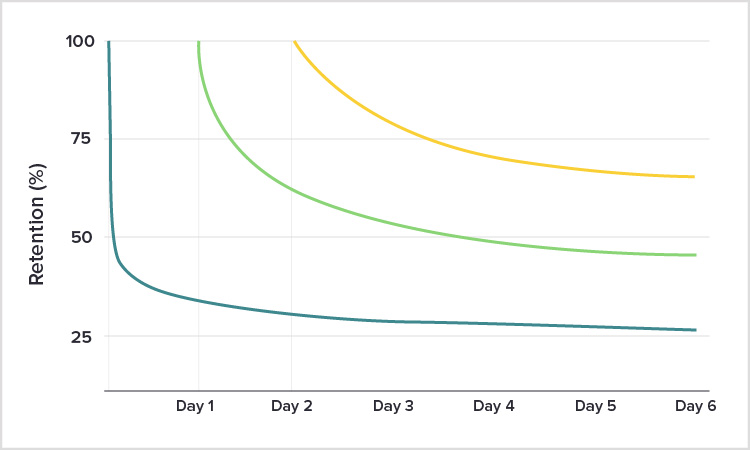 Modern learning solutions like Lessonly also offer knowledge seamlessly, so that learners don't feel like they are realize they're learning. For example, Lessonly for Salesforce Sales Cloud gives sales reps contextual learning recommendations right within the Salesforce dashboard. Imagine when an Account Executive pulls up a competitive deal they are working on closing, and a Lesson pops up presenting a competitive matrix for the deal. That Lesson could be the difference between a closed/won and a closed/lost deal.
The above is just one example of new ways to measure effective learning. When learners are encouraged and engaged with learning at work, there is a measurable return on investment.
Lessonly is the future of modern learning
The most poignant message delivered in Josh's article is that digital learning is "a way of learning" rather than "a type of learning." The new way of learning is to keep the learner in mind during every step of the process by taking the information to them.
Progressive teams use Lessonly to build modern learning with measurable outcomes. Take the first step toward better team-learning with a self-guided tour of Lessonly. Sign up today.