What's New in Lessonly this July?
✨ Events Enhancements
⭐ Skills Enhancements
✨
Events Enhancements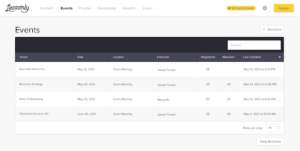 Last year, we introduced the ability to create and track in-person and online training events within Lessonly. What we discovered was an opportunity to enhance how admins create and manage events. Today, we have two new product features that will help you operationalize your training event strategies. 
New Events Overview Column

: In order to more easily locate your event, we've added a "Last Updated" column. This column will display by default.

Duplicate an Event:

Event organizers will be able to create a copy of an existing event. The title and description of the existing event will be copied over to the new event. The session details (time, location, instructor) will need to be updated.

Learn more

.
⭐ Skills Enhancements
Since we launched Skills in May, we've discovered an opportunity to make it easier for admins to build and manage their team's skills.
CSV Data Export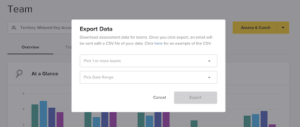 We know accessing data is important to you, so it's important to us. With this enhancement, we're making it easy for admins to export data via a CSV file within their Skills app. When data can be exported, it opens the door to custom visualizations in Salesforce. Exportable data in this update includes the evaluator/evaluatee, skills, and assessment data for your teams.
Employee Access to Scores and Skills Levels
To-date, only managers had access to an individual employee's scores at a glance and their skills levels. We want to extend that transparency to employees as well. This month, employees will be able to access this data for all assessments that have been shared, making it so they can take more control of their individual progress.
Wanting a sneak peek of next month's release?
That's all for July! But, we've started a monthly product launch sneak peek series in LlamaNation hosted by our product team. Our next event will be on Friday, August 13th, at 11:30am ET. If you aren't a LlamaNation member yet and would like to join, sign up here!
See ya next month,
Megan
—
P.S. In 2019, Governor Holcomb named July 31st "Better Work Day" forevermore in the state of Indiana, the home of Lessonly's HQ. Every year since, we've taken time at the end of July to highlight what's working well on our teams and in our lives. This year, we're throwing an hour and a half, jam-packed-with-joy party on July 29th from 12-1:30pm ET. And you're invited.