A few weeks ago, a new salesperson here at Lessonly was about to start making calls and working deals on his own. In the past, the rep would have to pass a final test of sorts—including pitching to the Director of Sales, demonstrating clear product knowledge, and handling common objections with excellence.
As our sales team has grown, this process has become more difficult. 1-on-1 time during onboarding is strained—as our directors lead bigger teams, their time gets stretched. This particular example was the perfect proof of concept for a new Lessonly feature that we're excited to introduce to you today.
Say hello to Video Response.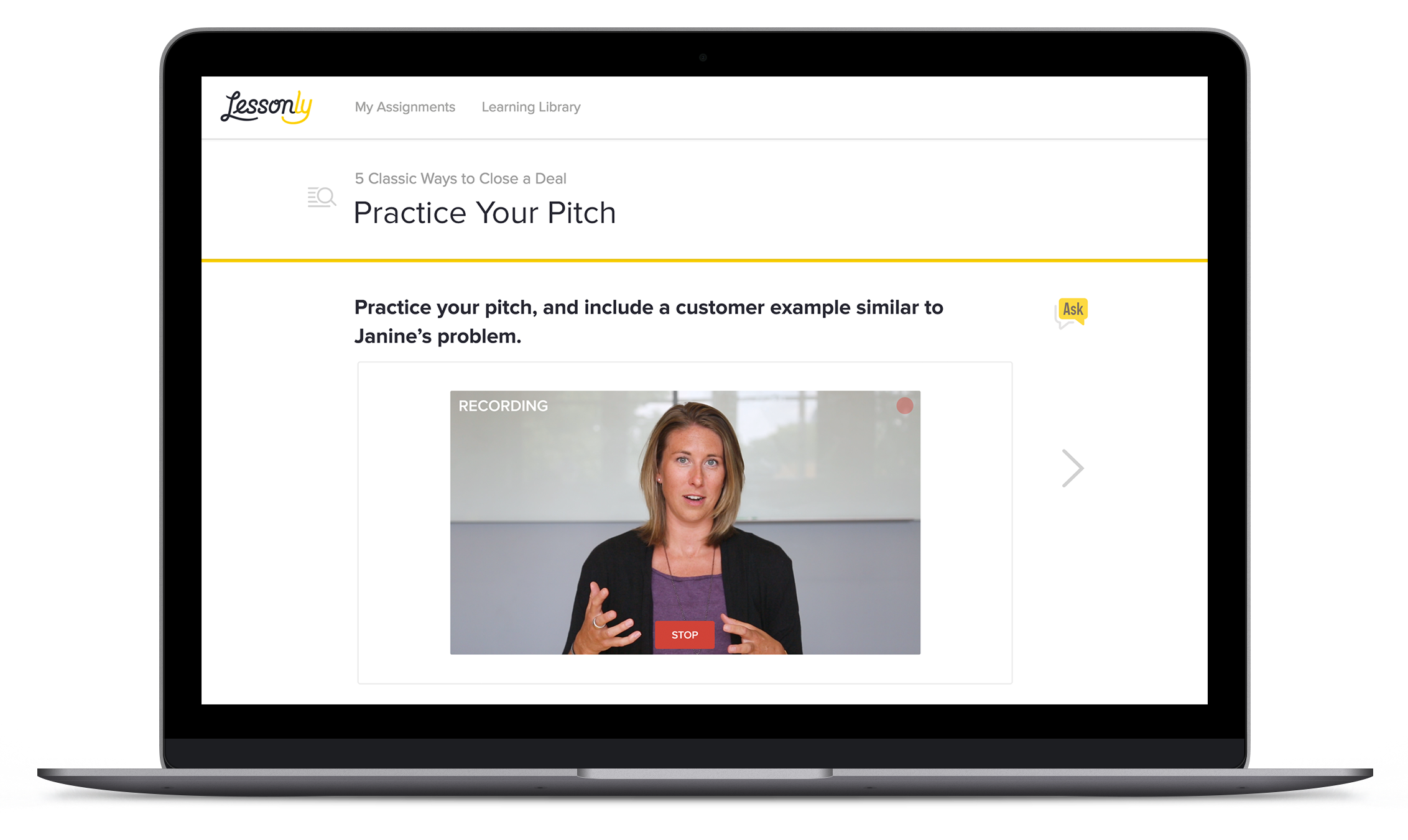 Video Response enables sales reps, support agents, and more to rehearse customer interactions via webcam video or screencast. It's completely integrated into the current lesson experience, so to learners familiar with Lessonly, it will be as easy to use as elements like quizzes or flip cards.
While we were testing Video Response internally, Bryce—the new salesperson in question—used it for his onboarding and final test. One of our sales directors, Matt, added Video Response questions to onboarding lessons that enabled Bryce to practice skills right as he learned them. Then, via Lessonly, Matt quickly and painlessly offered Bryce specific feedback on his answers and presentation. For us, Video Response has been invaluable when coaching on pitches or customer interactions, where the smallest details matter.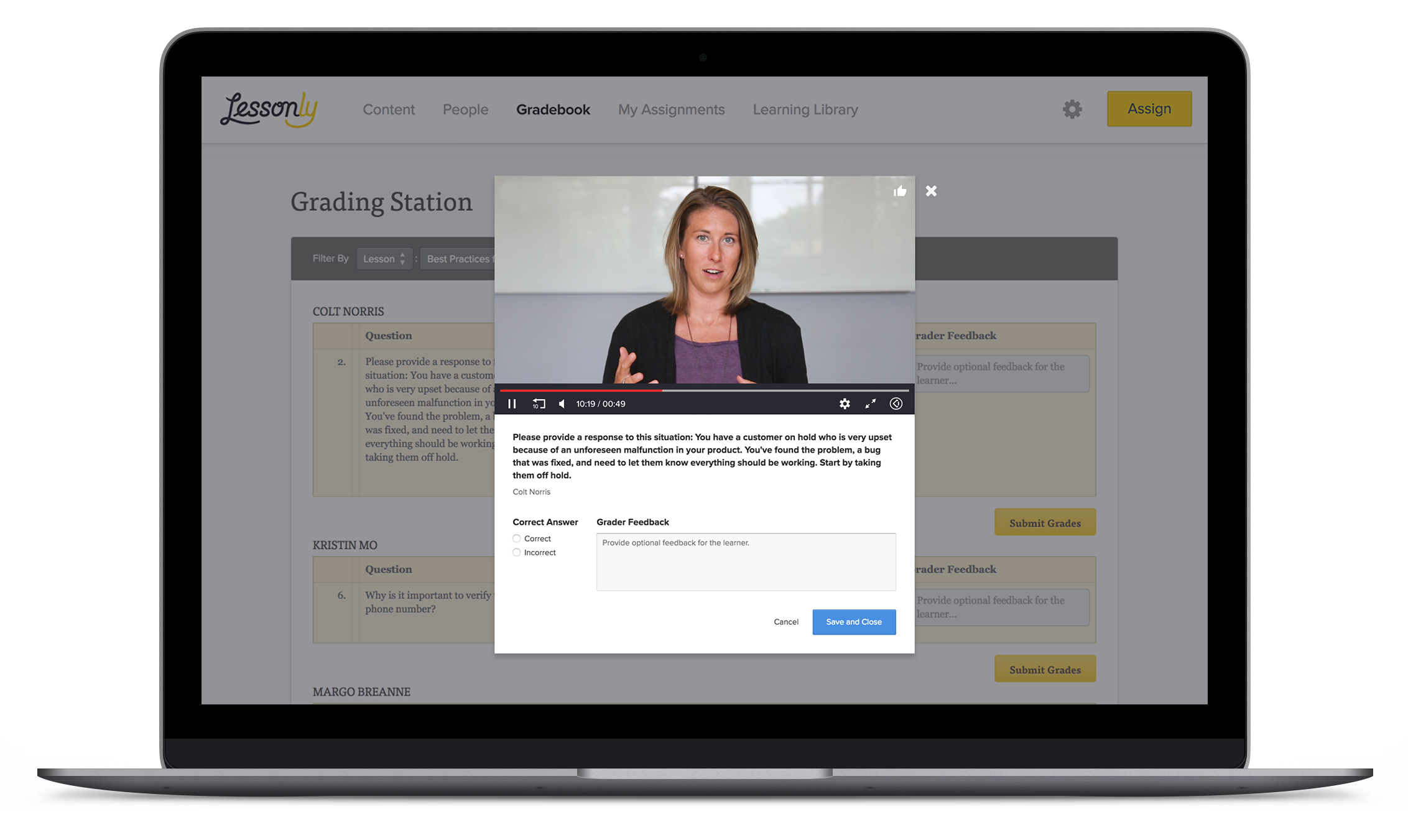 Matt also created a "final test" lesson with multiple Video Response questions to gauge Bryce's readiness to sell. The final test included a screencast where Bryce walked through a mock demo of our product and gave an elevator pitch using his webcam. Of course, that's just one example of how Video Response can be used to help teams do better work.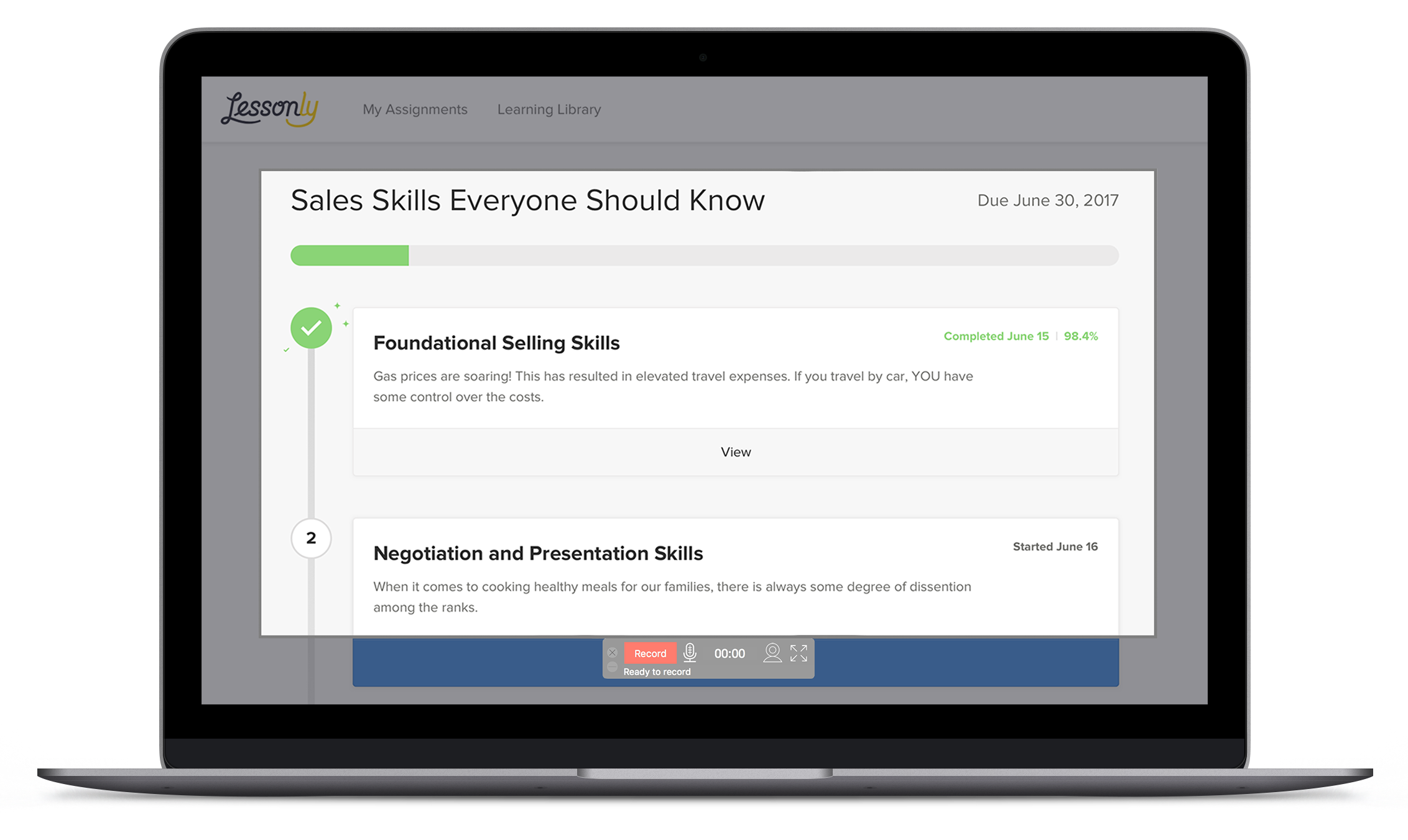 Here are a few other use cases for Video Response that our customers are excited about:
Customer support reps responding to customer complaints.
Sales reps practicing negotiating and handling customer objections.
Both sales and support reps walking customers through their product.
New hires rehearsing a basic explanation of their company so that everyone in the business stays on message.
Video Response is all about realistic practice. When employees rehearse their skills and hone their craft—repeatedly and intentionally—they drastically improve. Similarly, Video Response allows managers to give specific feedback without having to schedule hours and hours of individual meetings. Using Video Response cultivates a more prepared, productive, and consistent sales or support team—from day 1 to day 1000.
We're excited to partner with ilos to offer this feature to our customers—starting today! If you're interested in hearing more about Video Response or Lessonly in general, please reach out! We'd love to chat about how Lessonly fits into your current training program; and how Video Response can help your team drive greater clarity, consistency, and performance. Or, click here to learn more!