Your employees will do great work, if you teach them how.
This phrase has guided Lessonly's mission and software since it's inception in 2012. And we're not the only believers in the unmatched value of meaningful employee training. Ben Horowitz, co-founder of Andreesen Horowitz, agrees and believes that most companies don't get as much value from their training programs as they could, stating,
"Almost everyone who builds a technology company knows that people are the most important asset. Properly run start-ups place a great deal of emphasis on recruiting and the interview process in order to build their talent base. Unfortunately, often the investment in people stops there."
The solution to this critical organizational problem? Ongoing team learning.
Not content with general onboarding and initial training on company policies, products, and procedures, we see progressive sales reps and teams pursuing continuous improvement on a daily basis. Similarly, we are constantly looking to grow the value we bring to driven sales teams, and we're pumped to bring team learning directly to the environment where reps spend time every day: Salesforce.
Say hello to Lessonly for Salesforce Sales Cloud. Reps and teams are able to create, distribute, and report on sales enablement and team learning content—directly within the Salesforce platform.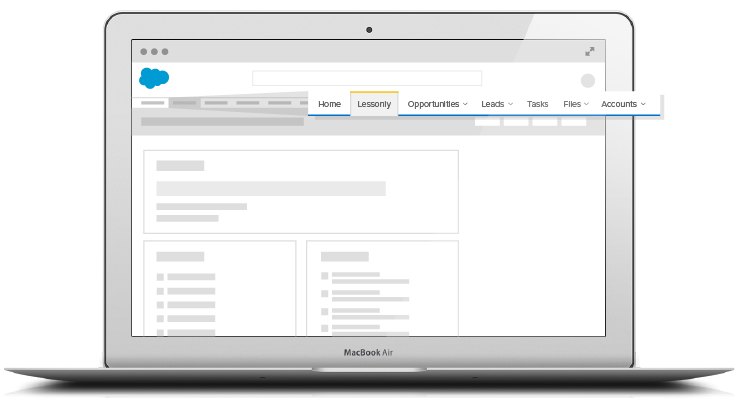 Seamless Workflow
Reps, managers, and Salesforce admins have access to all Lessonly features so Admins can create team learning content and assign it, without leaving Salesforce. Reps can use Sales Paths in Lightning to access enablement and learning directly from an opportunity and access additional team resources via the Lessonly tab in Salesforce. Putting learning directly into your reps workflow increases adoption and engagement, two of the biggest challenges managers face.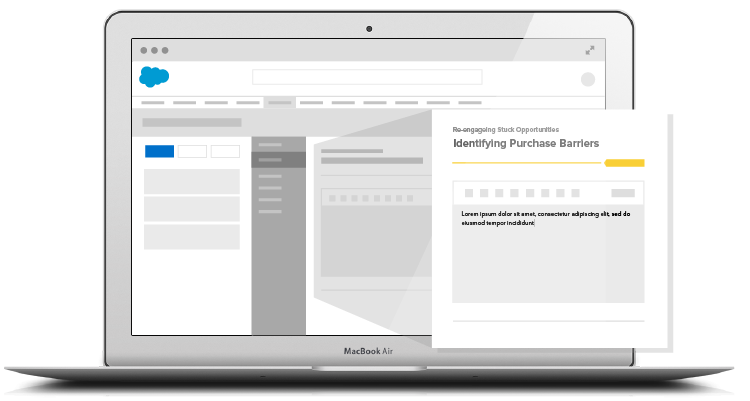 Streamlined Content Creation
Lessonly features the easiest content creation experience in the learning market, now directly within Salesforce. Managers and top performers can quickly and easily create and share performance-driving content—including sales strategies, best practices, and team procedures—with their reports and peers. Or use any SCORM-compliant authoring tool and import content into Salesforce via Lessonly.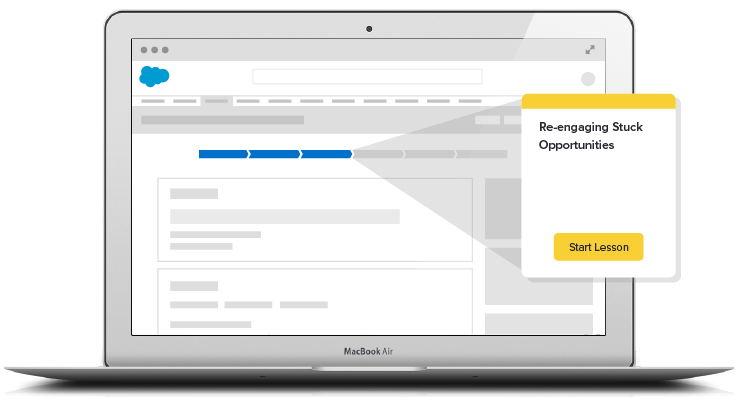 Guided Learning
The best way to engage reps is to provide them with critical information, right when they need it. Admins and managers can define customizable user actions, such as updating opportunity status or value, to trigger guided learning recommendations via Salesforce Sales Paths (available in Salesforce Lightning). Guided learning with Lessonly for Salesforce Sales Cloud ensures reps receive the right information to move deals forward, at the moment of need.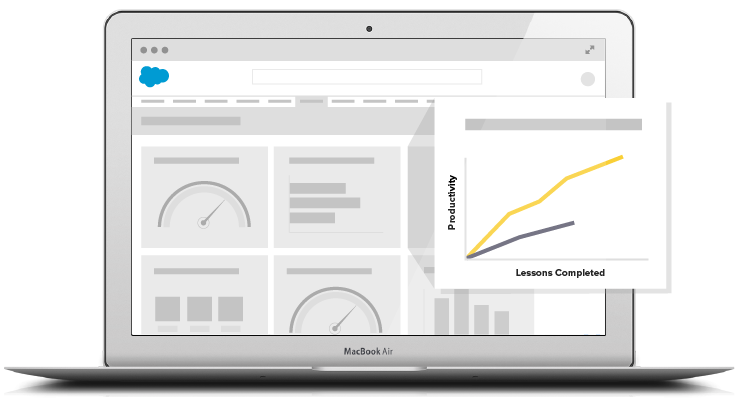 Custom Reporting
Combining Lessonly and Salesforce data allows for deep insights into how individual and team learning is affecting productivity, performance, and the bottom line. All Lessonly data is automatically synced with Salesforce, allowing Admins to build completely custom reports drawing on rep and company metrics as well as learning event and user data. Compare sales reps' quarterly performance with their quarterly learning activity. Identify what learning content is driving the greatest performance improvements and what content needs to be adjusted.
Traditional training methods and tools struggle to keep up with the demands of today's fast-moving, driven sales teams. And tracking the ROI of training and learning programs has been difficult, if not impossible, to date. Lessonly for Salesforce Sales Cloud connects the dots between enablement content and productivity, helping every rep and team do their best work.
This is just the beginning of our journey with Salesforce, and we're constantly looking for ways to bring more value to our customers and their teams.