Every interaction that a customer has with your brand matters. The teams that obsess over the customer experience—the Disneys, Nikes, and Southwests of the world—are only able to deliver exceptional, memorable experiences with practice. 
Practicing customer support? Bingo.
When the idea of practice comes up, people generally think of musicians, athletes or Allen Iverson's famous rant, but I challenge you to think about your customer service training programs. You're reading this blog post because you're wondering how to improve customer service, and I'm here to tell you that great customer service starts with your team refining and practicing your customer service soft skills.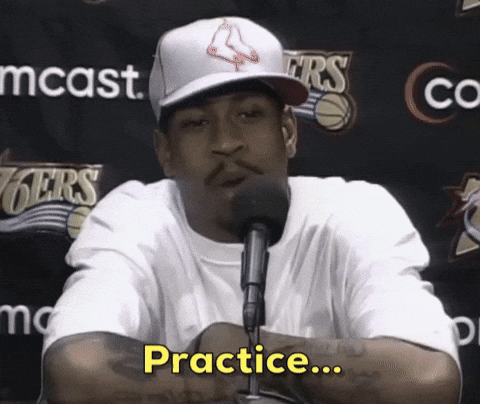 AI was right: Practice isn't the game. But, no one can be game-ready without practice. Customer service skills training is foundational to good customer service. So how do you consistently level-up your team's customer service skills without disrupting their days? 
Value Practice
Practicing and doing customer service training activities might seem like another hurdle to jump, but these exercises are worth their weight in gold when they're done efficiently because they enhance customer service levels. Some leaders might feel hesitant initially. They might think that practicing is a distraction from work or that it's time spent that could be used to resolve customer issues, but is it a waste of time if it improves your team performance and CSAT goes up because reps are better enabled and aligned? No way. 
Customer service skills training can be done quickly and easily, but you must have a customer service training plan in place for it to be successful. This guide to better customer service includes free customer service training materials and discusses the foundation of a great customer service program to help you get started. 
Create a Culture of Practice
Customer service agents need to feel safe when they are practicing, meaning there are some traits that you'll want to foster across your team to create a culture of practice. Leaders need to be coming from a place of empathy; customer service roles are challenging to begin with, so be mindful of that when you create customer service training for employees. Encourage curiosity across your team. Great customer service skills stem from a place of curiosity because customer service representatives need to better understand their customers to resolve their issues. Help your reps understand the importance of adaptability through customer service training materials. An agent's environment is constantly changing as your product and service does, so they need to be consistently evolving their processes, too. Lastly, make sure to encourage collaboration between customer service reps. Show the team examples of good customer service skills, and everyone will know what great looks like. Teams that practice together, win together. 
Scale Practice 
Scaling practice for customer service teams used to be a challenge. With global teams that can be dispersed around the world, how can you help customer service agents practice? Lessonly's training software is here to help out! You can spin up a customer service training course in hours, not weeks. Our customer service training software is helping teams like Volusion increase their CSAT scores because they value practice, and include practice as a fundamental part of their culture as they grow and scale their customer service team.
Stop Practicing on Customers
Every customer experience is important, so stop practicing on your customers. Reskilling and upskilling your customer service team will lead to enhanced customer service levels and increase customer satisfaction. Which, as a support leader, is your ultimate goal. Make customer service a differentiator for your brand today and build some of the best customer service training courses that are personalized to your company and team with Lessonly's purpose built training software. 
Ready to enable your support team with Lessonly? We're ready when you are. 
Building a world-class support team takes both learning and practice, and Lessonly helps customer service teams do both. Learn more by clicking on the tile below that most interests you! ?