Welcome to Training 101, where we take a deep dive into the essentials that make up effective training and coaching for sales and customer service teams. The first topic up for discussion? How to make training easy to understand. 
When training is reliably easy to understand, learners are far more likely to complete training, retain information, and implement it in their day-to-day work lives. This is particularly true when training incorporates practice. In fact, only 5% of adults retain information from a lecture while a staggering 75% retain knowledge after experiential training, according to a LinkedIn study. 
We've got a few tips and tricks for making even the most advanced sales training topics easier to understand. So, let's push the "easy" button and get to it, shall we?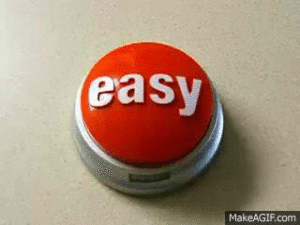 5 Tips for Making Training and Coaching Easier to Understand
1. Set the stage for success 
We don't want to make you nervous, but the first 30 seconds of any training experience can make it or break it. Use the first moments of training wisely, whether you're hosting an event in person or using online sales coaching tools. 
If you're using sales coaching software, be sure to lay the groundwork quickly. Introduce yourself and highlight why someone should listen to your expertise. Set clear expectations about what they should expect to learn. And lastly, give an estimated length of time that learners will need to complete training. After all, you can't really absorb information if you're anxiously looking at the clock. 
2. Repeat it early and often 
There's a common marketing maxim that says that a prospective buyer usually interacts with a brand seven times before they recognize and remember it. Can your learners recognize and remember your content? 
If not, you might want to add some more repetition for the people in the back. While the best sales coaching software allows learners to revisit training content, again and again, great teachers also build a little bit of repetition into their lessons. Use interactive elements like flip cards or reveal cards to present important ideas in a new way, while still offering the ability to revisit them. 
3. Make it mini 
We're a big fan of short-and-sweet lessons around here. Why? Because breaking content down into manageable chunks increases engagement by more than 50%. And that's a big deal when you're trying to make a big impact on your organization. 
To get started, make a list of all of your sales topics for training, then break that list down into even smaller buckets. Consider b2b sales training topics, for example. Are there certain topics that might only apply to a small subset of your team? Differences in industry targets, roles, and responsibilities, geographies, or processes are great reasons to break content into hyper-specific micro-lessons.  
4. Quiz time
While it's important to strike a healthy balance between training and testing, learners tend to pay closer attention to training material when they know a quiz is coming. So, quit the pop quizzes and give your learners a heads up. They're more likely to feel like you're on their team that way. 
Another way to build that camaraderie? At the end of a training session or module, have them add sales topics for discussion that they'd like to see at a later date. Then, add them to your list of sales training topics to consider building content for. They'll feel a greater sense of ownership over their training and coaching path, and you'll feel like you're delivering exactly what they need. 
5. Make sure it's actually working 
Pay attention to customer service and sales efficiency metrics like win rates, annual recurring revenue (ARR), and net promoter scores (NPS). Then, match these metrics with training and coaching behaviors. Is your training content actually helping reps move the needle? 
If you don't have an easy way to measure the effectiveness of your training and coaching program, add that to the short list of sales management topics to tackle in your next standup—it's a very important one! 
Don't go at it alone—let Lessonly help.  
It's tough out there in those training and coaching streets. How can you be sure that you're training is as easy to understand as you hope it is? We're biased, but the answer just might be Lessonly, the powerfully simple training and coaching software for frontline sales and customer service teams like yours. Schedule a quick 15-minute call with our team to see if Lessonly is right for you!