A high-impact sales playbook is as vital to your business as a brand book is for marketers! It can empower teammates to do their job to the best of their ability while aligning with the philosophy of a particular brand. 

For new hires, it's like having an experienced buddy alongside them as they work. For more experienced reps, it can be a means of sharing best practices, along with challenges that need to be overcome.
Why Create a Sales Playbook?
Regardless of the size of your business, a sales playbook is a must-have. Even if your company is in its infancy, it'll help you establish your philosophy and make future expansion much easier. Digital marketing strategies for small businesses should seek to level the playing field with established companies wherever they can. And, creating a great playbook is too valuable of an opportunity to ignore.
There's no point in sales reps leaving a brand's message behind in their pursuit of a lead. A business needs its customers to buy into its philosophy to keep them around for the long haul. If a sales rep uses something 'off-brand' to win a customer, they'll likely abandon ship once they've seen the bigger picture. Like your customer support team, reps are your leading brand ambassadors.
A great playbook will also free up your reps' time dramatically. Instead of starting with a blank canvas every time they go for a sale, they'll have ready-made content at their disposal. We're always looking to make our working systems more efficient: from a virtual office phone to cloud-based CRM (customer relationship management) systems. A high-impact playbook is an essential step in the same direction.
What Should a Sales Playbook Include?
A sales playbook should not be a simple collection of scripts and successes. As well as providing your reps with the specific tools they need to perform, the book should consider information from a customer's perspective. 
Brand Philosophy
Provide an overview of the company's history, products, goals, and achievements. Gaining a customer's trust is a major part of any sale. Answer the questions potential customers may ask.
Brand Voice
Linked to customer personas (see below), this should outline the tone and language to be used in all of your content, whether written or verbal. Should it be technical and factual or lighthearted and conversational?
Customer Personas
Who are your customers? What are their ages? Are they single, married, and do they have children? Where do they live? How much money do they have? What other brands do they love or hate? It's much easier for reps to identify leads and then pursue them if they know the people to whom they're trying to sell.
Scripts
These don't need to  be followed word-for-word, but think of them as a roadmap for success. Elements of storytelling are often vital when it comes to earning trust and winning customers. A set of pre-written scripts will give a perfect example of the brand's voice, get the company's philosophy across, and be written with the customer's persona in mind.
Tactics
Outline your processes. Using your reps' current sales solutions, and combining these with statistics, you can gather together the best times to call. Or when to email. Or how long to wait before following up on an initial engagement.
Reliable Tools
Sales reps need reliable tools to keep up with their leads. These could be as simple as a ready-made Google Doc for smaller teams, a virtual phone, or dedicated software designed to allow reps to share documents online. The quicker a rep can log their experience, the sooner they can move onto the next target.
Targets
Making clear expected metrics for sales is an essential part of enabling your workforce. Your team needs to know anticipated targets, as well as what they'll earn. Reps are usually performance-driven, and your playbook needs to clarify your reward system in minute detail.
Putting a Playbook Together
Don't try to do it all yourself. Form a team of experts and work from there. Employ content writers, illustrators, and other marketers to ensure everything is set-out clearly and professionally. Study your competitors' approaches as much as you can.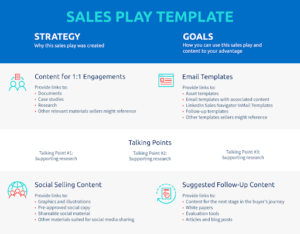 Make sure you have sales reps on your creative team. When it comes to specific sales advice, your existing team is invaluable. What's working at the moment, and what could be improved upon? What challenges do they face that your playbook can offer solutions for?
What Next?
So, you've put your playbook together. What next?
It's essential to remember that your work here is only the beginning of an evolving process. Seek further feedback from your reps once it's completed, but before you roll it out. Training a remote sales team should be a valuable continuation of the process. Once it's live, schedule regular meetings for review.
As always, keep an eye on industry trends and the work of your competitors. None of us know exactly what's around the corner. Customer needs can change in an instant. Your playbook needs to keep up with shifting times and interests.
—
About the Author
Victorio is the Associate SEO Director at RingCentral, a global leader in cloud-based communications and collaboration solutions. He has over 13 years of extensive involvement on web and digital operations with diverse experience as web engineer, product manager, and digital marketing strategist.