Imagine this: a co-worker or manager approaches you and says, "I've got some feedback for you." What's your initial, gut reaction?
If it's not a good feeling, you're not alone. A quick poll by Jack Zenger, CEO of the leadership development firm ZengerFolkman, showed that nearly 12% of the population has a high level of fear around receiving feedback. Not only is this statistic disheartening, it can be hard to address properly. Building a culture of feedback within a sales organization requires a foundation of transparency and vulnerability, but once positive feedback examples are normalized, the resulting sales team will be more invested, engaged, and driven.
Feedback starts with trust
The first step toward fostering productive feedback on a sales team is setting the table to deal with emotions that make said feedback possible. Handling these emotions properly requires trust and understanding. If people are upset, angry, or defensive, they won't be doing their best work or meeting their quota. "Make an effort to understand colleagues as individuals," says Ed Batista, an executive coach at the Stanford Graduate School of Business. "This doesn't require a great deal of time or deep, personal disclosures—just taking a moment to ask about someone's weekend and occasionally sharing stories of your own." These interactions invite people to be just that, people. Sometimes that fact gets lost in the competitive environment of driven sales teams.
This level of camaraderie between team members is a critical step toward fostering effective feedback within a sales team. Here in the Lessonly office, "having difficult conversations" and "critiquing in love" are important core values that build the trust on which effective feedback is possible. Matt Lubbers, our Director of Sales, constantly sees situations when the ability to speak candidly with his sales reps leads to growth of the person, the team, and the company. After a slow quarter for a particular Account Executive last year, Matt found it easy to dip into a more formal feedback meeting because of the familiarity the Lessonly sales team has. "We both knew my feedback was coming from a good place so it made the whole conversation, and the outcome, that much better." Without a basic level of trust and understanding, the deeper level of feedback that improves productivity and performance, can't be achieved.
Efforts to encourage this level of communication cannot be overstated—in fact, they need to be conscious and vocalized. In his post, Ed suggests that feedback needs to become a normal part of your sales team's life:
You have to integrate the behaviors you want into your team's daily routines in order to normalize those behaviors within the organization's culture. If feedback is something that happens only at unusual times (such as a performance review or when something's gone wrong), it'll never really be an organic part of the organizational culture. It has to show up in everyday life — on a walk down the hallway, at the end of a meeting, over a cup of coffee.
Ed's point that feedback needs to be frequent and ongoing is so important. If the only time sales reps hear feedback from leaders is during performance reviews or after a deal is closed, those meetings will bring more anxiety than productivity. Teams and organizations committed to the benefits of a feedback-rich culture have to keep at it. If it were easy enough to say "We're embracing feedback here" and be done with it, Jack Zenger's statistic about the fear of feedback wouldn't exist.
Dan Levy, Director for Facebook's Global Small Business Team, has a few good points for continuous reinforcement of feedback into a team's culture. In addition to suggesting sales leaders refrain from punishing teams for providing feedback, Dan's point to show the impact that employee feedback can have is a great motivator:
Last year, we made changes to our org structure. I started out by saying "every one of these changes was driven by your feedback." The team realized I was doing more than listening, I was acting on their feedback. After this meeting, feedback increased dramatically.
If the new org chart turns out to be a success? Dan's team is ecstatic knowing that they had a hand in making it. And even if it's a flop, they've seen that their feedback is valued, and might strive to try more constructive feedback. Examples like this act of tying feedback into impact are critical toward getting sales reps engaged in the direction of the organization.
Engagement benefits the bottom line
It turns out, there's a definition for that phrase "employee engagement," and it aligns similarly with the benefits of sales team feedback. Aberdeen Group Research describes it as a "feeling of investment from employees that motivates them to perform to levels that exceed the stated requirements of their jobs." Engaged sales teams put in more time to talk with prospects, do extra work, and give feedback where it's needed to keep the team moving toward crushing more sales goals.
It's no wonder, then, that in a 2016 Research Report, Aberdeen found that companies with a formal employee engagement programs outperform their peers in many areas. Specifically, sales teams with a formal employee engagement program attain 13.1% more of their annual quota year-over-year, while companies that do not fall into that category only attain 4.7% more annual quota. Using these numbers, we can see the impact on a hypothetical sales team that closes $1 million in annual revenue. The engaged sales team is on the left, unengaged on the right: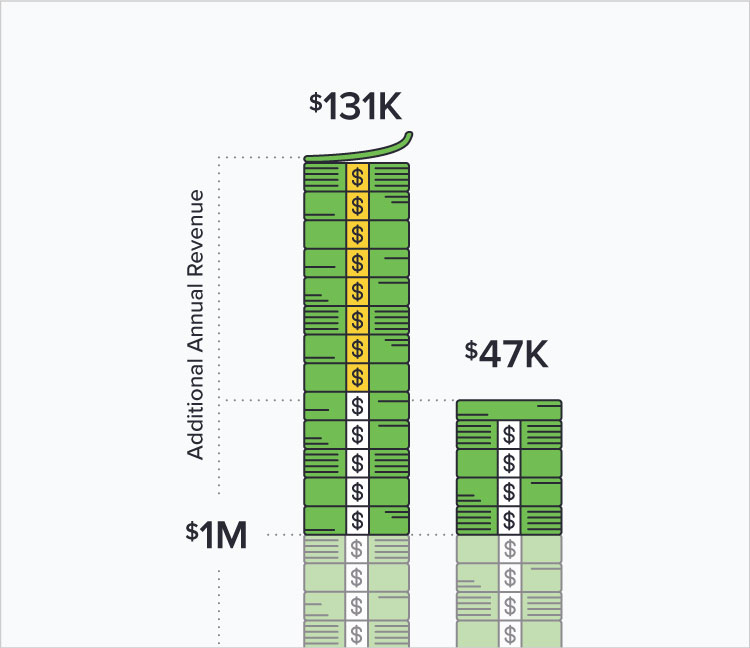 This is a single data point of course, but the relationship between engaged employees and sales team production is very real—to the tune of $84,000 in revenue. And if you engage your team by encouraging feedback and making their work lives better, doesn't everyone win in the end?
Start collecting feedback today
In the same study referenced at the top of this article, our friend Jack Zenger found that leaders who were in the Top 10 percentile for "Asking and Acting on Feedback from Others" were also in the Top 10 Percentile for "Leadership Effectiveness." Seems that the most transparent teams are some of the most productive for a reason.
Forward-thinking sales leaders use Lessonly to engage their teams and build a culture of feedback. Take the next step with a self-guided tour of Lessonly's team learning software. Sign up today.