One of our values at Lessonly is "share before you're ready." The basis of this value is that getting work in front of other people, earlier, makes the work better. Faster feedback loops make for constant rapid improvement. That doesn't just promote a more open and collaborative culture—it streamlines our process in long run.

Creating better and faster feedback loops will help with any skill you're trying to learn and any project you're trying to complete. Constant feedback loops have been valuable to our company that they're now part of how we built our product. We keep asking ourselves: How can we make it faster and easier to give feedback in the Lessonly app, so that teams across the globe can do better work?

Our newest answer to that question is Feedback Criteria. Feedback Criteria provides learners with guidance on how they'll be graded when answering a question with video response in Lessonly.

Now in Lessonly, creators can add grading criteria to specific lessons (learners will see a section entitled What should I focus on?). These criteria include traits and characteristics to keep in mind when answering each question—such as confidence, understanding, tone, or relevance. We've created 30 different criteria for creators to choose from and enabled a five-star evaluation system. In the near future, we'll also enable teams to create their own custom criteria.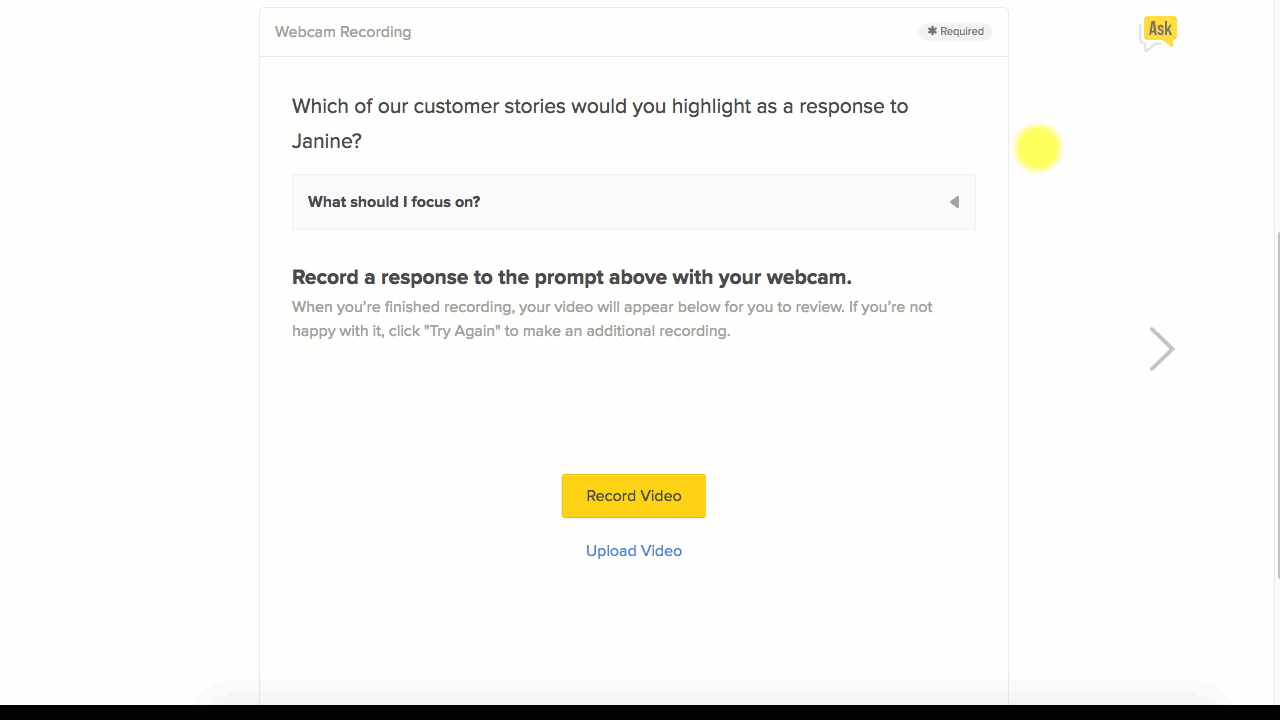 How to Choose Criteria
Lesson creators must choose feedback criteria strategically, so start with the end goal in mind. Why is your team doing training in the first place? What do they need to improve upon or master in order to be successful? For customer service teams, what does a customer need from the interactions that you are training for? Maybe it's rapport, professionalism, and answered questions. If so, that should be your criteria. Or, sales teams may use a completely different subset of criteria that includes value proposition, confidence, and tone.

Feedback criteria needs to be curated to the end outcome, the particular question, and the culture of your team. As the saying goes, what gets measured gets managed. So ensure that your feedback is evaluating the proper items from the start—or feedback won't deliver the desired result.
Why Criteria Matters for Learners
Feedback criteria gives learners insights into what's important—not only to their manager or those evaluating them, but to the prospects or customers they serve. After all, that's what training is all about: helping employees do better work while creating a better customer or prospect experience. Creators must connect customer or prospect knowledge with their training content so that learners gain the most valuable information and drive business performance.

Using feedback criteria on Video Response questions provide learners with even more realistic practice situations. The more lifelike practice becomes, the more impactful it is. In the future, we'll also add feedback criteria to other question types in Lessonly, with the goal of helping public-facing teams deliver an increasingly great experience to customers and prospects alike.
Enhance Training with Feedback Criteria
Authentic practice and honest feedback are essential for any team to grow and improve. Learn more about feedback criteria and how Lessonly promotes better and faster feedback. Take a tour of our online training software today.