Anyone who's been in the workforce long has observed the ebb and flow of various workplace trends and, according to a recently released Gallup survey, remote working is currently rising in popularity. Over the past year, almost half of working Americans spent some amount of time working remotely. And given the connectedness that modern tools facilitate, it seems unlikely this trend will reverse course in the foreseeable future. As a result, there's never been a greater need for dynamic enablement content that keeps teams aligned and on track—regardless of their location.
Enabled anywhere, remote or at home
Officially, Gallup reports that 43% of working Americans clocked in from outside of their office, presenting a unique set of challenges. For on-site workers, it's easy to take something as simple as facial expressions for granted, but in leading a remote team, communication becomes much less of a sure-thing. As more companies allow employees to work remotely, engaging and enabling them with the right information is exceedingly important. In the Gallup survey, it's noted:
Remote employees have a greater understanding of their role…yet they are not getting enough feedback or the right type of feedback to help them understand how they are performing or how to reach their goals.
Perhaps because they are removed from the frequent distractions and interruptions that can come with working in an office, today's remote employees are often more tuned-in to the purpose of their job. And it's up to managers and company leaders to enable those employees to maximize their increased productivity. Giving all employees, especially remote, the feedback they need, when they need it, is a rapidly growing need in the workplace today.
Topics like a company's mission, main competitors, and sales tactics are just a few types of knowledge that can guide and direct employees' daily work. Premium Parking, a family-owned parking company, faced several challenges with managing and optimizing remote teams during their regional interstate expansion from New Orleans to over 100 locations across five states. By using Lessonly to standardize its team learning, Premium parking successfully managed rapid growth while simultaneously reducing training time by 87%. Consistent enablement across locations ensures every team leader, account executive, and customer support rep are working toward the same goal—no matter where they're working.
Engaged teams flourish with consistency
Another positive about remote workers? They are often incredibly driven and engaged in their positions. Gallup reports that in 2016, employees that spent three to four days working remotely reported the highest levels of engagement during their work time.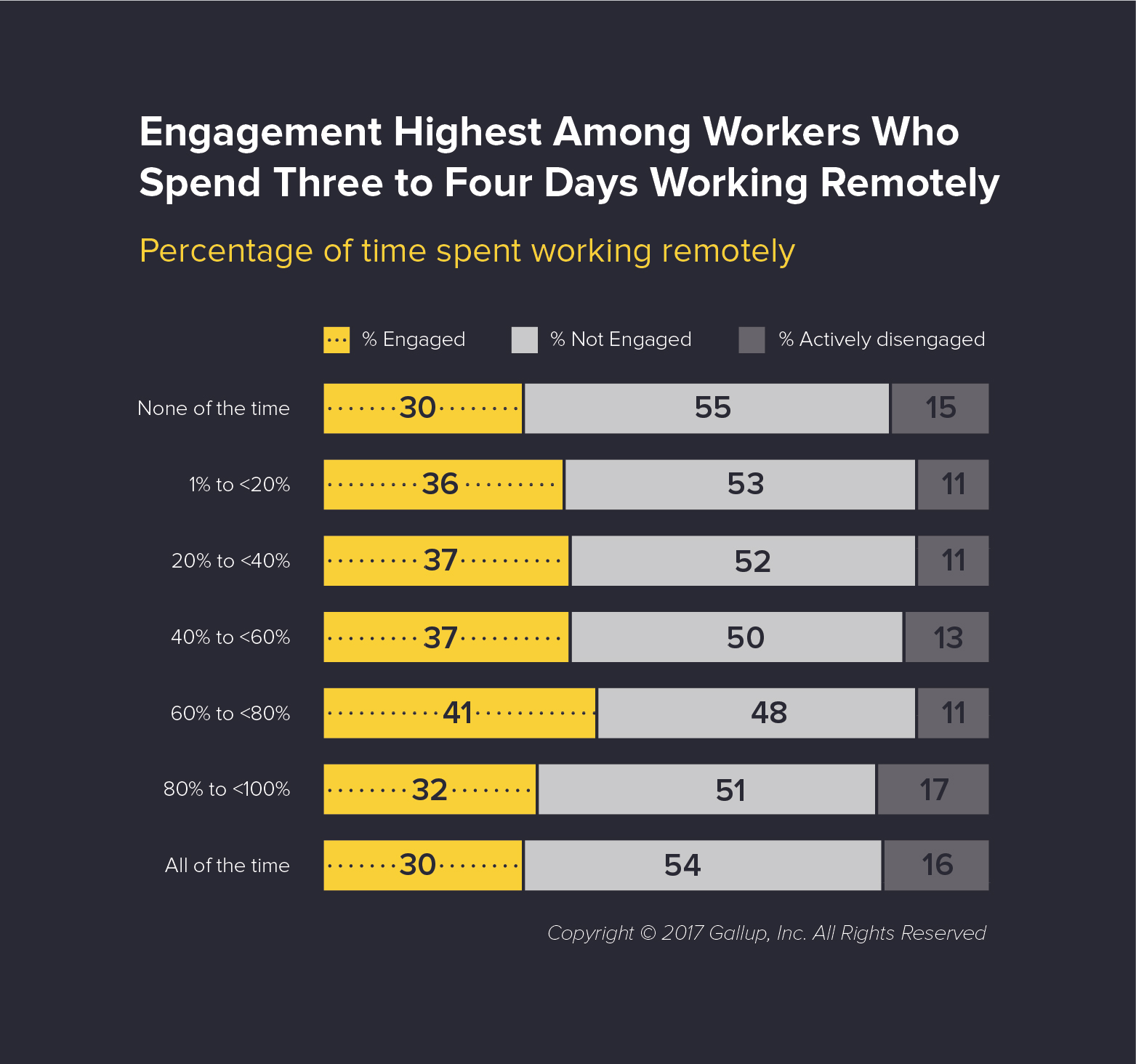 Engaged employees, by Gallup's definition are, "involved in, enthusiastic about, and committed to their workplace." And while better employee engagement is great, it means very little if it doesn't affect team productivity and drive key performance indicators. The good news is that, according to Gallup, such engagement has the following impact:
Individual performance soars, and they propel their team and organization to improved crucial outcomes such as higher levels of productivity, safety, and quality.
Such positive effects should explain why maximizing the enablement and engagement of all employees—including remote workers—generates tremendous return on investment: improved business outcomes.
Teams are more enabled with Lessonly
Whether a team centralized in an office or distributed around the world, access to consistent information will help them do better work. Progressive teams use Lessonly to translate important work knowledge into Lessons that accelerate productivity for workers—both remote and on-site. Take the next step with a self-guided tour of Lessonly's team learning software today.