A lot of times when I'm meeting with a new customer for the first time, the energy is electric. They've just invested in a great new tool. They're psyched about its potential and possibilities, but then reality comes crashing in a little bit, and they think, "Where the heck do I even start?"
Luckily, we work hard here to meet our customers where they're at—whether that looks like providing tons of access to our knowledgeable account management team to guide them through the platform and answer questions along the way, their dedicated Service Delivery Manager ready to set those actionable steps in place to achieve success, and now our free employee training plan template that will make planning your training program a cinch. So next time you're wondering how to create an effective training program, know that Lessonly has developed a framework and a training plan template to help you along the way. Let's break it down. 
The Better Work Training Method
At Lessonly, our Better Work Training Method is made up of six recurring steps:
Assess

Plan

Build

Learn

Practice 

Perform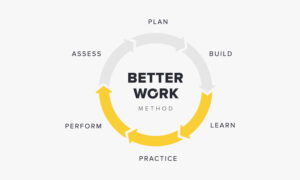 I love this visual, and it's one of my favorite things to introduce when kicking off with a new customer. It's so simple, and breaks down the roll-out of training into actionable, easy-to-understand steps that work for old and new employee training plan templates alike. Also, notice that I mentioned these steps are recurring. That's because it's important to note that an effective training program never stops working on itself to improve. 
First things first
When you're first approaching a revamp of your training program, you'll want to assess your current program. What's working and what's not? From there, you can note what goals you have and what priorities you want to impact. At Lessonly, we do a deep dive with you, asking clarifying questions to get to the nitty-gritty of what you're trying to achieve. A great training plan fuels business success, and we want to make sure your training program is meeting your business outcomes to do so using our software training plan template to do so.
Make a plan
That's where planning comes in. A great plan is actionable, but even more importantly, achievable. Be realistic in what is possible for your team, and gauge your training program from the eye of your learners. What is most important for them to know now, and what can wait for later down the road? Organize how your plan should look, what topics or processes are must-haves, and start prioritizing those into measurable next steps. Our staff training and development plan template is customizable enough that you can plan out training for different needs such as organizational, individual, or corporate training. 
The last piece of planning to keep in mind is how you want to implement training to your team. Will most training happen online or in-person? Do you want to rely on assignments or just house content for learners to access as needed? Does all of the content need to be ready to go at once or will you assign things on a phased approach? 
Build it
Once you have your action plan determined, it's time to put in some elbow grease, manifest your content into real life, and get those lessons built. (As a Services Delivery Manager at Lessonly, I have to plug my team here as an amazing asset to help you make those action items come to fruition! We are specifically dedicated to supporting you through the Assess, Plan, and Build stages to make your training transition as seamless as possible. Starting fresh in a new platform can be daunting, but we love showing you what "great" can look like. Individual development plan examples for employees are endless with us. 😉) 
Learn, Practice, and Perform
Now for the fun part—seeing your training plan come to life! This is where your organization is finally going to benefit from the fruits of your labor; where they take what you've built, and then start learning the content, practicing it, and ultimately performing it in their day-to-day role.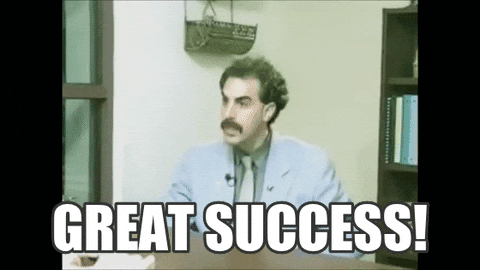 Second verse, same as the first
But, remember how I said this is recurring? Now it's time to circle back and assess that new training program. What's working and what's not? In my opinion, gathering regular feedback from your team and diving into a new round of assessment, is the biggest catalyst for effective training. Prioritizing feedback, whether through a survey at the end of a big training or open-ended questions to gather more insight, is the best way to highlight what's working, find where you've missed the mark, and address any gaps you might not have known that you have. I love a mix of quantitative and qualitative questions (ratings and ability for comments) so that you can gather specific insights, but also track improvements. 
And from there, the wheel of training cycles itself again. To learn more about our free employee training plan template and to learn about what Lessonly has to offer, visit lessonly.com for all sorts of information about who we are and how we help frontline teams thrive.
Want to see how Lessonly helps frontline teams like yours? 💛
Our training software helps over 1000 business teams across the globe learn, practice, and do better work. Click any of the tiles below to discover more of what we're about at Lessonly! Or, if you don't know where to start or have lots of questions, here are the 5 most important things to know about us.