Before we dive into the details and recap an unforgettable Yellowship, I have to give a shout-out to the marketing team at Lessonly by Seismic: Alex Yoder, Allyson Dobberteen, Anna Oakes, Annie Garcia, Helen Gardner, Karlie Briggs, Katie Brunette, Kyle Lacy, Mikaela Karcher, Nina Dermody, Rachel Saltsgaver, Ryan Abney, Sam Oh, Tamara Benson, and Tamara Green-Munro. Yellowship was an event that brought joy, connection, and Yellowship magic to life 100% digitally. Kudos to you, team. Well done! 👏👏👏
Onto the Details…
Let's dive into the good stuff! Rather than giving you a play-by-play of the entire event, my teammates and I decided to keep this short and sweet by highlighting four of our favorite moments of Yellowship21. (P.S. If you're here for session recordings, scroll to the bottom of this post—you'll find the link to the learning path where they live there!) 
1. Keynotes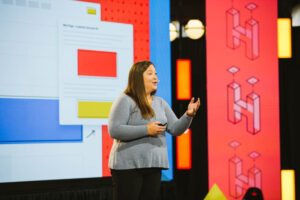 Personally, this was one of my favorite parts of Yellowship21. The keynote stage featured…
Max Yoder, Conner Burt, and Kristina Simkins from Lessonly by Seismic, plus Dave Myron from

Seismic

Jill Ellis

, Former Head Coach of U.S. Women's National Soccer Team

Kai Kight

, Violinist and Innovative Composer 

Carla Harris

, Vice Chairman and Managing Director of Morgan Stanley
Our speakers have experience leading people and teams at the Olympics, high-growth software companies, Disney, the Seattle Seahawks, Morgan Stanley, TEDx, and more. They have influenced and impacted tons of folks in their lives, and their humility and insight struck me most. They shared their stories, experiences, and learnings with a grace that only comes from people who've got failures and lessons learned under their belts. Here are a few quotes that'll stick with me long past Yellowship:
"With all three of these things—psychological safety, purpose, clarity—great teamwork happens." —Max Yoder
"Ideas are born from perspectives. Perspectives are born from experiences. Experiences are born from people." —Carla Harris
"As leaders, we want to feel connected to our employees, teammates, and staff because ultimately, connection is the foundation of building a really great team." — Jill Ellis
"The performer takes the stage to hit the right notes, but the artist takes the stage to change lives." —Kai Kight
2. Llamapalooza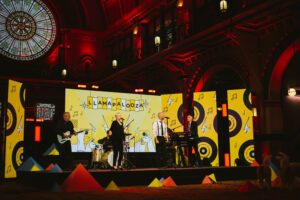 Our first-ever virtual Llamapalooza was a choose-your-own-adventure of sorts—and man, it was fun. Attendees attended a virtually-streamed live concert by The Doo! Band from Union Station via our friends at Mandolin, a Second City Comedy Show, or a competitive Trivia Night. Based on the Event Feed and your posts on social media, it sounds like everyone had a good time, regardless of which event you attended.
3. Attendee Feedback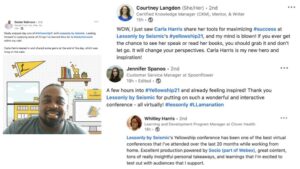 Those screenshots really speak for themselves. And, they're just a taste of the hundreds of sweet things y'all said about your time at Yellowship21. It's so encouraging to me, especially as a recently full-time-remote employee at Lessonly by Seismic, to hear story after story of what everyone learned and is taking away from an event that was 100% virtual. Yellowship has always been about humanity, compassion, kindness, and Better Work, and that rang true—even online. For more on what folks are saying, just check out the #Yellowship21 hashtag on LinkedIn.
4. The Enablement Expo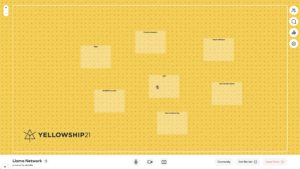 Last but not least, we loved throwing Yellowship with our teammates at Seismic. This acquisition has done nothing but accelerate the growth and product offering for both our joint and separate customers, and we were able to highlight that really well at the Enablement Expo in the Yellowship Digital Experience. 
From the Lessonly Product Station and the product roadmap, to the opportunities to chat live with volunteers in Wonder, to the 1:1 time you all booked at Ask The Expert, we had a blast watching you learn the ins-and-outs of how Lessonly and Seismic will work together in the future. Speaking of, want to hang out with us again? Make sure to save the date for Seismic's SHIFT Conference from March 29-31, 2022. Sign up for updates here!
The Recap Content
I could go on for days, but I'll cut myself off there and leave you with this learning path we built (using Lessonly by Seismic actually) that includes recordings of the keynotes, breakouts, and Llama Talks from Yellowship21. Click here to start watching and learning and reliving Yellowship21 all over again with us.
Hope you enjoyed this recap as much as I enjoyed writing it. May you all—whether you attended Yellowship for the first or the third time—leave this post inspired to keep on learning, growing, and becoming the best teammate and leader you can be.
Yours in Yellowship,
Olivia and the whole Yellowship crew