Back in December, Lessonly by Seismic's CEO and co-founder Max Yoder shared with our customers how he's developing stronger roots in his life through rituals, resources, and reappraisals. In a season filled with another "R"—resolutions—we think it's a timely topic. 
(If you'd prefer to watch Max speak about this, check out his keynote from Yellowship 2021.)  
As we recap how Max is developing his roots, we invite you to take a few minutes today to reflect on your own life. Here are four questions from Max's talk to get your wheels spinning. 
1. Do you associate stimulation with a good day and a lack of it with a bad one? 
That's the question Max's therapist posed to him. Max's answer? Absolutely. 
"I'm wired to believe that if I don't get something done during a day, if I don't achieve something, then it's not really a day," he says. "My therapist helped me recognize this, which was really helpful for me, because I don't want to live like that. I want to value both stress and rest."
Max says he is "massively out of balance" when it comes to days of stimulation versus days of recharging, and it's important to him to recalibrate. Why? Because of his daughter—a little 15-month-old girl named Marni.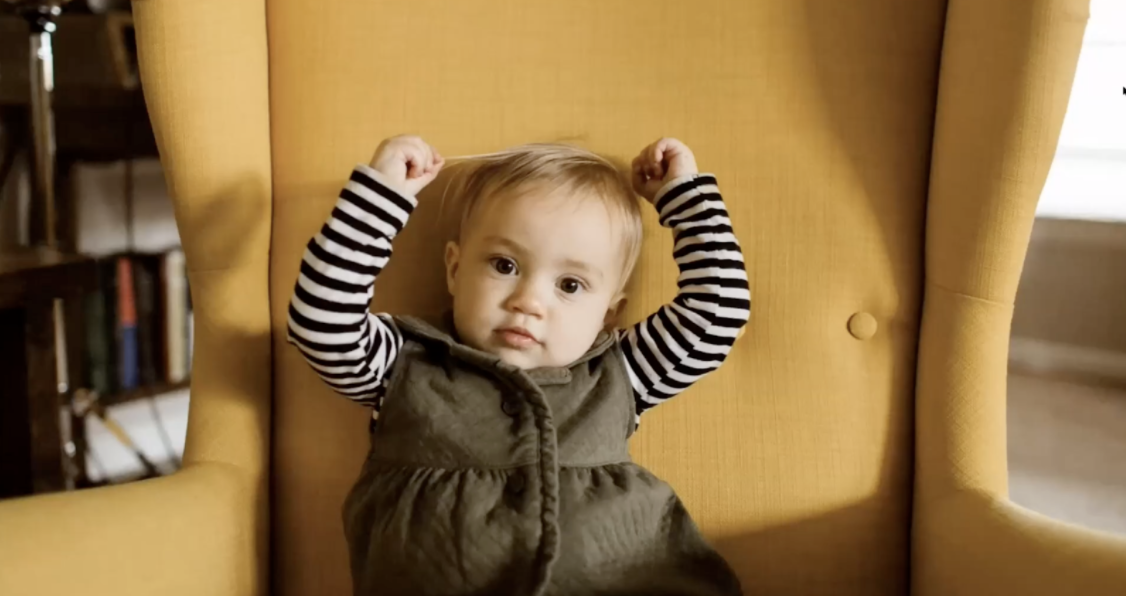 "I don't want Marni to experience her father as someone who is always on the go. I want her to experience her father as somebody who values both activity and rest.
2. What habits in your life do you need to counterbalance? 
Where Max's habits wind him up, he turns to rituals—calming and encouraging practices—to help himself wind down. Think of rituals as Max's answer to his stressful habits. "Rituals are things I do to counterbalance my life. They are not my habits. They are not second nature to me. But by ritualizing calming and encouraging practices, I learn to get in touch with an undernourished part of myself," he says.
To be clear, rituals are not designed to eliminate, overcome, or destroy Max's habits. As Max puts it, "Rituals help me dance with the various aspects of myself—not triumph over them. I'm not trying to eliminate stress from my life or silence any part of me. I am trying to have a healthier relationship with myself."
3. What rituals could be calming and encouraging for you? 
Rituals will look different from one person to the next, since we all have different habits to temper. If you are someone who is habitually inactive, think of rituals to counterbalance that reality. If you are like Max—habitually active—you might consider calming activities to bring more harmony to your life. 
Here are some of the calming and encouraging rituals that Max relies on. 
"I play music."

Play is the key word here. "When I play music, I am not competing. I am not comparing. I am allowing myself to have fun doing what I'm doing, with no objective for doing it or concern with whether other people will like it. As soon as I start judging the 'quality' of what I am doing, I am not playing anymore—I am competing. I would like to compete less and play more, and music helps me do that." 

"I sweat without moving."

Max turns down the lights, prepares a warm bath, and sweats. "To shift from my working brain to my resting brain," Max says, "I like to take a bath. Baths help me close one part of my day and open another." 

"I make art."

This is another form of play for Max. He fingerpaints, molds clay sculptures, and he makes LEGO art. "I don't make it for you. I don't make it for applause. I make it because I love doing it."

"I read and reread words that sing to my soul."

Here are a few of the works Max cited:

The Great Divorce

by C.S. Lewis,

Tao Te Ching

by Lao Tzu,

The Power of Myth

by Joseph Campbell,

Self-Compassion

by Dr. Kristin Neff,

Man's Search for Meaning

by Viktor Frankl, and a video by Gabor Mate about his book,

When the Body Says No

.

"I meditate."

Max sits up, closes his eyes, and witnesses what happens.

"I take naps."

Max uses earplugs and a face mask, taking naps when his schedule allows. He says, "The more I listen to it, the more I learn my body is very wise. When it tells me to nap, and I do it, I always feel better."

"I walk and sit in nature."

Aren't we all calmed by the presence of beautiful stuff? That's why Max turns to time in a park near his place when he needs a moment of rest. 

"I write down what scares me, what I'm grateful for, and what I'm learning."

This writing is not meant to be literature or a poem recited for a crowd. It's a way of sorting and organizing thoughts and ideas. Max says, "I am trying to get things out of my head so I can get a new perspective on them."
Of course, Max isn't the only one with life-giving rituals. Here are a few rituals from the Lessonly by Seismic squad:

"I water my plants every Friday. If I see a plant is stressed, I use that moment to reflect on my own stress levels." 

"I seek awe by going to a big body of water." 

"I walk in the morning. This happens like the mail—hot, cold, rain, shine, or snow." 

"I write a sentence each morning to capture something I want to remember." 

"I meet with a group of five close friends every Friday morning to share life updates and laugh." 
4. Struggling with where to start? Spend time in your sacred space. 
This is an idea pulled from author Joseph Campbell. In The Power of Myth, Campbell says we should "have a room, or a certain hour or so a day, where you don't know what was in the newspapers that morning, you don't know who your friends are, you don't know what you owe anybody, and you don't know what anybody owes to you…At first you may find that nothing happens there. But if you have a sacred place and use it, something eventually will happen…As you get older, the claims of the moment upon you are so great, you hardly know where the hell you are, or what it is you intended. You are always doing something that is required of you. Where is your bliss station? You have to try to find it."
Give yourself space to hear yourself.
Better Work. In Your Inbox. 
Lucky for us, Max is always exploring new ways to do better work and live better lives. Every so often, he'll write a no-nonsense note about things just like this. Sign up to get Max's Note right here and to keep up with the latest and greatest ways Max is learning, growing, and developing his RRRoots.